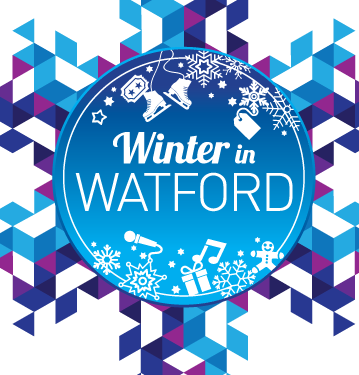 Vibe 107.6 FM has 5 fantastic family prizes to give away, totalling over £1,000! So listen in to the weekday Breakfast Show for your chance to win!
Watford has a festive makeover for winter and you could be a winner with Vibe 107.6 FM! Listen in to the weekday Breakfast Show until Monday 30th November for your chance to win a
Winter in Watford family (of 4) prize package, worth over £300, which contains the following...........
Family ticket to the Dick Whittington Panto (Watford Palace Theatre)

Family ticket to Miracle on 34th Street show (Colosseum)

Family Ticket to Santa Claus Show (Colosseum)

Family entry to the grotto (Intu)

Family skating ticket (Watford Borough Council)

Market treats (TBC) Watford Market
Watford Borough Council has joined forces with key players in the town to promote all the great things that are happening across Watford over the winter season.
Residents and visitors can go skating on a real ice rink, see two Christmas shows, visit our much-loved Christmas panto and take the children to Santa's grotto. Watford is also the place to come for your Christmas shopping – with an extended offer at Watford Market – which is also hosting the town's very first German Christmas Market.
Elected Mayor Dorothy Thornhill said: "We always think big in Watford – and this year, we are keen to be everyone's favourite festive destination. It's great to be able to pool resources with our partners to ensure that as many people as possible know about all the great things we have on offer."
Also backing the Winter in Watford campaign are intechnologyWiFi, who are rolling-out a free, public WiFi network across the town centre and developing an official, dedicated mobile application for Watford.
Natalie Duffield, CEO of intechnologyWiFi, said: "The campaign will see the town really coming together to get the best out of Watford over the festive period. It is just this type of community togetherness, interaction and enjoyment that we hope to foster and build upon with the roll-out of our free WiFi network across Watford's town centre."
To find out more and to book tickets, please visit www.winterinwatford.com