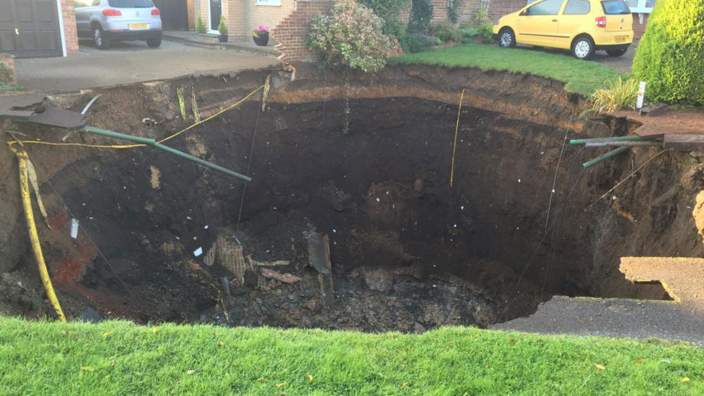 A large sinkhole, the size of two houses, has appeared overnight in St Albans.
The 20 metre hole (66ft) opened up around 1am on Fontmell Close, across a front garden and driveway, and is 10 metres deep (33ft).
Several families had to seek refuge in Batchwood Hall, normally a nightclub, which has been set up as an evacuation centre.
Hertfordshire Fire and Rescue Service said at least 10 people were evacuated from their homes.
A spokesman for the fire service said it was previously aware of a small hole and it was due to be filled in. However, they received calls early in the morning saying the hole "opened up substantially".
1/2 @StAlbansfire crews attended a sink hole on Fontmell Close, St Albans.

— Herts Fire Control (@HertsFRSControl) October 1, 2015
2/2 Crews worked with other agencies to ensure people were safely evacuated, gas and electricity supplies were isolated.

— Herts Fire Control (@HertsFRSControl) October 1, 2015
Fifty-eight homes in the area are currently without gas, electric and water, including residents on nearby Bridal Close.
Engineers are assessing the hole to find out a cause, but until then, they can't be certain this is a naturally made 'sinkhole'.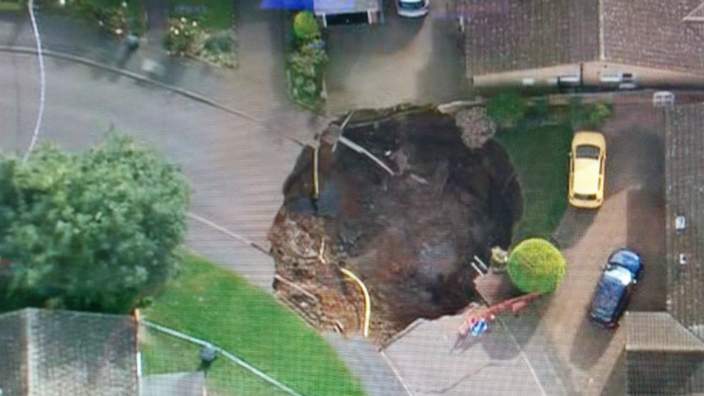 The BBC have flown over the site to capture the damage
Rad Bristow, from Hertfordshire Fire and Rescue Service, told BBC News: "They assessed the situation and cordoned off the hole.
"Since then the size of the hole has grown quite substantially. I don't think it could have been foreseen the hole could have grown so significantly over this period of time.
"I understand it's a really stressful time for residents, but in terms of the emergency response we did what would be expected.
"The main thing to take from this is that everybody is safe, nobody was injured."
Written by Isaac Ouro