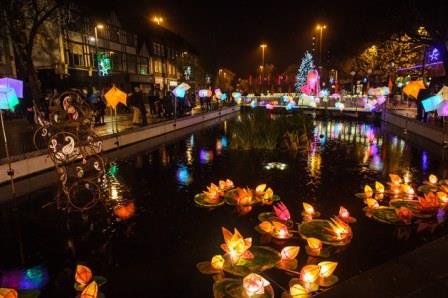 Watford Big Events is bringing lights, colour, and culture to The Parade to celebrate Diwali.
The next event in the series will take place from 12noon - 5.00pm on Sunday 25th October and is linked with Diwali at the Palace – a lively Diwali dance performance at Watford Palace Theatre.

Entry to the evening show at the theatre will be £8, or £6 for groups of four or more, and includes a free vegetarian snack afterwards.
To celebrate the Hindu Festival of Lights, there will be a host of dance and musical performances, and hands-on workshops.

People can try mehndi and gopi dot painting and have a go at making a floating lantern.
Visitors can also spend time at the Diwali craft and food market, where they can pick up a variety of treats and tasty delicacies.
Yogesh Joshi, who is part of the steering group that is organising the two events, said: "This is a celebration for everybody to join in, like Christmas. People from all sorts of religions and backgrounds went to Diwali on The Parade last year because it's a mood-lifting and entertaining event.
"It brings people together for a family gathering, so they can all join in and learn about a religious festival that they might not know very much about."

When night falls, the festival will bring everyone together in a procession to the pond to see the light lanterns float into the sky.

Elected Mayor of Watford Dorothy Thornhill enjoyed "seeing the children's faces" at last year's event when the lanterns were paraded down the High Street.
She said: "This year's Diwali event will be a sumptuous celebration for everyone to enjoy. People will have the chance to try some new and wonderful things – I'm delighted that we can bring such vibrancy to our town."
Written by Isaac Ouro