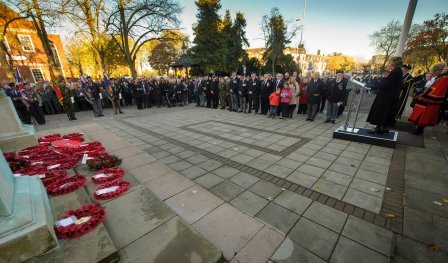 A wreath-laying ceremony will be held in front of the Peace Memorial at 3.00pm on Remembrance Sunday (8th November) followed by refreshments in Watford Town Hall.
Elected Mayor of Watford Dorothy Thornhill, Chairman of Watford Borough Council, Councillor Kareen Hastrick, and Vice Chairman, Councillor Darren Walford, will lead the wreath laying ceremony.
Branches of the Royal British Legion, along with representatives of many local organisations will be present. The families of Watford's Corporal Chris Harrison and Captain Tom Sawyer, who died in Afghanistan, will be there as well.
Fire cadets, Watford Synagogue representatives and school children from Watford's Grove Academy and Coates Way School will lay a wreath at the Anne Frank tree near the memorial to commemorate all children who have suffered in wars.
The 2015 Poppy Appeal is recognising that by purchasing a poppy we are remembering both those who have lost their lives in conflict and also helping the legion to provide assistance to today's armed forces community.
Elected Mayor of Watford Dorothy Thornhill said: "It's important to remember all of those who have died and suffered in wars. It is also our way of thanking all those who have served our country."
(Source: Watford Borough Council)