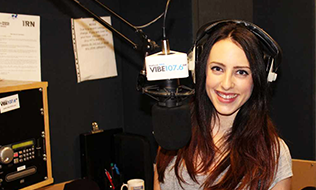 Presenter Sabrina Chakici was announced as the first E! host for the UK and Ireland earlier this week.
The breakfast show presenter, along with fellow presenter Lee Partridge, went on air for the last time this morning after landing her "dream job".
Coming to her 15 months at Vibe 107.6 FM, Sabrina said: "I'm here with you for the very last time in the early hours of this morning.
"I will still be staying with Vibe but I have got a new job!
"You may have already seen what it is, I'm very very excited! I can't, unfortunately, give my time to you guys anymore but I'll try to make this last show a very good one!"
The search is over! E!'s super hot new host for the UK and Ireland is… Sabrina Chakici https://t.co/eFeQMMo5L3 pic.twitter.com/VUemQkQxdh

— E! Online UK (@EOnlineUK) November 2, 2015
The 28 year-old fashion and lifestyle blogger, from Lincolnshire, was picked out of thousands of aspiring presenters nationwide who competed for the host title.
She overcame "fun but nerve-wracking" challenges, including sending E! an introduction video about her talents and who she would love to interview – none other than Kanye West, and facing x-factor style judging where she had to read and interview live in front of a panel.
Down to the final two, Sabrina was whisked away to London Fashion Week, where her interviews with fashionistas booked the stylish job.
According to E! online, Sabrina's "journalistic and interviewing skills, fashion and pop culture knowledge, and her love of E!, shone through during the entire process".
Best night ever!!!!!!! @EOnlineUK #ehostuk thank-you for this stunning outfit @Missguided ? pic.twitter.com/IXlPugTwZS

— Sabrina Chakici (@sabrinachakici) November 2, 2015
Speaking to E! Online, she said: "This is my absolute dream. I have genuinely worked my whole life for this moment and I'm honoured to be the new E! Host of the UK & Ireland!"
Already packed with a busy schedule, the ecstatic host will be jetting off to L.A on Monday.
Her first mission will be tackling exclusive behind the scenes interviews later this month at the 'Beyond the Red Carpet: The British Fashion Awards 2015', airing on Tuesday 24th November at 9pm on E!
Howard Groves, the General Manager at Vibe 107.6FM, and the whole team were quick to wish Sabrina a huge "congratulations" and good luck on her coming trips and well-deserved new job.
Written by Isaac Ouro