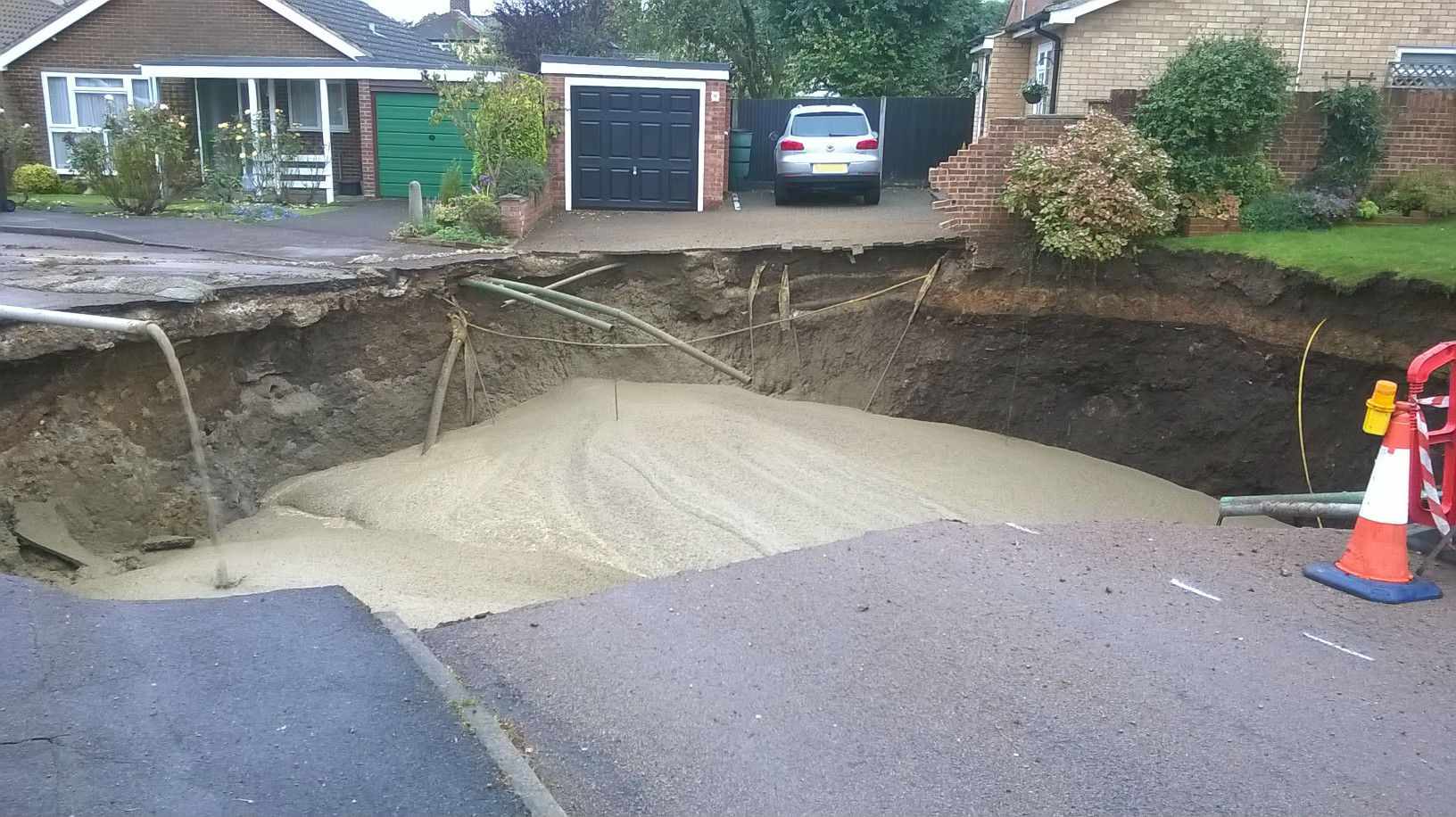 A lot of work has started over the weekend to fill the sinkhole and survey the surrounding area for potential risks.
This was in response to the large hole, the size of two houses, which appeared overnight on Wednesday 30th in Fontmell Close.
The 20 metre wide and 10 metre deep hole began being filled with foam concrete on Friday 2nd, but Hertfordshire County Council estimate it could take "several days". Work is ongoing.
Richard Thake, Cabinet Member for Community Safety at the county council, said: "Following advice from Hertfordshire County Council's geotechnical experts, engineers will start filling the sinkhole with foamed concrete today.
"At this time we cannot say exactly how long this will take, but it is likely to take several days. All agencies are working together to get residents back to their homes as soon as it is safe to do so."
Hertfordshire County Council's Resilience Team and Fire and Rescue Service have been working with Hertfordshire Constabulary and St Albans City and District Council.
Hertfordshire County Council released a video showing the current state of the sinkhole.
An emergency access road was created for residents to get their cars out through a playing field behind the site.
The street remains cordoned off with only engineers at the scene. The evacuated residents are staying with friends and family, or their insurance companies have made arrangements for them.
Mr Thake added: "Our priority remains to ensure the safety of residents in the area and minimise disruption and to resolve the situation as soon as possible.
"Teams from a number of agencies worked throughout the weekend and will continue to do so through the coming week."
A survey was also organised by the county council and homeowners in the street to see if there were other areas around Fontmell Close at risk of sinkholes.
This was in response to residents also claiming the area was rich in chalk and clay, and was mined during the 18th century.
This could not be "confirmed" but the council are doing "all we can to keep people safe, and houses safe, and getting people back in their homes."
Written by Isaac Ouro