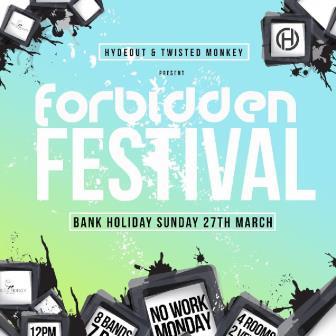 Get down to Twisted Monkey in The Parade, Watford on March 27th from noon for some great family fun and fantastic live music from Vibe 107.6 FM's very own Raw Vibes Live!
After last year's huge success The Forbidden Festival is back! With activities for the whole family from noon with all age's welcome - there'll be a retro movie room, giant ball pit and free soft drinks when you buy food! You can also join the Vibe 107.6 FM team as Raw Vibes Live returns to Twisted Monkey from 4.00pm until 10.00pm, hosting the best in local talent including acoustic, Soul, Reggae and Pop group Rash LA, alternative rock band Near Moments and R&B, Soul singer w ä d è.
Raw Vibes Live will be followed by the Forbidden DJ's, kicking off the dance floors from 10.00pm till 3.00am.
So get down to Twisted Monkey in the Parade Watford, Forbidden Festival on Easter Sunday from midday for a fantastic day of music and entertainment....and it's completely free!