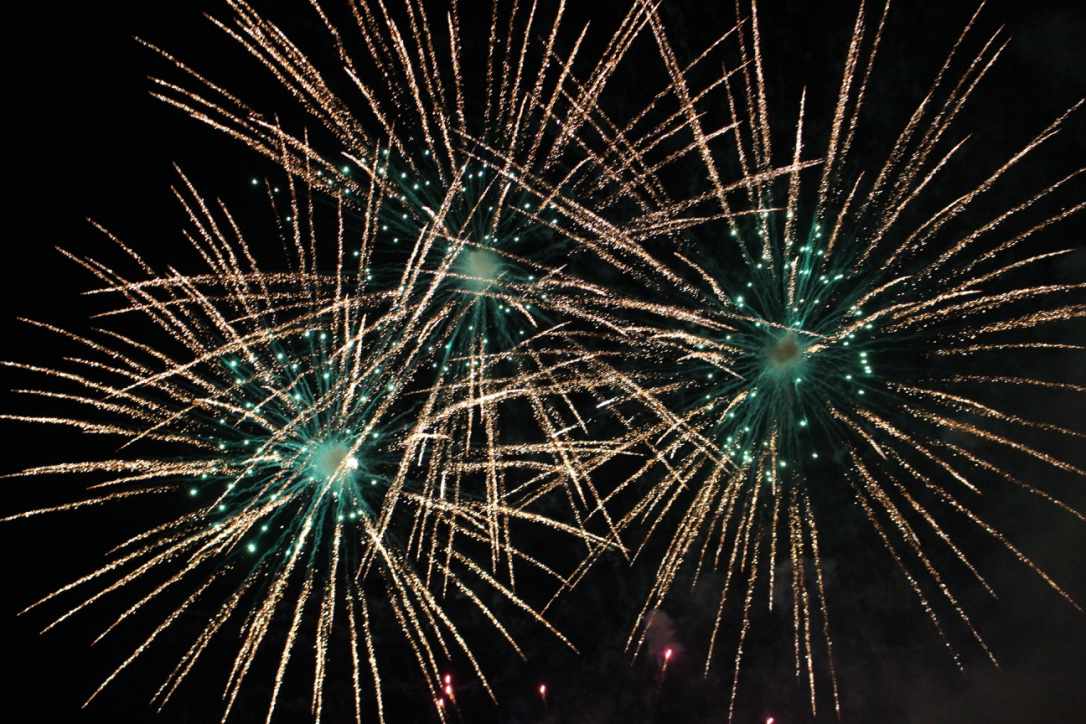 Tens of Thousands of people turned up to a 'successful' bonfire night and fireworks display last Saturday.
Over 20,000 people came together in Cassiobury Park to delight at the fireworks and blazing bonfire under a clear sky.
The event was organised and funded by Watford Borough Council, with the support of the Watford Lions who arranged the charity collection.
There was also a range of food stalls, funfair rides, and a bouncy castle on offer, adding to the festive atmosphere.
Vibe107.6FM hosted the 'amazing' evening with presenters Amy Solomon and Lee Partridge on the stage, sponsored by intu Watford, Nando's and Big Van Man Watford Limited.
The night saw families, and friends enjoy live music from Scandal, and an entertaining twitter competition where selfies were taken left, right, and centre.
@vibe1076 getting ready for the fireworks! #watfordfireworks2015 pic.twitter.com/hSZShnczjG

— Nicola Falconer (@nicola_falconer) November 7, 2015
@vibe1076 Bring on the fireworks, we can't wait! #watfordfireworks2015 pic.twitter.com/owy2vO4ElV

— Adam Tungatt (@adachops) November 7, 2015
The lucky winner Ruben got his hands on an amazing £100 shopping voucher at intu Watford, while runners up Jade and Kèmyn won meal platter vouchers for Nando's restaurant.
Nando's also brought a life-size mascot who gave out free promotional vouchers to the eager crowd, armed with glowsticks and flashlights.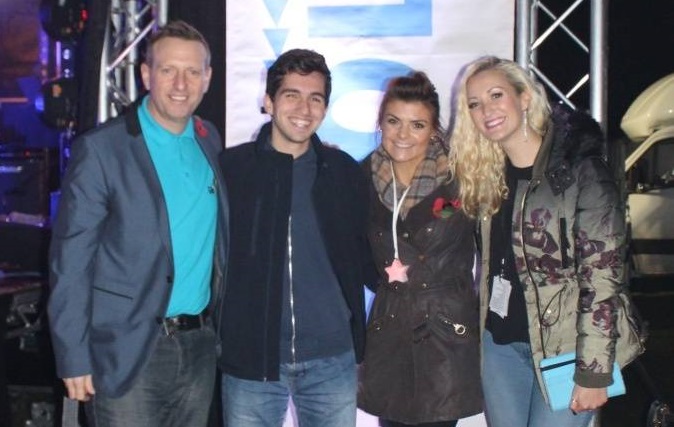 Presenters Amy (far right) and Lee (far left) with intu Watford voucher winner Ruben (middle left) and runner up Jade (middle right)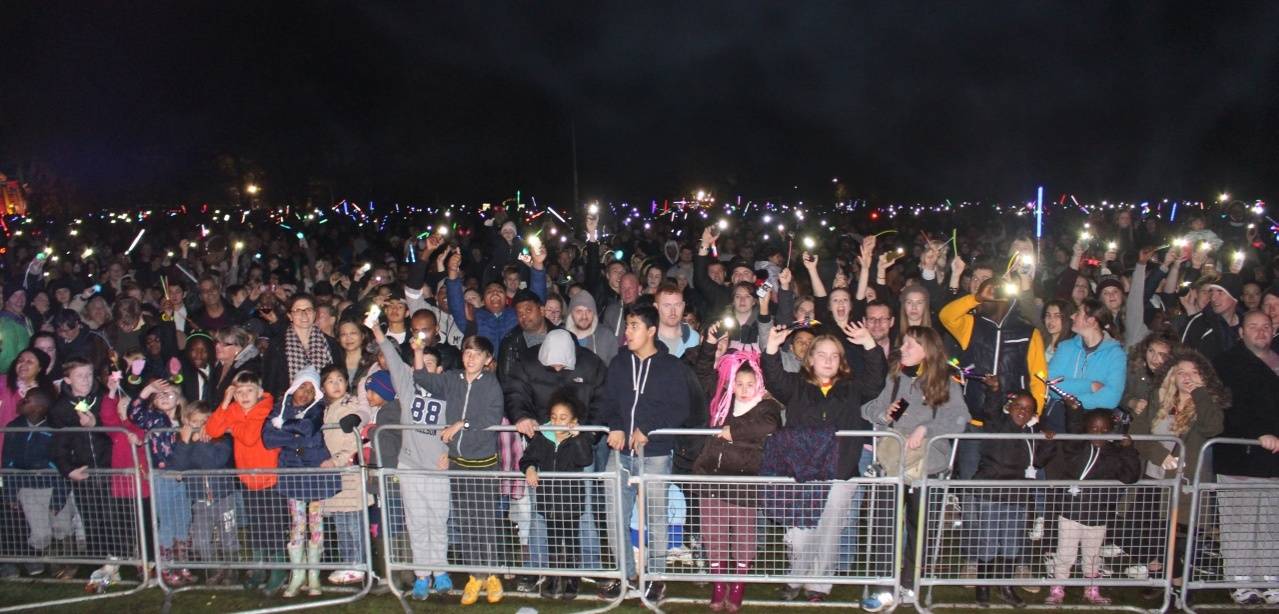 The large crowd waving their phones and glowsticks
Scandal, a cover band that has been playing for 16 years in Hertfordshire, brought lively covers such as Happy by Pharrell Williams and Superstitious by Stevie Wonder to a dancing crowd.
Scandal vocalist, Lucy Hall, along with band members Jimi Joyce, Chris Parkins, Chris Read, Steve Brodhurst, Jay Bart, had a 'great time' performing to a responding crowd.
Lucy, the powerful songstress, said: "There was a moment last year where I was asking the crowd to sing something back to me.
"It was then they put the lights up [fireworks and bonfire] and that's when I realised the scale of this event.
"It was pretty scary but also just the best, best vibes."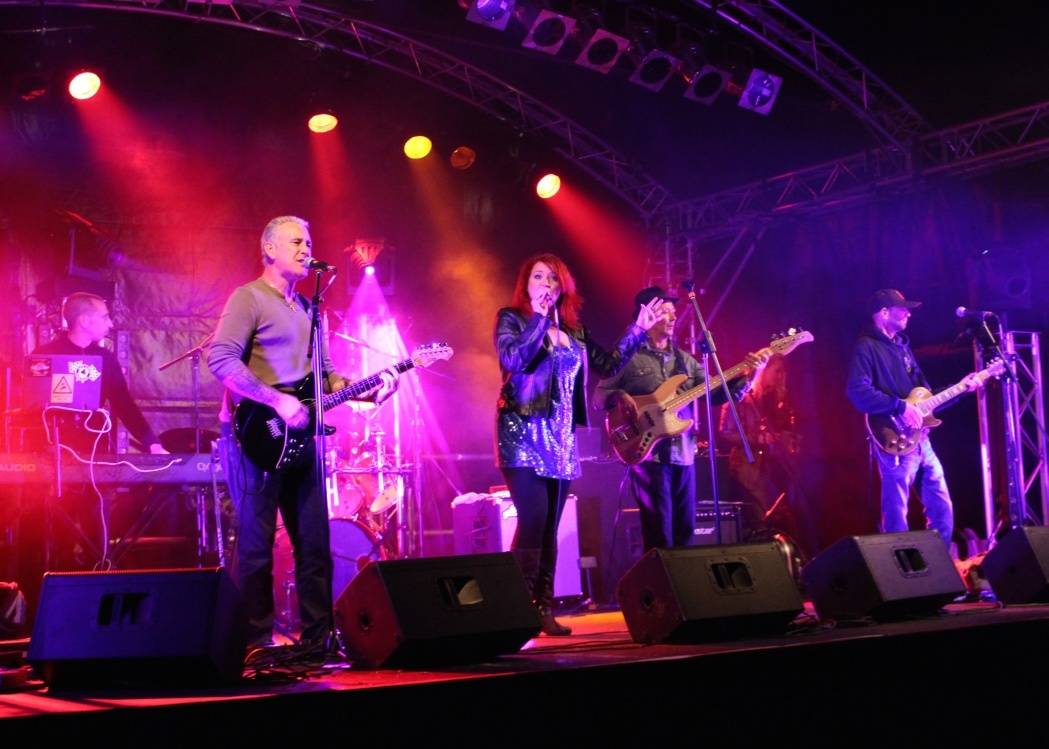 Scandal performing on the Vibe107.6FM stage
The singer, who is also a part-time support worker with mental health patients, added: "It's fantastic to be thought of as a household name in Watford.
"We're really grateful and incredibly lucky with the support we've got in the area."
Vibe 107.6FM General Manager Howard Groves thought the evening was the most successful yet.
He said: "I thought it was great! I thought that Scandal were excellent, in fact stronger than last year.
"It's been a great performance tonight by everyone at Vibe. Amy and Lee were brilliant at hosting this event and I believe it was busier than last year because the weather was better this year.
@WatfordCouncil @vibe1076 thanks for the great #Watfordfireworks2015 show tonight. pic.twitter.com/2HA4gY8ovB

— Ian Dougan (@loosedougie) November 7, 2015
"I think what it does show is that Vibe is now an integral part of the Cassiobury Fireworks. I think people will expect the stage and music now as the evidence by the fact there were a good few thousands before 7 o'clock.
"All in all, I thought it was a great success, and we look forward to doing it next year!"
For access to photos of the evening, have a look through our gallery.
Written by Isaac Ouro