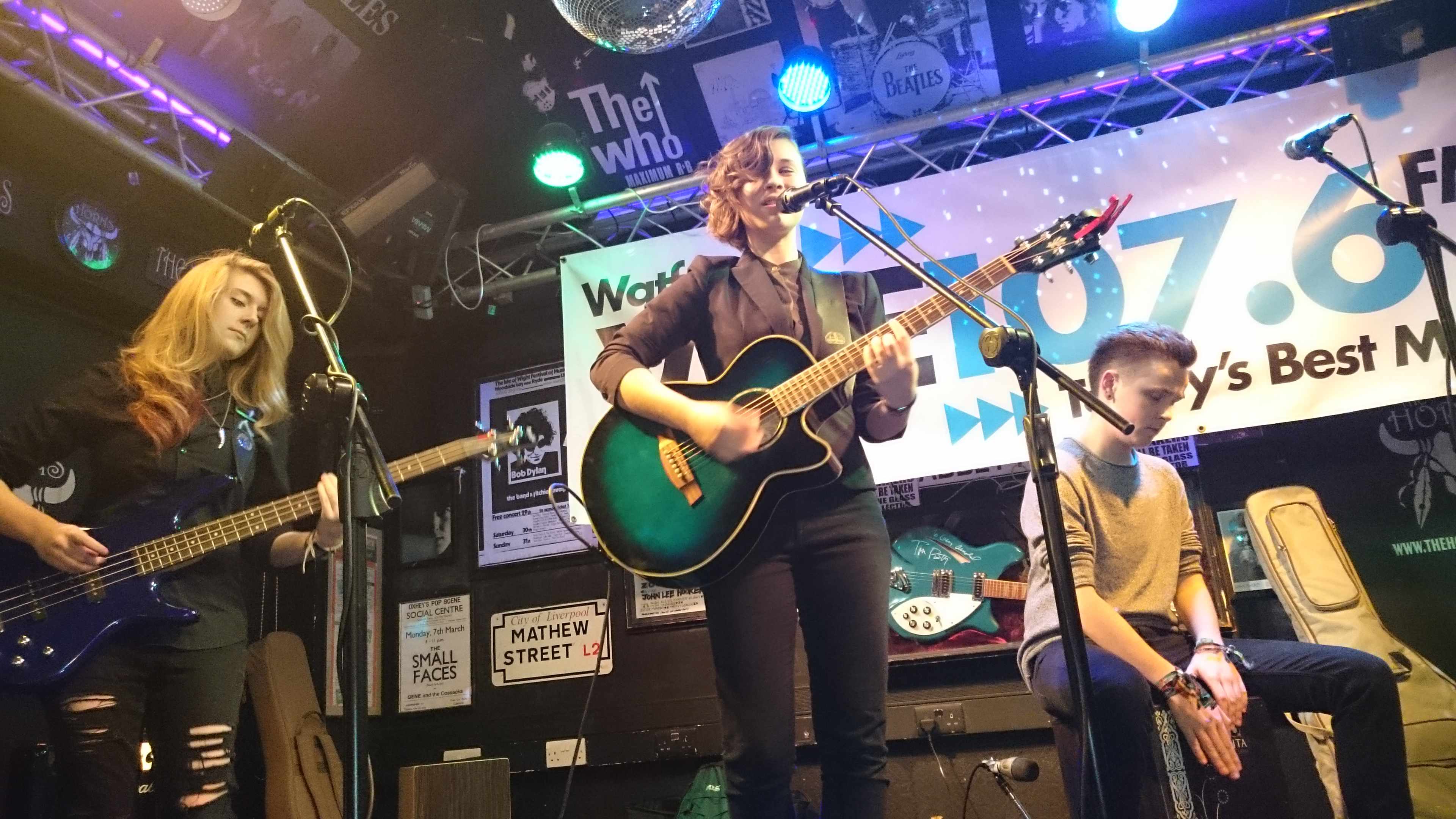 Artist Emma McGrath brought the Raw Vibes Live crowd to its feet at The Horns as the opening act last night.
The Raw Vibes Live show saw the 15 year-old, from Harpenden, perform with mature vocals, an acoustic guitar in hand, and a clean all black look on stage.
Emma was backed by friends and fellow talents, Lauren Davies, 20, on the bass guitar, and Alfie Nikitis, 18, on the Cajón (box drum).
Comfortable and witty on stage, Emma performed in her quirky guitar pattern socks to kick off the event.
She said: "I have a foot pedal and I like to be able to feel it with my feet. It's like a comfort thing.
"I suppose it's like being in touch with my instruments. And I like being able to make sure I press the right pedal and feel where I am.
"It's my first time with this set up but I play live a lot, it's quite fun. I thought the audience were great! Great first time at this venue, it's really nice!"
Emma, who's new single "Sit With Me" is set to release on November 27, was followed by equally exciting and talented acts.
Lewis Bootle brought Ed Sheeran-esque guitar and loop pedal technique with raw vocals, and amazing lyrical delivery.
Next up were Soul, Reggae, and Pop 8 members strong group Rash L.A, who "brought the party to Vibe" with a lively stage presence. The dancing crowd witnessed an exciting blend of rappers, guitarists, amazing vocalists, and a rhythmic Cajón player.
And who doesn't love a bit of Reggae?! @vibe1076 pic.twitter.com/RIyKHYLuCR

— Isaac Ouro-Gnao (@isaacremyy) November 3, 2015
Belgian and British pop duo DeltAmour closed the show with nothing but their strong vocals, harmonies, and lovely smiles.
Just witnessed these two kill #TheHorn such sick voices @DeltAmour pic.twitter.com/B1UqDzdKJw

— Carter Verone (@Acid_Official) November 3, 2015
Spectator Alexandra Davidson, 21, from London, was "pleasantly surprised" by the acts.
She said: "It's really great to see such amazing talents. They were all great. And I can't believe Emma is 15 years-old! She's got such a great voice!"
Chris Chapman, 21, from Bushey, said: "I don't usually listen to Vibe, but I will from now on. I'm surprised by the talents as I had no idea what to expect."
Howard Groves, Vibe 107.6 FM's General Manager, said: "This was the first time we've been to The Horns and it's been an extraordinary success.
"The standard of the artists surpassed everybody's expectations. It made for a truly enjoyable, fun and rocking night."
Written by Isaac Ouro