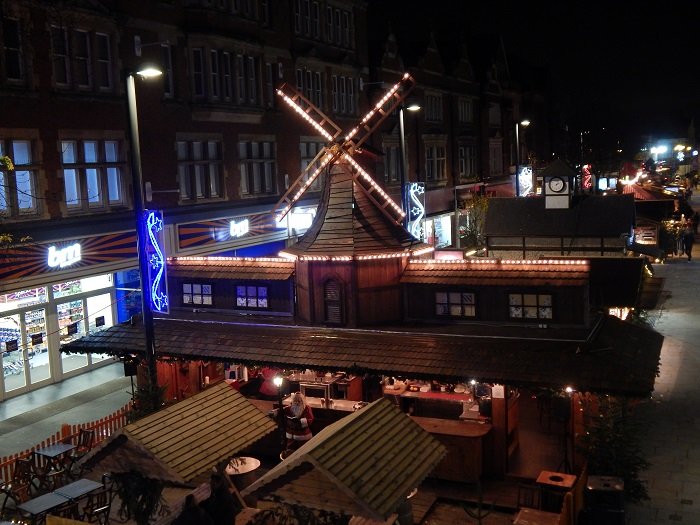 Watford's first ever German Christmas Market has found it "painful" after experiencing multiple thefts and break-ins.
The German-style market has been hit with over £1,000 worth of damages over the last week.
These include broken windows, and shutters forced open with "bars and heavy equipment".
The Haribo stall has been the most targeted, with 60kg of sweets stolen.
A Christmas tree was also sawed through and taken.
Volker Mottweiler, the Christmas Market manager, is distraught by the issues his traders are facing.
"I think it's a shame," he said. "It happened last night as well, three times. We have shutters on our stalls but they tried to open our sweet stall, and damaged a window on another stall.
"This is very, very sad. Most of the traders are very upset, and the trader at the Haribo stall is very unhappy."
"We lost 3 traders, including a wooden toy trader, because they read in the newspapers about issues in Watford; that this is a troubled town."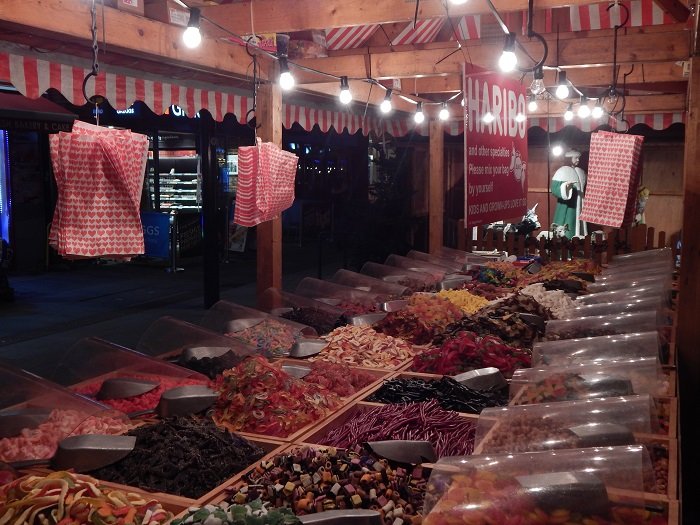 The Haribo stall is the most targeted by thieves
Volker and his traders have tried to prevent further break-ins from unknown offenders by using their own security, but have felt limited so far.
"If you ask police for help and tell them 'people are hanging around', there's no response," he added. "We're trying to provide our own security but our security is limited.
"In our own country, we have other ways of dealing with it. Here we haven't got the force."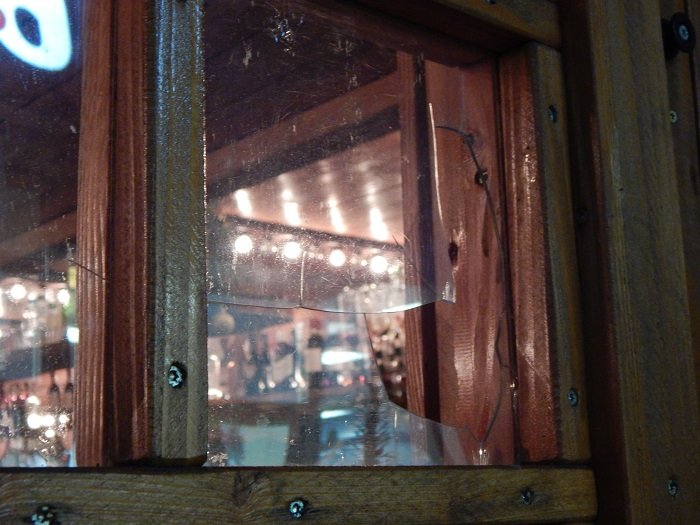 The bar lodge's windows have many cracks and breaks
"We can ring the police and ask them to give us a helping hand to protect our assets, and there's also CCTV here. But it has not been very helpful.
"We have good connections with the council but they are limited as well."
"They can pass it to another division, they can pass it to the police, and they can talk with people. But they have limitations."
After being welcomed to the high street on Thursday 19th November, the wooden lodges serving authentic sausages, beer, mulled wine, sweets, and much more, have brought the festive feeling to the high street.
"The customers who visit us are happy with the products and quality they get from us," Volker said. "With these sorts of customers, we are happy."
However, business has been slow for the market, with a lack of customers during the week, and only a few customers buying from the stalls.
"That's not normal," Volken said. "For us, we're losing money and our equipment has been damaged and stolen so it's not very positive. For us, it's a bad feeling.
"We definitely expected more when we came over. More respect.
"It's quite painful for us. We give you an opportunity for a Christmas market and you kick it down and destroy it."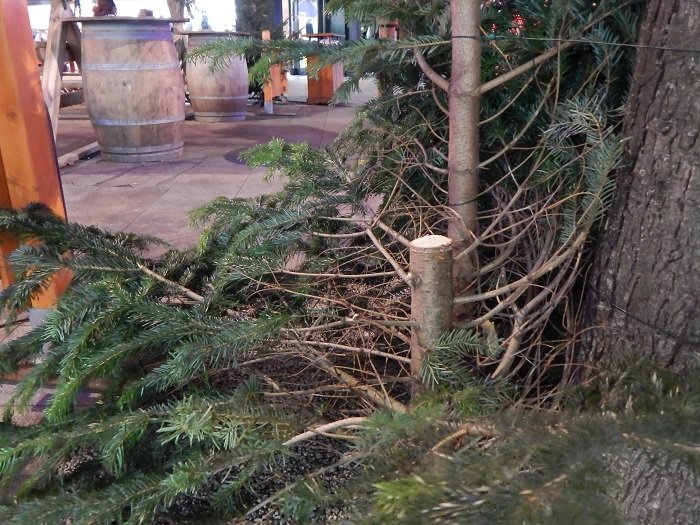 The root of a stolen Christmas tree
Elected Mayor of Watford, Baroness Dorothy Thornhill, said: "I am very disappointed to hear about these petty acts of vandalism to the market, which completely go against the spirit of what we're doing in our town over the festive season.
"We have a zero tolerance approach to anti social behaviour in the town centre and have been reviewing the CCTV footage with the police.
"These small-minded acts are very localised and we will be working with the police to ensure the market has enough security to prevent this happening again."
The Christmas market is positioned on either side of regular Watford stalls, now by the flyover.
Watford New Market has worked with both sets of traders to share the space after initial complaints of unfairness.
Gerry Shears, Market Manager for Town & Country Markets, said: "Although we've had to adapt to a new area, all our trades have adapted very well, and we've had no negativity from them.
"Initially from the movement there were a few issues but since there's been no moans and groans."
"They've all mellowed and got on with what they needed to do."
The festive season continues at the German Christmas Market, open from 11.00am to 10.00pm every day until January 3rd 2016.
Written by Isaac Ouro