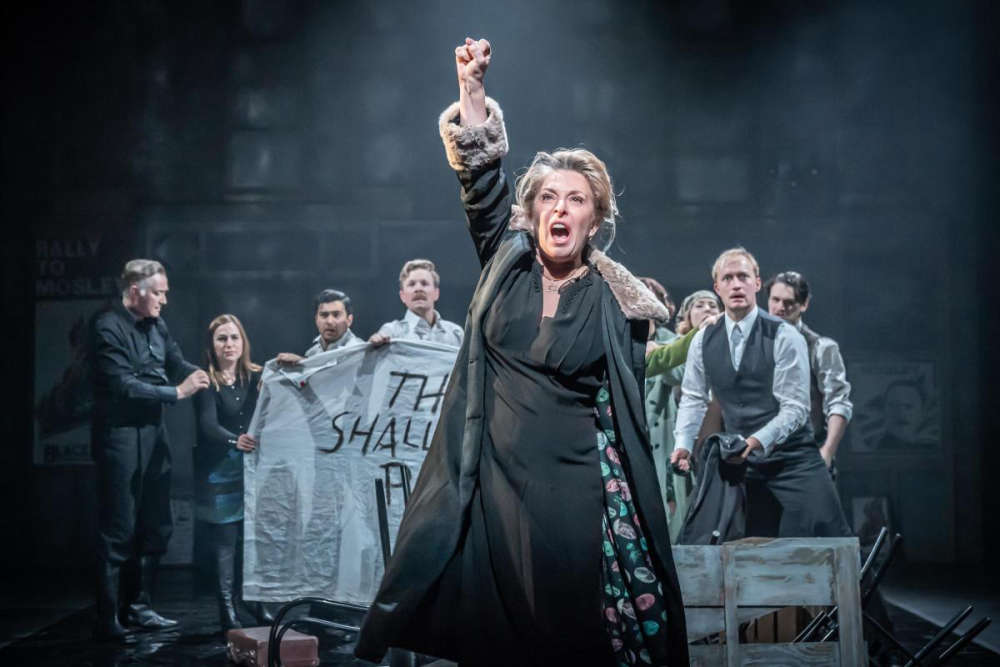 This refreshing twist on a Shakespearean classic at its core about love, money and religion, has come to Watford Palace Theatre
Adapted by Brigid Larmour and Tracy-Ann Oberman, who takes on the stark role of Shylock, a Jewish moneylender.
The choice to make Shylock a female in hopes of empowering women, highlighting them as independent and strong-willed was effective in certain aspects. However, Shylock is the antagonist, in the end she 'loses' being forced to convert to Christianity. Accurate to Shakespeare's text, but nonetheless questionable in a play that is set on empowering women.
The feminist feeling was not solely presented through Shylock, but powerful women were a motif throughout. The Romantic heroine Portia (Hannah Morrish) is a willing and witty character. Having inherited the riches of her deceased father she is now in command of her own life, something bizarre in Shakespeare's days.
Moreover, Shylock's daughter, Jessica (Gráinne Dromgoole) defies her matriarch for love by running away. Both these characters dress as men to have opportunities their gender denies them, emphasising the need for equality.
The attempts at comedic relief, common in Shakespearean plays after intense scenes of love and potential death, were acceptable. Receiving laughs now and then by the audience, however not groundbreaking in any sense.
On a positive note, the set design was wonderfully done; the greys and blacks reflected the dark, sombre tone of the tragicomedy. Furthermore, a projector was used to show photos and videos from 1936, a brilliant idea that gave context to the play.
Costumes were era accurate, suits and dresses adorned each actor, complimenting the characters. As seen in the silk floor length dress worn by Portia suggests freedom of movement as she lacks the restraints of men.
The main message of the play was to call to attention antisemitism present in 1936 as a reminder to the audience to never forget. 1936, a year of British turmoil seeing the abdication of Edward VIII, and the work of Oswald Mosley, founder of the British Union of fascists.
The foreshadowing of anti semitic feelings was done with subtle perfection. The addition of signs on stage added throughout, costume changes for Antonio, Gratiano and Baddanio into blackshirt uniforms all boiled to a head in the final scene. A retelling of the battle of Cable street. This felt rushed, but was still highly effective as it signified a message of urgency, destruction and fear instilled in those in 1936. This finalised the play with an ending that makes the audience question the underlying tolerance for all kinds of racism in the society they live in today.