Spy
Cert: 15
Runtime: 119 minutes
Director: Paul Feig
Cast: Melissa McCarthy, Jason Statham, Jude Law, Rose Byrne, Morena Baccarin, Miranda Hart
Rating: ***
Having watched the trailer for this film I went expecting the only humorous moments to be those I had already seen, but actually there are more in what is a fairly entertaining movie. Melissa McCarthy plays a very sad desk bound CIA operative Susan Cooper, who having been fawning over field agent Bradley Fine (Jude Law) finds herself unleashed into the world of spies and espionage.
Susan is first seen supporting the 007 look alike Fine, whose success often depends on her guiding him through missions as she communicates to him via an earpiece . The smooth Fine then also gets her to sort out the menial tasks in his life like the dry-cleaning and his gardening, whilst she remains in awe and infatuated with him. However, it's Susan's anonymity that gives her the opportunity to also go into the field and locate a nuclear weapon that has got into the wrong hands. Needless to say McCarthy does not intentionally make for a good field agent and bumbles her way to success.
Her journey certainly has its laugh out loud moments. Instead of 007 type gadgets, she ends up with a kit of everyday items and medicines to suit the unattractive disguises she is being handed. So instead of pens that fire bullets Susan gets a rape whistle (although this does conceal poison darts), stool softener and "an unsettling amount of haemorrhoid wipes".
McCarthy plays the role with impeccable timing, as she masquerades as one dowdy character in an unflattering wig after another, never getting the designer jewellery she is hankering after. Even when she does break loose she finds the arch villain played by Morena Baccarin is totally disparaging about her evening wear, despite Susan thinking she has finally cracked the role of glamorous field agent. Jude Law does well enough as a parody of James Bond, although one always gets the feeling he is coasting a little. Jason Statham, however, throws himself into his role with gusto as the not so bright operative who claims to be indestructible and capable of succeeding on his own. Indeed, it's really like many of the roles he plays, which is probably why it's quite amusing.
Paul Feig directed The Heat, where McCarthy and Sandra Bullock did a female buddy cop routine which was very successful. Taking some elements from this, villain Rose Byrne who lives the good life, for a good part of the film finds herself too close to Susan who seems to be everything she is not in terms of style and sophistication and almost physically recoils from her, whilst retaining a grudging admiration for her sheer persistence and stamina despite numerous setbacks and wrong turns. This may also be why Miranda Hart becomes Susan's sidekick towards the end of the film, but in essence she does seem to just play her BBC sit com role just in more glamorous locations.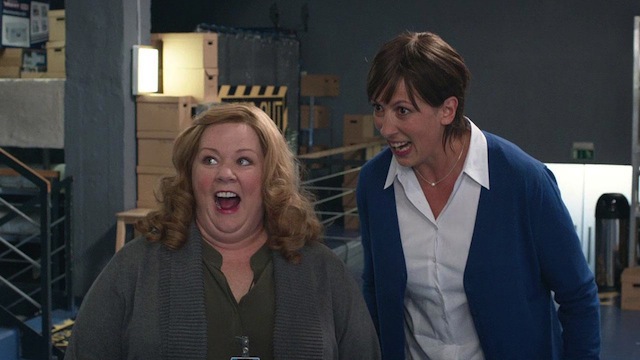 The film seems to lose all sense (if it ever has any) as it draws towards its climax, with 50 Cent even making an appearance and being flattened by the energetic and clumsy Hart. Nevertheless McCarthy holds it all together very well, there are some good action sequences, there are some genuinely funny moments and it may well be that we see her in another film based upon the same character. It's worth going to see but waiting for the DVD or Sky Movies won't be a hardship.
Written by Howard Groves