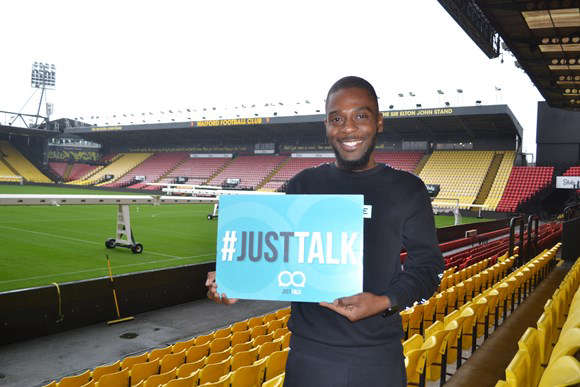 Antonio Ferreira pictured at Watford Football Ground in September. Credit: Hertfordshire County Council.
Hertfordshire County Council's Just Talk Week (15-21 November) is back this month.
The campaign encourages young people to speak about their emotions and reach out for help if they are struggling.
This year's theme centres on kindness – specifically how we can be kinder to ourselves, to one another and how small acts can mean a lot.
The pandemic has affected the mental health of Hertfordshire's young people with isolation and uncertainty often leading many to experience feelings of frustration, anxiety, loneliness as well as low mood.
Last year, 33% of 11-18 year olds in the county felt their wellbeing was worse than before Covid-19 – according to a survey conducted by Just Talk.
In England one in six children were identified as having a possible mental health problem during 2021 – an increase from one in nine in 2017, as stated by NHS Digital.
A number of barriers may prevent children and young people from accessing the correct support at the right time, including fears around stigmas associated with mental health problems along with knowing who to ask for help.
Furthermore, evidence shows that those who receive help early can have better outcomes.
Just Talk Week is being supported by 23-year-old mental health ambassador, coach and motivational speaker, Antonio Ferreira.
Antonio who volunteers for mental health charities including Mind, is using his own experiences to help others.
He recently advised EastEnders on its schizophrenia storyline involving the character Isaac Baptiste (played by actor, Stevie Basaula).
The 23-year-old worked with the soap's creative team to guide scenes, and supported cast and crew on set.
Antonio said: "Growing up, I feel society makes a lot of boys feel that they have to be strong and can't show any vulnerable emotions.
"I think boys can do that and they should - it's not something that society should direct them how to feel.
"Showing vulnerability and emotions makes you human and that's what we all are.
"I'm supporting the Just Talk campaign, as it encourages young people – boys and girls to talk about their feelings.
"There's no shame in asking for help, as everyone feels low from time to time and you shouldn't try to ignore it or hide it."
Just Talk will be sharing information on emotional wellbeing and mental health across the week, with local organisations hosting free webinars and workshops.
There will be social media takeovers, mindfulness sessions alongside a competition for children and young people, based on the Five Ways to Wellbeing.
Antonio will also be talking about his own experiences and offering advice on Just Talk's online platforms.
First launched in 2017, Just Talk is a multi-agency mental health campaign steered by young people and works with over 35 organisations in Hertfordshire.
The campaign was recently shortlisted for Mental Health Innovation of the Year at the HSJ Awards 2021.
For more information about Just Talk Week visit:
You can also follow the campaign on Facebook: JustTalkHerts Instagram: @JustTalkHerts Twitter: @JustTalkHerts