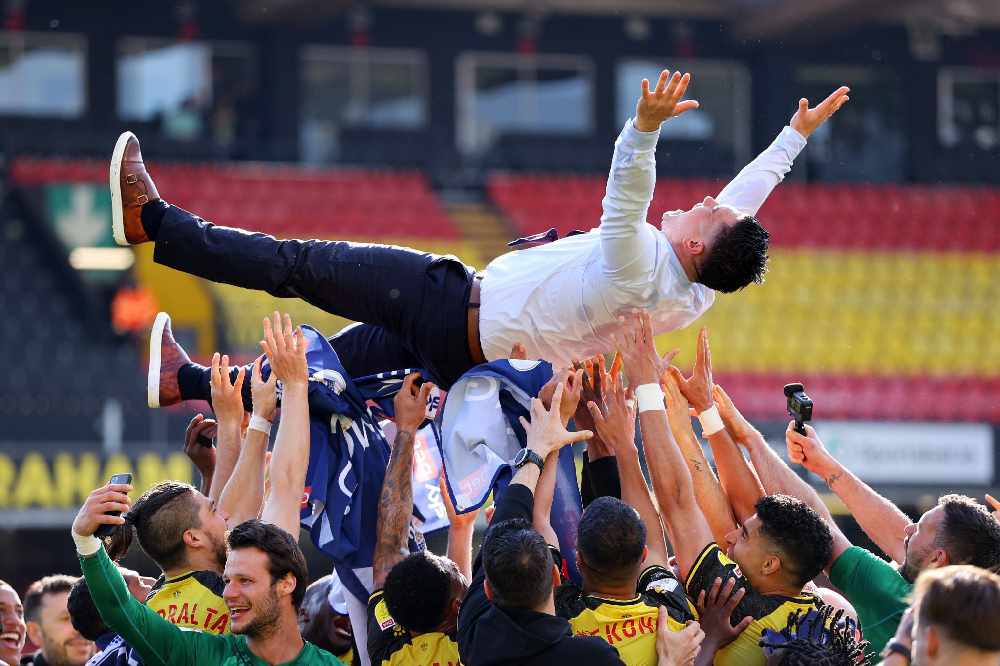 Following Watford's promotion to the Premier League on Saturday afternoon, a beer-soaked and jubilant Xisco Muñoz spoke to the Media about how he and his side managed to seal a top-flight return at the first attempt.
A lingering question since the Spaniard's appointment has been of whether he has the qualifications required to be a Head Coach in the Premier League. It was confirmed that Munoz, having started his UEFA Pro Licence, is qualified to continue at the helm of the Hornets, to the relief and joy of many joyful Watford fans that have fallen in love with him already.
Upon his arrival to the Press Conference the former Valencia winger immediately thanked the fans, "Thank you to everyone for your support, for giving all the best for the club for our fans, because today is the day for our fans, I love our fans, I have received a lot of support on social media, and secondly I want to say thank you to everyone working behind me, in the training ground, because they work very hard and give very good solutions everyday in training, and I think it is the moment to enjoy, we worked very hard to arrive at a big goal."
"I miss them (the fans). We need to be careful with saving lives, but we need to enjoy. I was a little sad when we finished the game because I feel with the fans in the stadium, sure it's an amazing moment, but I know they give big support at home, and the most important right now is to enjoy because we are in the Premier League next year."
As a result of the ongoing Coronavirus pandemic, it hasn't been easy for families, from a personal and football perspective, which was recognised by the Hornets Head Coach, "I feel very very happy about this situation (promotion) because first of all for the fans, second for the players, third for my family, my kids because I've stayed six months without my kids and it's very hard sometimes, difficult moments when you are without family, and for me it's very nice when I can come back home.
"When the referee finished the game I had a lot of families in my head, Not just mine but I have good staff and they also stay outside of their home, and in the International break they cannot go to Spain because of Covid and can't take the risk. I was emotional because it wasn't easy when I arrived, this was the reality."
Xisco joked that, despite bringing a spare shirt to replace the one soaked by beer and champagne, he didn't want to change in case his colleagues and players decided to throw more over him, which was probably a wise move.
"I was more nervous as manager (than achieving success as a player) when you are inside the game you're inside the game, and are focused, when you're outside you're checking the time, and the time is very long!"
Muñoz was praised for his impressive managerial record so far in Hertfordshire, where he has accumulated 54 points in just 24 games, but he remains focused on this season's end. "Now I need 6 more (points)!"
After an important result Muñoz has sometimes remarked that his players can "enjoy one beer". When asked by Vibe 107.6 if perhaps they are entitled to more than one today, the Head Coach laughed, before saying "Today I think they want more than five beers! Today it's important to enjoy, because we work very hard to arrive in this situation. It's a moment to say congrats to everyone, arrive at home and drink two or three beers."