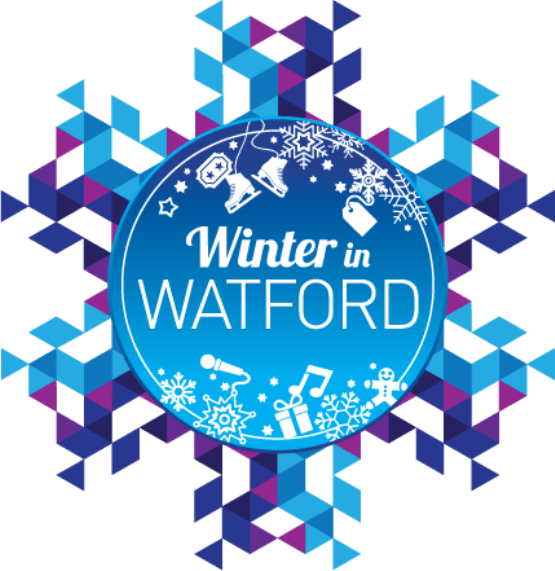 Winter in Watford will bring lots of festive, family fun as Watford BID joins forces with key players in the Purple Flag town!
Returning for a second year, Winter in Watford has a great range of festive activities across Watford. Residents and visitors can go skating on a real ice rink, see two Christmas shows including the much-loved Christmas panto and take the children to Santa's grotto. It is also the place to come for your Christmas shopping at intu Watford and out on the High Street.
Jonathan Field, Chair of Watford BID said "We're delighted to be partnering with other local organisations to spread the word about the fantastic range of experiences on offer in Watford this festive season. There's genuinely something for everyone and we're proud to be part of the activities that make Watford a 'must visit' destination this winter."
Watford is also celebrating after after learning it has achieved the prestigious Purple Flag status for its evening and night-time economy (ENTE). Purple Flag is a town and city centre award – similar to the Blue Flag for beaches – which aims to raise the standard and broaden the appeal of town and city centres between the hours of 17:00 & 05:00. Areas awarded the Purple Flag are recognised for providing a vibrant and diverse mix of dining, entertainment and culture while promoting the safety and wellbeing of visitors and local residents.
Maria Manion, Chief Executive of Watford BID, said "We are delighted Watford has maintained its Purple Flag award. We work closely with all our colleagues across the town centre, including local businesses, the Police and the Council, to ensure those who visit the town have both an enjoyable and safe time. It's great to see the Purple Flag assessors recognised the hard work and dedication of all our partners".
The Winter in Watford website is packed with useful information for anyone visiting this Purple Flag town over the festive season, from booking tickets to travel and parking information.
Why not share your your photos of Winter in Watford? Use the hashtag #WinterInWatford and look out for @WatfordForYou on social media for the latest news, updates and offers this #WinterInWatford.
(Source: Watford BID)