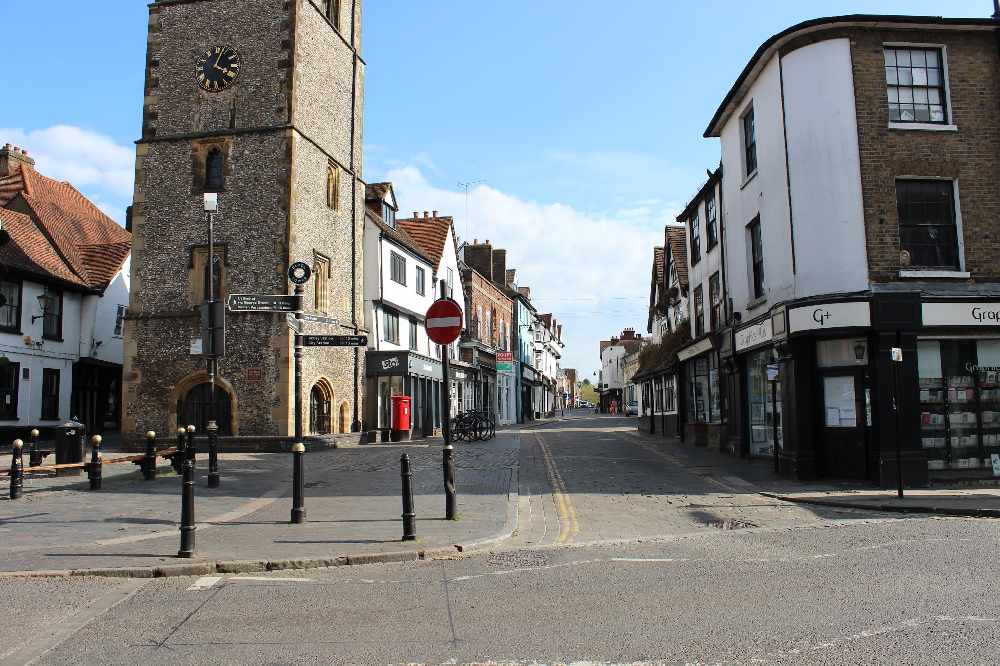 Picture: St Albans City and District Council.
The government has announced that six more Hertfordshire districts will enter Tier 3 (Very High) COVID-19 restrictions. This includes local areas St Albans and Dacorum, where new measures are set to begin from midnight on Saturday (19th December). The news comes after Watford, Three Rivers, Hertsmere and Broxbourne moved into England's highest alert level earlier in the week.
On Thursday, Health Secretary, Matt Hancock, delivered the first formal review of local restriction tiers to MPs in the House of Commons. He stressed that 'no one wants tougher restrictions any longer than necessary.' However, Mr Hancock stated such restrictions 'must' be 'put …in place,' where needed. This he added was 'to prevent the NHS from being overwhelmed' and to 'protect life.' The Health Secretary explained how over the last week coronavirus cases in the East of England had gone 'up two thirds,' and 'hospital admissions' by 'nearly half.' Mr Hancock suggested 'the best way for everyone to get out' of Tier 3 was by pulling 'together,' and to 'do everything they possibly can to stop the spread of the virus.' The current tier restrictions will be reviewed again on 30th December.
There are five indicators which 'guide' the government's tier decision for each region. This was previously set out in the COVID-19 Winter Plan, and includes:
Case rates.

Case rates amongst the over 60s.

Test positivity.

Rates of change.

Hospital pressure.
What has the County Council said?
In response to the announcement of the whole county entering Tier 3, David Williams, Leader of Hertfordshire County Council (HCC), said:
"We fully recognise the huge impact this move into Tier 3 will have on families and businesses. Across Hertfordshire, local government, the National Health Service, the Local Enterprise Partnership and many other partners have plans in place to do all we can to support our communities. Ultimately, we must all keep playing our part to help reduce the number of cases in the county and take the key steps towards resuming our normal lives."
Mr Williams indicated the County Council's 'message' remained 'clear and exactly the same.' That everyone should 'stay disciplined and stick to the guidance' if 'the situation' is to 'improve' within the county. The HCC Leader went on to say it was 'vital' people 'redouble' their 'efforts' especially when planning 'for how' to 'follow' guidelines over Christmas and New Year. Finally, Mr Williams noted it was 'imperative' that individuals 'reduce or even avoid social contact' with people from outside their household or 'existing' support bubble before festivities begin.
How have some local authorities responded?
Leader of St Albans City and District Council, Councillor Chris White, said the decision to place the city within Tier 3 restrictions 'is not surprising.' He further stated this was 'very concerning' for local people and businesses which 'will be adversely affected.' Councillor White confirmed 'St Albans District' would 'continue to work with… partner agencies on the pandemic response, through the Hertfordshire Local Resilience Forum.' He also revealed that 'the first local vaccination centre' had 'opened at Batchwood Hall earlier this week.' A team are 'supporting the vaccination programme,' along with 'other Covid work.' This included 'isolation enforcement, track and trace,' in addition to 'grant funding for businesses.' Mr White explained how 'over the next hours and days the council' needed 'to make further changes to the way' it delivered 'local services.' In turn, 'those affected' will be contacted.
The St Albans Council Leader emphasised in order 'to keep ourselves and each other 'safe' residents 'need' to 'play' their 'part,' and 'remember the basics.' This involves washing hands, wearing face masks 'where appropriate' and maintaining social distancing. Additionally, people should self-isolate when 'necessary.' Councillor White went on to state that such actions 'can bring' case 'numbers down' and ensure 'hospitals…continue to cope.' He concluded with Christmas fast approaching, 'renewing all…efforts to help make Covid safety a top priority' was 'common sense.'
What is the reaction from MPs?
Deputy Leader of the Liberal Democrats and St Albans MP, Daisy Cooper, indicated 'the Covid situation in Hertfordshire is just getting worse and worse.' She acknowledged this was 'incredibly worrying for many people.'
Ms Cooper continued:
"The case rates in St Albans are rising very quickly, as they are across the whole of Hertfordshire. All of us are going to have to exert extreme caution over the Christmas period. Nobody is going to want to experience tragedy when the vaccine is in sight and within touching distance, particularly for many of our vulnerable residents in the New Year. At the same time, I know that moving into Tier 3 is going to be a serious blow to lots of our small businesses. I will be calling on the government once again to step up support for our small businesses, at this incredibly tricky time."
With regards to tougher measures being introduced within Dacorum, MP for Hemel Hempstead, Sir Mike Penning, commented:
"Sadly the stats speak for themselves here in Dacorum. A massive spike in positive COVID-19 cases and hospital admissions close to what they were at the peak in lockdown 1, has meant that moving into Tier 3 was inevitable. Keeping residents safe is my first priority, but there is a light at the end of the tunnel as we have seen areas come out of Tier 3 and 2."
Finally, South-West Hertfordshire MP, Gagan Mohindra, added:
"Although I'm disappointed that the whole of Hertfordshire has now been put in Tier 3, we must all remain cautious as Covid remains lethal to some of our most vulnerable residents."
COVID-19 data for South-West Hertfordshire:
According to the Government Office for Science and Scientific Advisory Group for Emergencies (SAGE), the latest R number for the East of England is 1.2 to 1.4. The number of COVID-19 cases per 100,000 people in the population for the week ending 13th December, was as follows:
| | | |
| --- | --- | --- |
| South-West Hertfordshire Council Region | Number of cases per 100,000 people, in the week ending 13th December | Number of cases per 100,000 people, for the previous week (6th December) |
| Watford | 343.8 | 216.4 |
| Three Rivers | 263.6 | 132.9 |
| Hertsmere | 339.3 | 160.1 |
| St Albans | 182.6 | 122.6 |
| Dacorum | 217.1 | 136.3 |
Source: UK Government.
For more information on Tier 3 restrictions visit: https://www.gov.uk/guidance/tier-3-very-high-alert