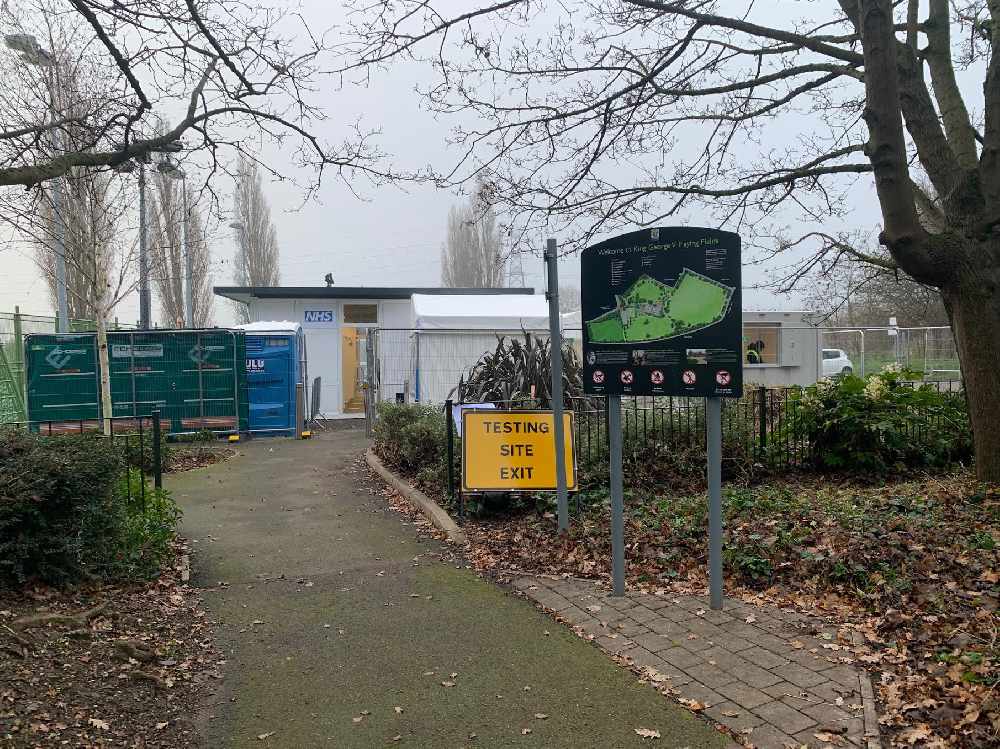 The new walk-through test centre at King George V Playing Fields. Picture: Watford Borough Council.
A public carpark on Chaffinch Lane, has become the location for Watford's new walk-in test centre. It opened on Friday 4th December, as part of measures introduced to 'increase testing and reduce the spread of the coronavirus.'
The site situated within King George V Playing Fields (WD18 9QD), is run in partnership by Serco, NHS Herts Valleys and Watford Borough Council. Testing will only be provided to people with coronavirus symptoms. This includes: a high temperature, a new continuous cough, or a loss or change to your sense of smell or taste. A limited number of parking spaces are available for those getting tests or accessing the playing fields. The facility has been positioned in a location so that it can be reached easily without a vehicle.
Individuals being tested are required to follow public health measures. This means maintaining social distancing, not using public transport or a taxi and practising good hygiene. A face covering must be worn throughout the entire process, including whilst travelling to and from the test centre. Those attending appointments at walk-through facilitIes, will receive guidance on how to travel there safely. In turn, additional support is also offered to vulnerable groups and people with disabilities.
Elected Mayor of Watford, Peter Taylor, said:
"If you have COVID-19 symptoms, getting tested is absolutely critical for the safety of all of us if we are to help bring infections down and reduce pressure on our NHS staff. The new site will help increase public access to COVID-19 testing, which is vital to supporting the Watford response to the pandemic and tackling the spread of the virus and its potential impact on the lives of people in our town. I urge anyone that has symptoms to make sure they isolate along with members of their household and book a test as soon as possible. However, please do not turn up to the walk-through site without a booking."
This week rollout of the Pfizer/BioNTech vaccine began, as part of the UK's coronavirus immunisation programme. Fifty hubs have been established at hospitals around the country, to administer the jab to those most vulnerable. This includes the over-80s, along with some health and care workers. During the latest #AskTheMayor segment on Vibe 107.6, Mr Taylor revealed Watford residents will be 'contacted' when a COVID-19 vaccine becomes available. An immunisation programme has not yet started within Watford. The Elected Mayor stated that 'work' was 'going on' within Hertfordshire to organise the distribution of the vaccine.
He added:
"We (the council) are working really closely with the NHS and Hertfordshire County Council, on sites in Watford. Although it's not being kind of signed off and there's no public announcement yet, there will be vaccines obviously being administered in Watford. There will be announcements in the next few days about where that'll be taking place. We're doing everything we can to make space available, sites available for that to happen. People will have seen that this week, we've opened up the seven day a week testing in West Watford at the Holywell Centre there. We're doing everything we can just to basically make sure that this can happen as quickly as possible for everyone in Watford."
Appointments at the walk-in centre are available for individuals with COVID-19 symptoms, including vulnerable groups and people with disabilities, seven days a week from 8am – 8pm. Tests should be booked or ordered as soon as symptoms begin from nhs.uk/coronavirus, or by calling 119. You can expect to receive your result from the walk-through facility the following day.
For more information visit: www.watford.gov.uk/coronavirus