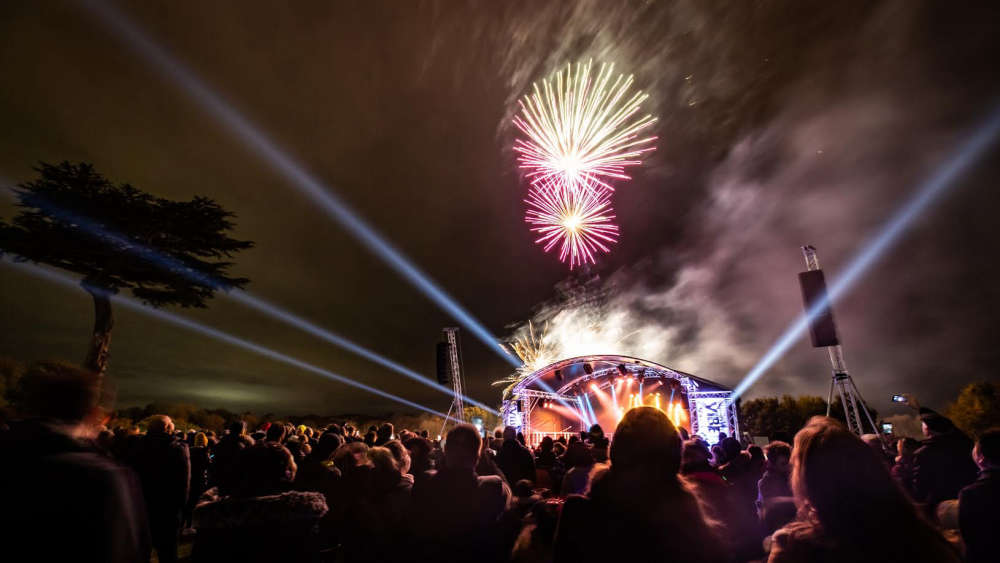 This year's fireworks display in Cassiobury Park. Credit: Extreme Production Group.
Watford's annual Bonfire Night display has recorded it highest amount of visitors and charitable donations to date. 
Last month, over 40,000 people gathered in Cassiobury Park to watch the 20-minute fireworks extravaganza.
The event organised by Watford Borough Council raised a total of £11,780 for several local charities.
Elected Mayor of Watford, Peter Taylor, said: "Providing a programme of high quality outdoor entertainment for families to enjoy free of charge is one of our priorities and it was great to see so many thousands of people taking advantage of the opportunity.
"Fireworks Night is loved by many residents and visitors, with the display being one of the most spectacular in Hertfordshire.
"I was delighted that it was able to return this year and that we managed to raise over £11,000 for several charities through the Covid Community Grant Fund.
"A huge thank you to all those who made the evening a success, to everyone that donated and to all the volunteers from the Lions and Rotary Clubs on the night."
Attendees at this year's bonfire celebrations enjoyed a jam packed evening filled with live music, food and drink as well as funfair rides.
Vibe 107.6 FM was also on hand helping to keep the crowds entertained, with presenters Lee Partridge and Miles Blumsom hosting.
Commenting on the success of this year's display, Vibe 107.6 FM's Managing Director Howard Groves, said: "What a night that was, we had hundreds of people waiting for the show to start before 6 p.m. and there were thousands still partying when the music went off at 8.30.
"The fireworks as always were brilliant, it was an honour for Vibe 107.6FM to be involved in such a great night."