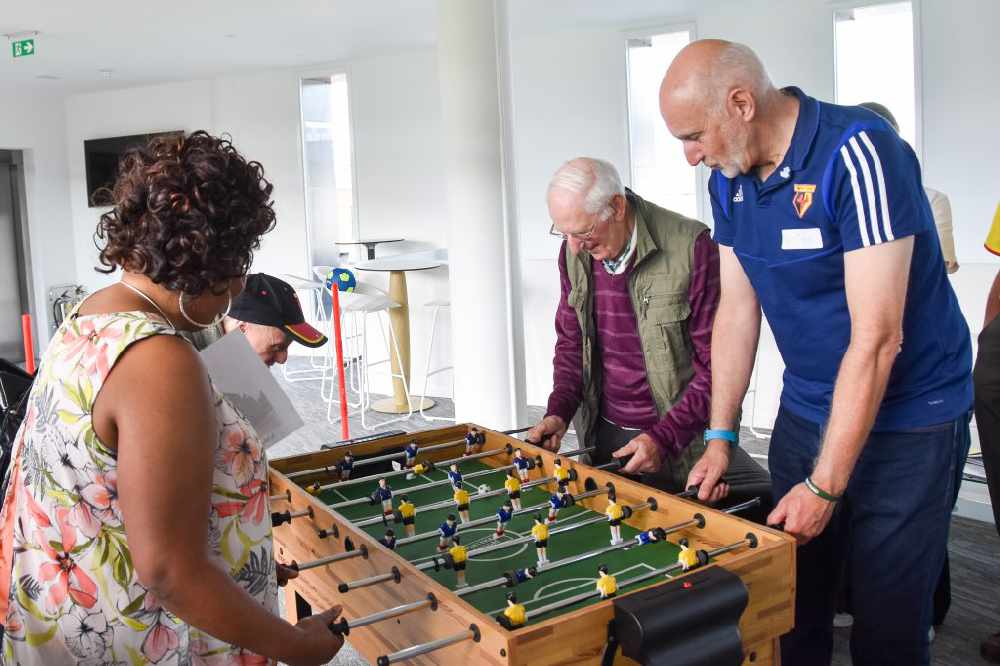 The Golden Memories initiative at Watford FC. Picture: Watford Football Club Community Sports and Education Trust
More than 1000 people in Watford live with dementia. Many residents care for relatives or loved ones who experience the condition on a daily basis. It is something which may touch our lives directly or of those we know, at some point in time.
What is dementia?
Dementia is 'an umbrella term' used to describe a variety 'of progressive conditions' which 'affect the brain.' There are over 200 subtypes, and the most common forms include: Alzheimer's disease, vascular dementia, dementia with Lewy bodies, frontotemporal dementia and mixed dementia. Our brains 'are made up of nerve cells (neurones)' which 'communicate with each other by sending messages.' Dementia causes damage to these nerve cells, and messages cannot 'be sent from' or 'to the brain effectively.' As a result, this 'prevents the body from functioning normally.' Symptoms can include difficulties with thinking, problem-solving and language. There may also be changes in the person's mood and behaviour. The symptoms often begin as 'small' changes, but over time can impact upon daily life. It is important to note that an individual will 'experience dementia in their own unique way' irrespective of which form they are diagnosed with, and part of the brain it affects.
According to the Alzheimer's Society, there are approximately 850,000 people living with dementia in the UK. This figure is estimated to rise to 1.6 million by 2040, and 209,600 individuals will develop some form of the disease this year. Dementia is most commonly diagnosed in those aged 65 and over, however it can affect younger people. Even though someone may receive a dementia diagnosis, this in no way should prevent them from trying to lead an active life. On Monday, Vibe 107.6 broadcasted a special Dementia in the Community drivetime show. The programme featured a range of voices from across Watford, who spoke about the positive projects helping to support local residents experiencing the condition.
The town is en route 'to becoming a dementia friendly community,' following the official recognition of the Watford Dementia Action Group by the Alzheimer's Society. Watford Borough Council is a member in conjunction with 10 partner organisations. The group's objective is to make Watford and the services it provides, 'more accessible' for people with dementia including their carers. Additionally, they want to ensure individuals with the condition have 'equal opportunities to enjoy socialising, …participate in everyday activity and live independently.' All of which should be done 'without' the 'fear of stigma or rejection.'
A 'dementia friendly community' is therefore defined as 'a city, town or village' in which 'people with dementia are understood, respected and supported.' Furthermore, residents within a dementia friendly community 'will be aware of and understand dementia.' This allows those with the condition to continue living in 'the way they want to,' and within 'the community they choose.'
Elected Mayor for Watford, Peter Taylor, has been working with local residents and businesses to help make the town more 'dementia friendly.' In turn, he leads the Dementia Steering Group. The Mayor said of the initiative:
"I know how tough it is for family and friends, so I was really keen to bring lots of groups together in the town, and we've been looking to increase the number of services that are available. There's lots of music classes and cafes, all kinds of different things."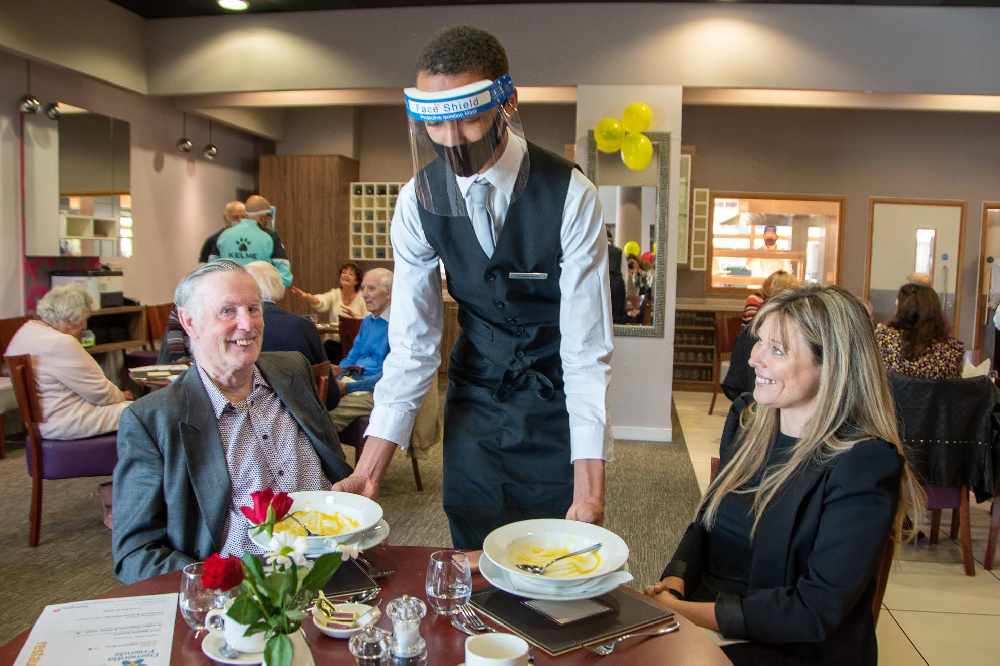 A picture of Forget Me Not - Watford's first intergenerational dementia friendly restaurant. It was introduced by West Herts College and Watford Borough Council, earlier this year. Picture: Hannah Foster.
He acknowledged how 'difficult' the situation can be 'for the partner or carer of someone living with dementia.' Mayor Taylor added 'they could feel quite lonely or isolated, and explained that 'one of the 'important' features of 'this initiative is bringing the carers together.' This allows them to 'make connections' with other people 'in the same situation.' The Mayor mentioned as an example a recent carers walking activity at Oxhey Park, organised a few weeks ago. The council has also arranged creative sessions led by Carthartic for people living with dementia at the Pump House, and plans to bring gifts or treats to local care homes on Christmas Eve.
In 2019, Watford Football Club's Community Sports and Education Trust launched the Golden Memories initiative. Funded by the Premier League, the 'reminiscence programme' is delivered in partnership with Watford Museum and the University of Hertfordshire. The project is directed at individuals 'living with mild to moderate dementia,' with 'an interest in' Watford FC history. It uses memorabilia along with 'magic moments' from the club's history to 'stimulate the senses, and evoke personal memories.' The 'multi sensory' sessions focus on 'specific' eras or guest speakers. In addition, the programme 'acts as a tool to reintroduce physical activity,' through chair exercises and table football. Golden Memories also provides space 'for support' and 'respite' along with 'workshops for carers.'
Hannah Foster, Older Adults Project Officer, for Watford Football Club's Community Sports and Education Trust, explains:
"The aim is to evoke sporting memories, so older fans with dementia come back into the stadium. We have former players involved which is absolutely brilliant, so they get to meet their idols. They get to hold the trophies. Graham Taylor's wife, Rita Taylor, is one of our key volunteers. It's amazing having her there as part of the programme. Obviously, Graham Taylor was an absolute legend to Watford Football Club, so we have a lot of memorabilia around him and we have all the footage. Everything is themed, so it sort of going back in time through the decades of Watford's history."
She went onto say that guests have the opportunity to 'sit in the Sensory Room and the Sky Lounge,' that overlook the pitch. The club also provides a tour of the Vicarage Road stadium, ­and enables fans to reminisce about past experiences. The idea is for guests to 'feel the excitement and anticipation,' as you would 'prior to attending a match.' More specifically, the 'buzz' fans get when they 'arrive at the stadium.'
Research has found music and singing to be 'incredibly beneficial' for 'those with dementia.' It allows them to 'move beyond' their condition and is also 'an important channel of communication.' Music is therefore a 'good cue for autobiographical memories,' which 'reinforce' identity and 'underpin how we connect with' those 'close to us.' Formed in April 2017, Herts Musical Memories provides 'therapeutic musical activities for people with dementia and their carers.' The charity offers 'stimulating music sessions,' in which families 'share happy and moving moments together.' Groups gather to sing 'a variety of songs from all different eras.'
Kerry Brabant, Founder of Herts Musical Memories, highlighted the powerful impact singing has on people experiencing dementia:
"I think music brings people together and we remember music at different events, through all our lives. The amazing thing about music and people with dementia is that they can connect to that memory. Even though they are struggling a bit, they sing a song and they're suddenly back there in that moment, when they first heard that song. It's very exciting. I feel like my job is watching miracles every week. It's amazing."
For more information on services and activities, which are available within Watford for people with dementia visit: https://www.dementiafriendlywatford.com