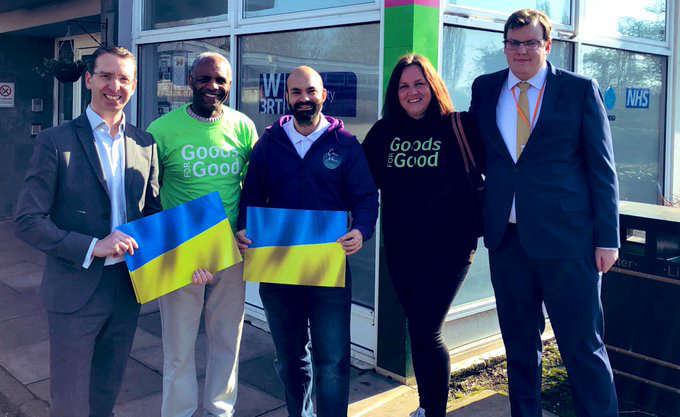 Watford has united in its effort to support a charity's emergency response to the crisis in Ukraine.
Over the last few weeks local communities, schools, groups and individuals have come together to collect essential items for Goods For Good.
The Watford-based charity has set up Project Rescue Ukraine to help those affected by the conflict.
Goods For Good are working with their partners on the ground in Poland, Romania and Moldova to deliver much needed humanitarian aid for refugees fleeing Ukraine.
Trucks filled with goods have left via a hub based in Northampton, which are then transported by the organisation's charity partner within the Netherlands.
@GOODSFORGOODuk Humanitarian Aid ready to go from @my1styears hub in Northampton to our charity partner, HRIF in Weesp, Netherlands onwards to Poland to reach those who need it most. Thank you to all our amazing partners and communities for your kindness. 💚 pic.twitter.com/gUjTejJeJs

— GOODS FOR GOOD (GLOBAL) (@GOODSFORGOODuk) March 25, 2022
Credit: Goods For Good/Twitter
One organisation that has supported the local response is Watford and Three Rivers Trust (W3RT). The trust hosted a crowd funder on their website which raised over £7,000 for Goods for Good.
Hornets' legend Luther Blissett has also been helping the campaign, whilst Parmiter's School in Garston collected donations.
Rosalind Bluestone, CEO and Founder of Goods For Good, said: "With many years' experience coordinating and delivering humanitarian aid to those who need it most, Goods For Good were able to provide an immediate response to the Ukraine crisis.
"Our response has been a huge collaboration of organisations, individuals, communities and corporate organisations all coming together to do good together.
"We have been extremely grateful to Watford Borough Council, The Mayor, Peter Taylor, and Luther Blissett for setting up the local Watford response. The support from the local communities has been incredible.
"Large collections of essential goods have been sent via our UK humanitarian hub, which we set up, at My1stYears in Northampton, and with the help of SEKO logistics, have been delivered via our charity and logistics partner, HRIF, to the Polish Borders, Moldova, Romania and some onwards into Ukraine.
"It has been an immense amount of organisation and we are overwhelmed by the kindness and support from all involved."
The escalation of the conflict in Ukraine has forced people to flee their homes and seek safety.
In the first five weeks, more than four million Ukrainian refugees have crossed the border into neighbouring countries.
A further 6.5 million people have been displaced internally within Ukraine, according to data from the United Nations High Commissioner for Refugees (UNHCR).
Goods For Good are being guided by their partners in Poland, Romania, Moldova and Ukraine as to what is needed most.
The charity has said it will continue to reach as many families and individuals in need as possible, with collections still ongoing.