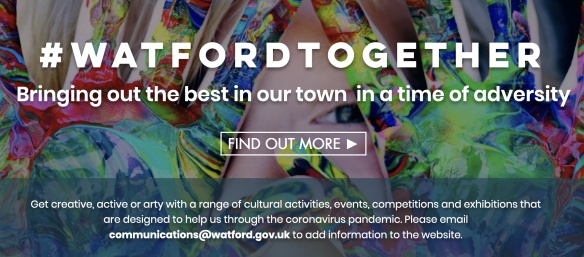 Watford Together
Built on creative talent, the initiative called #WatfordTogether aims to get people active and arty
Uniting to deliver an exciting new initiative in Watford, cultural leaders from the town's arts, entertainment, heritage and cultural organisations are working together to help people in the community through the coronavirus pandemic.
Built on creative talent, the initiative called #WatfordTogether aims to get people active and arty, with a range of activities, events and competitions.
Aimed at engaging the residents of Watford, the full range of activities on offer can be found both on the dedicated #WatfordTogether website - www.watfordtogether.co.uk - and on Facebook.
Helped to launch by Watford FC legend Luther Blissett, Watford Borough Council and its partners feel it important to keep minds busy. They said:
"Out of every crisis, there is always a positive outcome and one that is so apparent is the togetherness we all feel and the pride we have in our communities and Watford as a place.
"There are so many benefits to keeping our minds active during 'normal times' and at this moment in time, it has never been more important."
Supporting good mental and physical health, increasing community cohesion and creating an opportunity to sustain a legacy through an online community that can provide patronage during and after Covid-19, this really is something worth checking out!
Vibe107.6 have teamed up with fellow #WatfordTogether partners: Watford Palace Theatre, The Watford Pump House, Watford Business Improvement District, Watford We Will Surprise You, Watford Football Club, rifco Theatre Company and West Herts College.