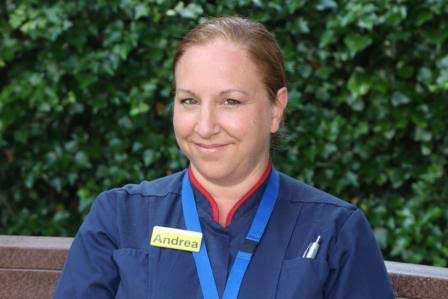 A nurse from Watford General Hospital providing support to unpaid carers has won a prestigious accolade at this year's RCN Nursing Awards.
Andrea Hone, who works for West Hertfordshire Teaching Hospitals NHS Trust, was recognised by the Royal College of Nursing (RCN) for her determination to improve the experience of people caring for loved ones.
The local nurse won the Commitment to Carers category after being selected from five finalists and received her award at a ceremony in London earlier this month.
The award sponsored by NHS England recognises individual nurses, midwives or teams that have developed initiatives to improve the identification and support of unpaid carers.
Ms Hone, a Carers Lead, acted quickly when the National Inpatient Survey showed the hospital trust had scored below average for considering patients' home situations and involving patients in discharge decisions.
Working together with the hospital's integrated discharge team as well as Hertfordshire County Council, Ms Hone started the Connecting with Carers Discharge Project.
She approached carers of patients in Watford General Hospital's frailty unit, listening to what mattered most to them when caring for older relatives going back into the community.
Ms Hone used the information she had gathered to change the support offered to carers during patients' hospital admission and once they are discharged.
Her action means carers are now supported during their loved one's hospital admission – with the integrated discharge team ensuring carers obtain prompt referrals for support from voluntary organisations, whilst also providing follow-up calls two and four weeks after discharge.
Ms Hone said: "I am passionate about making a difference for our carers, so to win an award for this is absolutely amazing. To get the recognition for the hard work that has been carried out to develop the service is an honour.
"But as well as being proud, I'm really excited for the future as this will showcase the importance of supporting carers not only in my organisation, but nationally too. And it will give me opportunities to improve the service further."
The RCN Nursing Awards are the UK's national award for nurses, student nurses and nursing support workers. Run annually, the awards celebrate the successes of nursing staff across 14 categories.
The recipients of this year's prestigious accolades were unveiled during a ceremony for finalists at RCN's London headquarters on Thursday 6 October – hosted by comedian and Loose Women panelist Judi Love.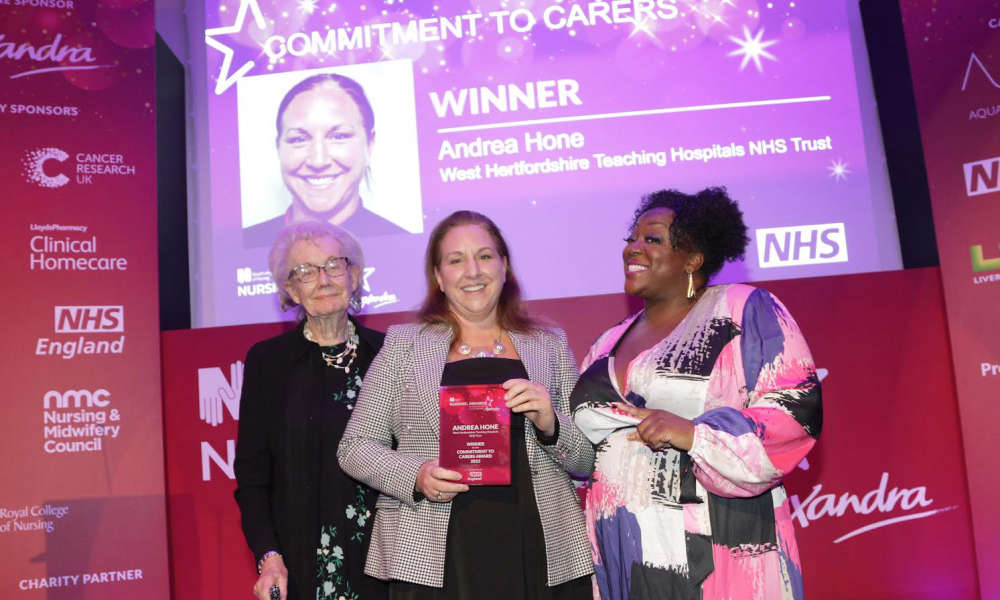 Pictured left to right: Dame Philippa Russell, Vice President of Carers UK and a carer, award winner Andrea Hone and ceremony host, comedian Judi Love (Credit: RCN/West Hertfordshire Teaching Hospitals NHS Trust)
Jen Kenward, NHS England experience of care lead – community, primary and integrated care, said: "The judging for the Commitment to Carers award is always incredibly challenging and with a background of an increasingly complex transition from the crisis management of COVID-19, to planning for winter pressures and managing care across new integrated systems, this year was no exception.
"Nursing leadership is evolving and as the NHS restructures and builds closer integrated working partnerships with social care and the voluntary sector it is vital that nurses see and understand their role in this new construct.
"Leading across and in partnership with key organisations is absolutely part of the future blueprint for nurse leaders.
"The judges were impressed by Ms Hone's insight into the challenges experienced by unpaid carers and her compassion and drive to ensure that carers of all ages are visible, valued and supported.
"She has developed strong and sustainable collaborative working practices with local statutory and voluntary sector organisations, ensuring that carers are helped to access support and have a safe space to share their concerns.
"Her passion and insight into the future landscape of support for unpaid carers is inspirational."