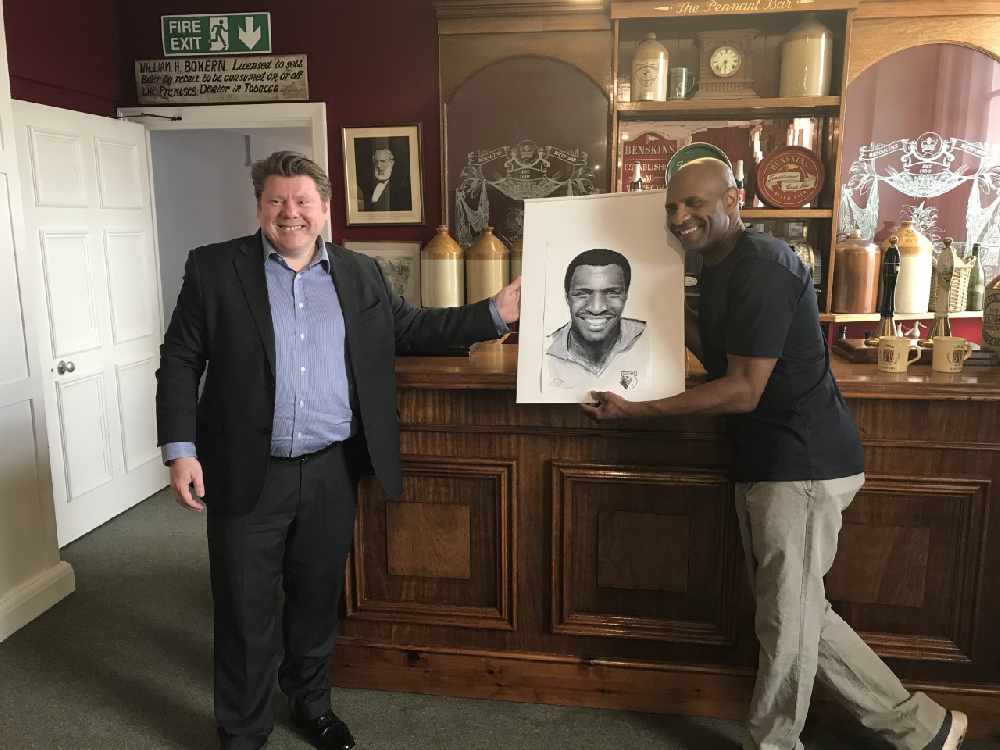 Watford MP's portrait of Luther Blissett that raised almost £1000 for local charities to be kept in Watford Museum to remember Covid-19
Watford Museum has welcomed another treasured art possession into its collection. In May 2020, Dean Russell MP painted Watford FC's all-time top goal scorer Luther Blissett to raise money for the town's Covid-19 appeal.
The painting was auctioned off and raised £900 for local charities.
The painting was signed in the Watford FC exhibition within Watford Museum by both Luther Blissett and the Watford MP. Whilst the painting (which will be kept in the museum) marks an important new feature for the museum's collection of local football history, it also will act as a historic painting to represent Covid-19 in Watford.
The winner of the auction agreed for the painting to be added to the Watford Museum's collection as a way for people to remember the community-spirit and volunteering seen in Watford during lockdown.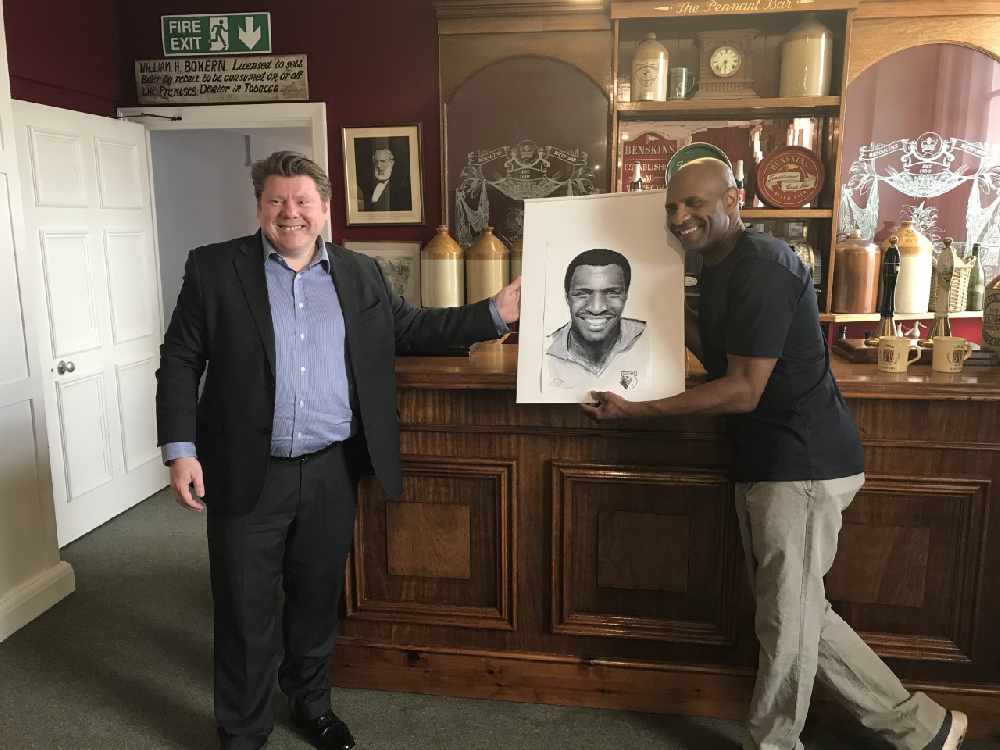 Dean Russell MP said: ''I felt very lucky to have been able to paint Luther and was so pleased we were able to raise money for so many great local charities. I want to express my gratitude to the Watford Museum for hosting the painting. It is a real honour to know it will permanently have a home there for the future."

Luther Blissett said: ''They say, 'imitation is the finest form of flattery' and I have to say this incredible portrait by Dean is both fine and flattering. It is a perfect image of my younger self and what a talented reminder of glorious playing days at Watford FC. The funds this portrait has raised for the local community make me even more proud, a further legacy of those golden times and my upbringing by Graham Taylor OBE, Watford's greatest manager.

I would also like to thank Miles Jacobson who won this in our special charity auction and whose bid included leaving the painting on display in our fantastic Watford Museum for all to see. I hope fans enjoy seeing it as much as I did and that they are inspired by it to keep supporting the local community as well as the team.''
Sarah Priestly, Watford Museum curator, said: "We are delighted to include the painting in our collection of artefacts, it is a great legacy for the museum that will remind us in years to come of this very unusual time we have been living through.''
Elected Mayor of Watford Peter Taylor said: "Our community appeal has raised over £157,000 to support Watford's charities and I would like to thank all of those who have donated. It's a real testament to the generosity of our town. Luther and his wife Lauren have been key to the success of our community appeal, and I am grateful to them for all the work they have done to support those in need in our community.''