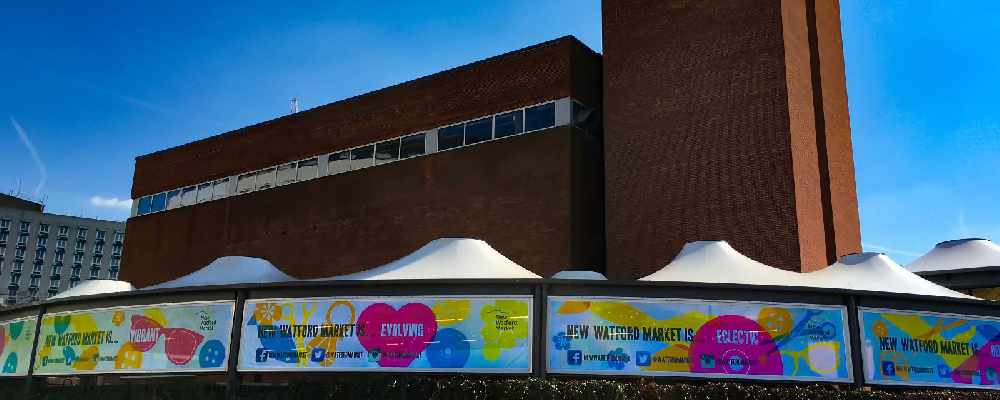 Picture: Watford Borough Council.
Works to rejuvenate Watford Market's current space and trading units are now underway.
The redevelopment is part of Watford Borough Council's pledge to draw "a new generation of customers," and independent traders "to the marketplace".
The local authority are working with Market Asset Management (MAM) and has committed £250,000 in funds towards the makeover.
The project involves the renovation of all vacant units, along with the use of better signage to highlight the diverse retail on offer.
Additional improvements include refreshed branding, alongside new planting to help "enhance the character and ambiance of the space".
Elected Mayor of Watford, Peter Taylor, said: "We are a market town, with roots back to the 12th century and I am determined to make sure we have a thriving market in the future.
"Working with traders and Market Asset Management, from January through to the summer we will be installing improved signage and planting, as well as bringing the empty units to a lettable standard.
"To further encourage new traders and enhance the experience for visitors, we will also be rebranding to highlight the eclectic and vibrant mix of stalls at the market."
He added: "I look forward to working with traders to make sure our market is as successful as it can possibly be.
"Our small businesses are the lifeblood of Watford's economy, making a vital contribution to the success of our town.
"To support them and Watford Market stallholders, we also launched our Shop Local campaign.
"It's vital, now more than ever, that we all do what we can to support our local Watford businesses in what has been a difficult year for everyone."
Further uses for the revamped marketplace are being considered, including the formation of a community café and seating area.
Watford Borough Council are also exploring the possibility of pop-up shops, which would allow different traders to temporarily sell goods.
New social media accounts have been created to highlight what current traders are offering, and inform customers about deals or special promotions.
For more information on Watford Market see: www.watford.gov.uk/watfordmarket
To access the market's new social media pages visit:
www.facebook.com/watfordtownmarket and www.instagram.com/watfordtownmarket