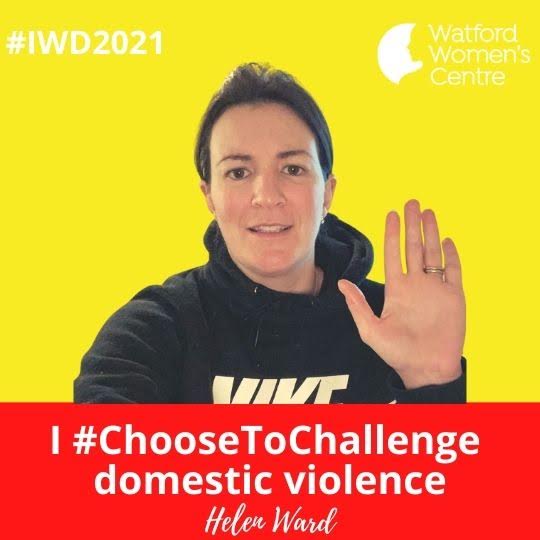 Watford FC Women's player, Helen Ward, backing the #ChooseToChallenge campaign. Picture: Watford Women's Centre.
Two Watford FC players are supporting a local campaign launched as part of International Women's Day (8th March), to help victims of domestic abuse.
Hornet's striker Helen Ward and goalkeeper Ben Foster have teamed up with Watford Women's Centre, to take part in the #ChooseToChallenge fundraiser.
The charity hopes to raise £5,000, and has received additional backing from the Alan Day Group.
The appeal aims to challenge domestic violence in Watford, and ties in with the 2021 theme for International Women's Day of calling out gender inequality.
Both footballers are now asking fans to donate to the Watford Women's Centre campaign. Those who contribute will have the chance to win football-related prizes.
Helen Ward said:
"Every £100 raised will help Watford Women's Centre provide one woman with urgent domestic abuse counselling to enable her to achieve personal freedom and take back control of her life. The Covid lockdowns have caused a crisis in domestic abuse against women and I know the football community will join me in challenging this by digging deep and donating to Watford Women's Centre."
Ben Foster added:
"I am reaching out to all Watford FC and England football fans and asking them to join me to challenge domestic abuse by donating to this worthy cause. Domestic abuse is totally unacceptable and I urge you all to donate and challenge this crime and make a difference."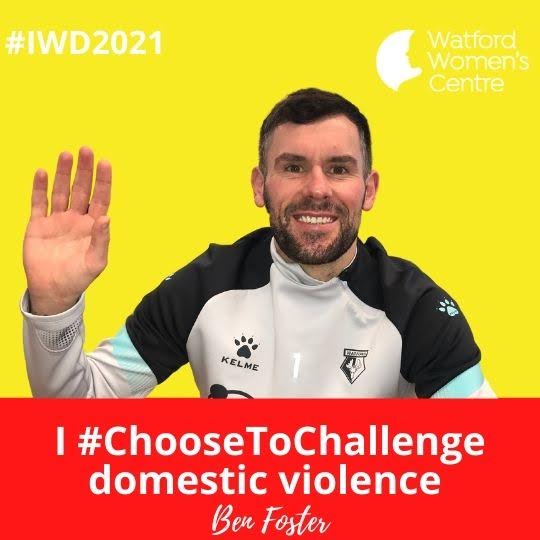 Watford FC goalkeeper, Ben Foster. Picture: Watford Women's Centre.
Approximately 1.6 million women experienced domestic abuse in the year ending March 2020. Furthermore, 16-24 year old females continue to be the most at risk age group according to figures from the Office for National Statistics.
Hertfordshire is the second highest county in the East of England for domestic abuse-related crimes, with a 68% increase since 2016.
The need for support services has also grown throughout the pandemic, with Watford Women's Centre reporting a 50% rise in demand for its counselling programme.
Fiona Miller, CEO of Watford Women's Centre, explained the charity's front line role meant they "see the tragic mental and physical consequences" of domestic abuse daily.
She went on to say the support from Helen Ward, Ben Foster and the Alan Day Group would enable them "to deliver more counselling services in response to COVID-19 lockdowns".
The #ChooseToChallenge Domestic Abuse campaign for Watford Women's Centre runs until the 22nd March.
To donate visit:
https://www.justgiving.com/campaign/ChooseToChallengeDomesticAbuse