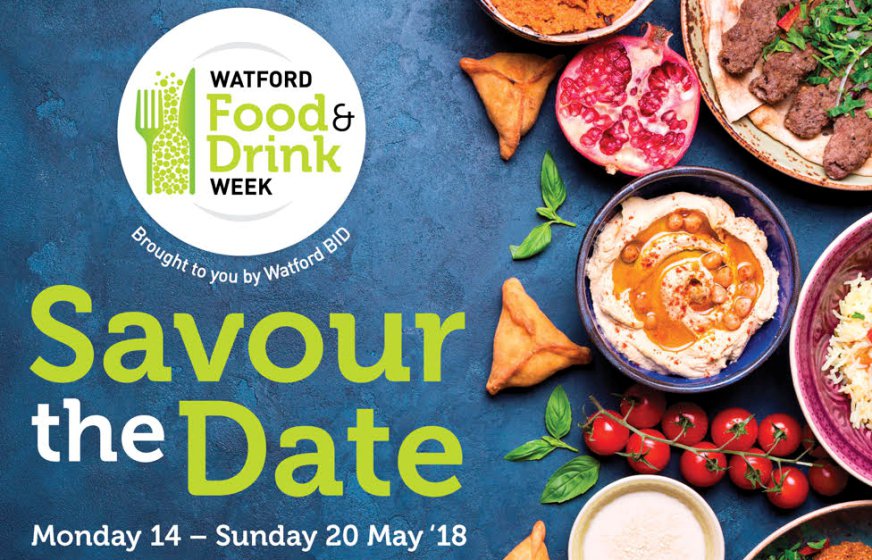 Enjoy discounts and special offers galore at food and drink outlets in Watford town centre with the return of the Watford Food & Drink Week.
From free bottles of wine to food and drink samplings and up to 30% off at popular local restaurants, Food & Drink Week gives everyone a reason to head into Watford town centre and try something new.
Find great offers at favourite high street chains including Zizzi, Wagamama, Tortilla, Bills, GBK and Creams, as well as popular independents including Barracuda, Pepe Rosso, Gibson Butchers and Fresh Shop, plus welcome new additions to the High Street: W Shakespeare, Dessert Island and Lebanese restaurant Byblos Bay.
Running from Monday 14th to Sunday 20th May 2018, there are offers and events at the night time venues too – from wine and craft beer tasting at The Moon Under Water and cocktail masterclasses at Twisted Monkey to free / discounted entry into Hydeout and Reflex and special prices at Bosleys, Steinbeck & Shaw, Molloys and Walkabout. Plus some great take-away promotions at Papa John's pizza, Subway and Krispy Kreme than mustn't be missed.
In addition, Vibe 107.6 will be giving away some fantastic prizes on air to celebrate from Friday 11th May! So listen in for your chance to win meals at Molloy's, Zizzi and Pepe Rosso, as well as a £50 voucher for Middletons!
Offers are listed in the Watford Food & Drink week brochure, which is being distributed to every Watford household and can also be found on the website: watfordforyou.org. To redeem an offer, simply present the brochure or the website offer on a smartphone or printout to the venue. All offers are subject to terms and conditions.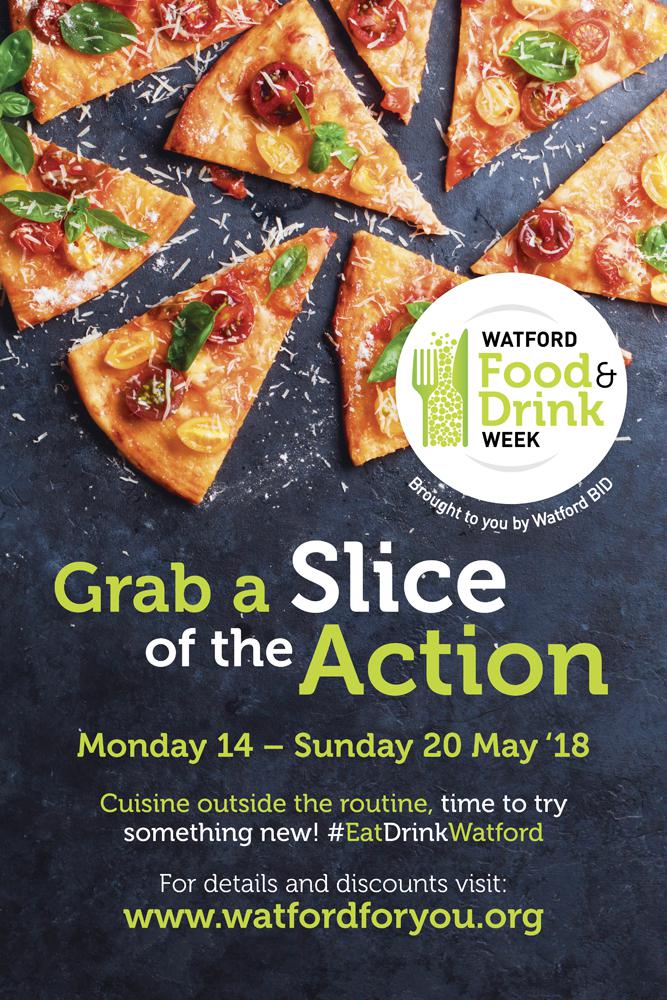 Kwame Tefe, chair of Watford BID, the organisation behind Watford Food & Drink Week, said: 'We want to celebrate Watford's great mix of food and drinking establishments and encourage Watford residents and people from surrounding areas to come to our town and try something or somewhere new. There are some great deals to be had and there's certainly something for everyone."
This is the second Watford Food & Drink Week organised by Watford Business Improvement District (BID), the organisation run for the benefit of businesses in the town, funded by businesses in the town. The businesses featured are all BID levy paying organisations. For further information about Watford BID visit the website www.watfordbid.co.uk. Alternatively visit the Watford BID offices at Suite 5 Kings Court, 153 High Street, Watford, WD17 2ER or contact them on 01923 919989 or email enquiries@watfordbid.co.uk.
(Source: Watford BID)