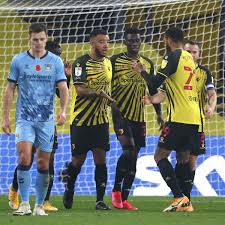 Vicarage Road played host to more drama on Saturday Afternoon, as Watford beat a hungry Coventry City side 3-2.
It was a tale of two halves; a boring but competitive opening 45 minutes saw neither 'keeper beaten. Ben Foster had little to do with regards to facing shots on target, but that was more due to poor finishing than defensive solidity. Foster's opposite number Maroši only faced one direct chance, but had his handling tested by a number of Ismaïla Sarr crosses. The deliveries from Sarr were often impressive, but garnered little reward. Had Troy Deeney or Stipe Perica been the man in the middle to meet them, perhaps Coventry's number 1 would have been troubled, but Andre Gray desperately needed the ball at his feet, especially with three towering centre-backs to deal with. The often composed Vladimir Ivić appeared to be frustrated by the wasteful attacks, and no doubt instructed the wide players to cross low in the second half. Both sides had similar possession of the ball, but Maxime Biamou's efforts and a couple of long-range shots from midfield saw the game remain goalless.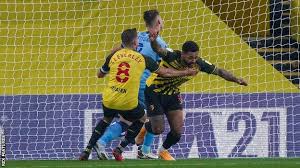 Despite a slow start, it didn't take long for the fireworks in the second half.
Perhaps the presence of Vibe 107.6 FM at Vicarage Road means goals, because for the second time this week they arrived in abundance. A scrappy Gray finish opened proceedings after 53 minutes, Ken Sema once again the player to provide the assist, his fifth of this campaign. What followed was quite remarkable. Gustavo Hamer (who I can smugly declare was my Player to Watch from my Preview piece) used his forward momentum to clatter home a tremendous 25 yard header, leaving Foster stunned. If that wasn't enough, the shellshocked home side then found themselves on the back foot once again. William Troost-Ekong too slow to react, as Tyler Walker calmly slotted past the Watford No.1.
With the game turned on its head, and many fans (myself included) scratching theirs, Coventry were in the lead. But not for long. An inch-perfect James Garner corner saw William Troost-Ekong thump in a downward header past Maroši in front of the flag-filled Rookery End. A set-piece goal (unthinkable last season), and Watford were instantly back level, just three minutes after conceding the first of two Coventry goals.
Watford knocked on the Sky Blue door again, repeatedly. Ken Sema had lots of joy running at McCallum and Rose, as had Sarr at Giles, but the Swede particularly caught the eye of many; his first touch consistently elegant, his darting runs towards the box always a threat, but Sema did not shirk defensive responsibilities either, winning ground duels, and creating attacks from deep.
Troy Deeney made his longest appearance since the Premier League final day. The club captain certainly looks fitter, and despite not achieving his dream of a strike partnership with Andre Gray, definitely made an impact on his return. Étienne Capoue looks back to his best too, driving forward energetically from defensive midfield in the closing stages of the game. With 7 minutes left of normal time, an Ismaïla Sarr cross found the flailing arms of midfielder Callum O'Hare. During his post-match Press Conference, the Hornets Head Coach stressed that the decision was unanimous to allow the Senegal International to take it. "Before the game I gave my advice on who should take a penalty. I said from the beginning." Ivić also stressed that the lack of arguments on who took the spot-kick was a positive, with Deeney backing down instantly to allow Sarr to convert (Again, Sarr was my player to watch).
Although like every Watford match the ending was nail-biting, the hosts seemed to quite comfortably deal with the final attacks of Mark Robins' side. The Hornets saw out the threat to win the game 3-2, and Head Coach Vladimir Ivić was happy with the result:
Post Match:
"Congratulations to my players, we cannot say it was an amazing game, but we played against a good, athletic team. It was very tough."
Ivić looked mainly at the positives of the approaching International break, stating that it allows his players the opportunity to rest, before fixing a few of the problems that still exist in the team's performances.
The Head Coach heaped praise on captain Troy Deeney, describing him as the "legend of the club", whilst also recognising Andre Gray's performance on his first start in almost a year.
Ivić didn't appear to want to be lured into discussing League position. Watford currently sit 2nd in the table, behind a Reading side that look set to slip down the table. He did however express his opinion on the idea of 5 substitutions returning to the rulebook.
"This pre-season was not a normal pre-season. We know that in this season we have a game every 3 days, we need more subs to protect the players. "Every team has a lot of injured players. This is not a normal period, it is totally different. If you ask me, we need to have five subs."
Coventry Boss Mark Robins was positive about his side's performance at points in the game but ultimately accepts that a lot has gone against them this season.
"We've been away at Forest and away at Watford and deserved something from both games. With no supporters, you have to try and create the momentum ourselves. From our throw-in, we give a corner away, and we concede from that corner. We succumbed to the pressure."
"And Callum O'Hare's arms are raised in an unnatural position and the referee's given a penalty, we've shot ourselves in the foot on both occasions."
Following the victory, Watford go into the two-week break in 2nd. Coventry remain in 21st following two straight defeats.