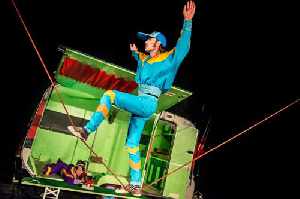 This summer, local will meet global as Watford Live and Imagine Watford come together with Watford Colosseum for 16 days of extraordinary live experiences.
The acclaimed festival of national and international artists is back for its fifth year! For two weeks Watford town centre will once again be transformed into a place of wonder and excitement. Programmed by Watford Palace Theatre, highlights this year include the NHS themed physical theatre piece Care by Tangled Feet, the spectacular outdoor aerial crane piece K@osmos by acclaimed Spanish company Puja!, the interactive and gigantic Citizen Squid by Puppets with Guts and the explosive Monotone Man by The Human Zoo Theatre Company. Headline sponsor for the festival is Warner Bros. Studios Tour London.
The Big Festival started on Saturday 20th June and runs until Sunday 5th July and the brochure is available to download at The Big Festival Brochure.pdf. Most events are free and do not require a ticket. Where tickets are required, this is identified in the guide and tickets can be obtained from Watford Palace Theatre.
This community arts festival provides an entertaining showcase for all groups and individuals, who live, work or perform within the borough hits the streets of Watford. Watford Live's aim is simple - to get anyone and everyone in the local Watford art world to put on or participate in an art-based event, and this festival is a showcase of that. From Guerrilla Knitting to a live music stage on The Parade showing off local talent, this festival has something for everyone.
As part of the Big Festival from Thursday 2nd– Saturday 4th July, Watford Colosseum is set to pulsate to the sounds of mind-blowing music-machines, fascinating sound installations and surprising performance moments. This free event, created by Graeme Leak and produced in collaboration with Watford Colosseum, invites the audience to roam around the venue, listening, exploring and playing as they go.
Elected Mayor Dorothy Thornhill said: "Bringing together the exotic Imagine Watford and the community-based Watford Live festival means that our town will be hosting an even richer event. The Big Festival is a chance for us to celebrate our local, home-grown talent as well as welcome international performers. It is a fantastic opportunity for residents and visitors to see a wealth of artists, with something different and exciting on offer every day. And the fact it is free opens it up to absolutely everyone to enjoy!"

The Big Festival runs from Saturday 20th June until Sunday 5th July and most of the performances will be free and held on The Parade, Watford, Hertfordshire.

For more information about The Big Festival visit www.watfordbigevents.co.uk
(Source: Watford Borough Council)