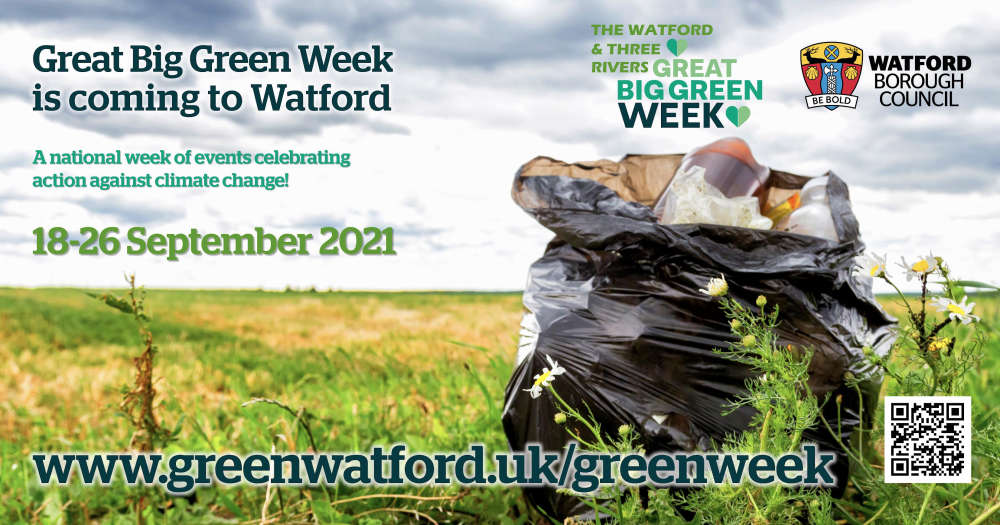 Credit: Watford Borough Council.
A range of activities are due to take place throughout Watford and Three Rivers this month, as part of a countrywide campaign tackling the climate emergency.
The Great Big Green Week (18 - 26 September) is the UK's largest event for climate change and nature.
Run by the Climate Coalition, the national campaign celebrates communities taking action against global warming.
The 8-day event comes prior to COP26 – the United Nations' climate summit which will be hosted by the UK this November in Glasgow.
A third (32%) of the public feel pollution and climate change is a major issue for Britain, making this the second-biggest concern for the country, according to a recent Ipsos MORI survey.
Over the course of Great Big Green Week, local residents will learn how small changes can help them live more sustainably.
Events happening across Watford and Three Rivers include:
The Great Big Green Litter Pick

Free Beryl Bike trips

Open days at Woodoaks Farm

Chess Valley Challenge 2021 – a sponsored walk to support Herts and Middlesex Wildlife Trust

Webinars and live demonstrations from Veolia and Herts WasteAware
The Watersmeet Theatre in Rickmansworth is also holding free film screenings of The Lorax (18 September), and David Attenborough's A Life On Our Planet (21 September) - however advanced booking is required for both films.
The local action week has been organised by Friends of the Earth, Watford Borough Council and Three Rivers District Council.
Elected Mayor of Watford, Peter Taylor, said: "Watford has long been committed to fighting climate change and preserving the town's rich biodiversity and stunning natural spaces.
"We're so proud to be taking part in this year's Great Big Green Week, which highlights the vital importance of our ecosystems and the role that the town plays in giving the world a greener, healthier and more sustainable future."
Councillor Phil Williams, Three River District Council's Lead Member for Environmental Services, Climate Change and Sustainability added: "As a council, we will soon be unveiling a specific action plan on the back of our Climate Emergency Strategy detailing how we can work together to achieve net zero carbon emissions by 2045 at the latest.
"But we are all in this together, which is why events like Great Big Green Week are so important.
"The more we can get everyone talking about the Climate Emergency and making it part of our daily lives, the better the chance we have of tackling it."
The two councils have committed to fighting climate change locally and preserving biodiversity.
In 2019, both declared a climate emergency and have also pledged to cut the carbon footprint of Watford and Three Rivers District.
For more information on the Great Big Green Week, or to get involved visit: