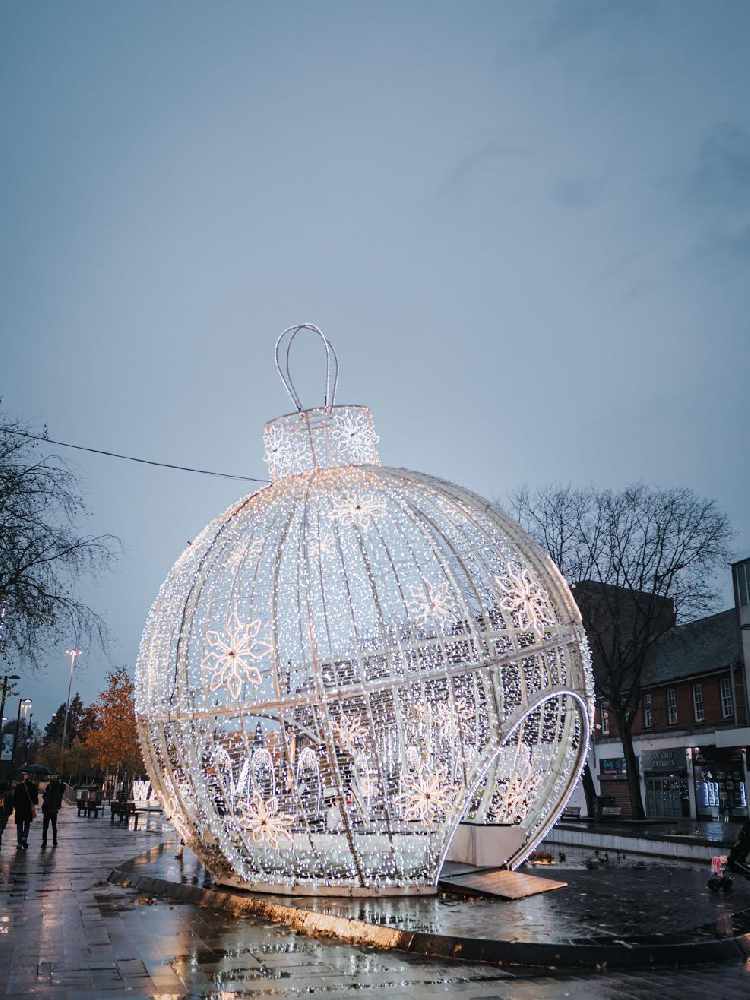 Christmas decoration in Watford's Town Centre. Picture: Tom Willmott Photography.
This week independent retailers and businesses across England reopened for the second time, following four weeks of lockdown. Many were forced to close or limit their services, in accordance with government guidelines. Traders are now hoping people will return to the high street in the run-up to Christmas, after a challenging year.
Council initiatives have been launched encouraging residents to shop locally over the festive period. This in turn, will help boost local economies. According to Visa and the Centre for Economic and Business Research (Cebr), for every £10 that is spent with an independent business, more than a third (£3.80) will be 'retained locally.'
There are currently over 400,000 independent stores within the UK. The British Independent Retailers Association (Bira) is the sector's leading trade organisation, with approximately 6,500 members. For over 120 years, it has represented and been 'the voice of independent retailers.' Research conducted by Bira on behalf of its members, showed that 25% of independent businesses did not reopen after the first lockdown. The impact from more recent restrictions is unlikely to be felt until January and February next year. However, there is positive news for local retailers.
A new report commissioned by Bira and Starling Bank has revealed the independent retail sector is set to receive a '£3.5 billion spending boost,' with 66% of Brits intending 'to shop locally this Christmas.' It found that people will typically spend around £119 on presents. Two contributing factors for the decision to shop locally included supporting independent businesses and communities following the 'impact' of Covid-19 (43%), along with the ability to purchase unique gifts (42%). Bira is therefore 'urging shoppers 'to hit the high street again' and 'support' independent retailers, now they have reopened.
Andrew Goodacre, Bira's Chief Executive Officer, said:
"This December is the most important December ever for many independent retailers who've been closed for the last four weeks. December is traditionally a crucial time for indies (independent), and this one will be even more so as they try and make the most of the run-up to Christmas. We are urging shoppers to get back on to the high street and support their local independent retailers, who have worked so hard to make shopping a safe and pleasant experience."
He added:
"We hope shoppers will come flocking back to the high streets and take advantage of all the shops being open in a safe environment. There will be a fabulously festive atmosphere and customers will be able to enjoy a traditional Christmas shopping experience."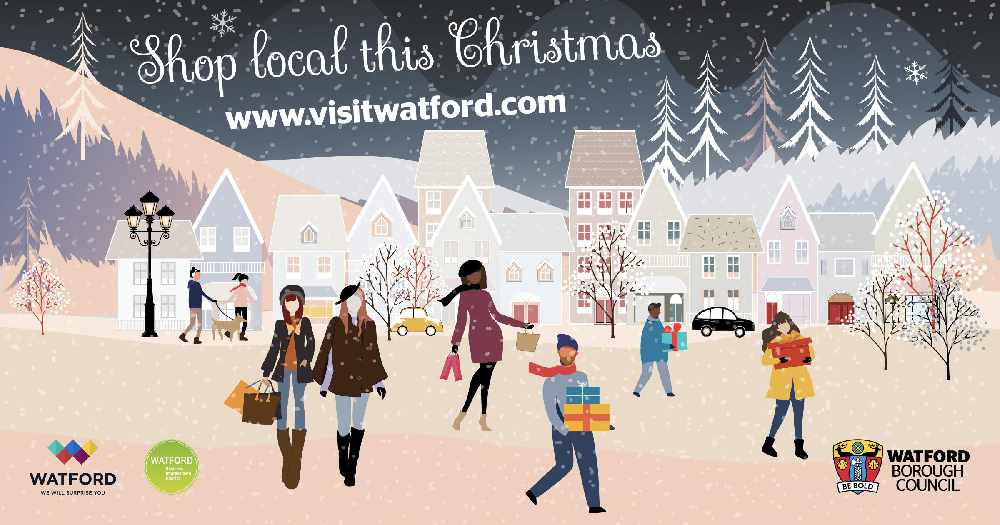 The Shop Local, Shop Watford campaign. Picture: Watford Borough Council.
Watford Borough Council along with Elected Mayor, Peter Taylor, is appealing to residents to buy from local retailers and help the town's business community. The local authority launched the 'borough-wide' Shop Local, Shop Watford campaign to highlight what 'the wealth of excellent local businesses' or 'shopping areas,' can 'offer' residents this 'Christmas and beyond.' Furthermore, 'by shopping locally' individuals will help 'business owners and local communities' to 'get back up and running,' following the 'challenges' of two lockdowns. The initiative is backing the High Street, along with several other 'diverse shopping areas.' This includes Watford Market, Queens Road, Whippendell Road, Market Street and St Albans Road.
The Elected Mayor, said:
"It's vital, now more than ever, that we all do what we can to support our local Watford businesses. The past few months have been so difficult. Whether it's your local grocer, florist or fabric shop, they all need our support so they can survive this crisis, and thrive in the future. For many businesses, Christmas is their busiest time, so it's really important we support them as much as we can. Shopping local means money is kept in the local economy – supporting jobs and local families. So this year, when you are thinking about Christmas presents for friends and family, explore some of the wonderful businesses in the town and their unique products. These businesses are the heart of our community and we need them to still be there for us in the future."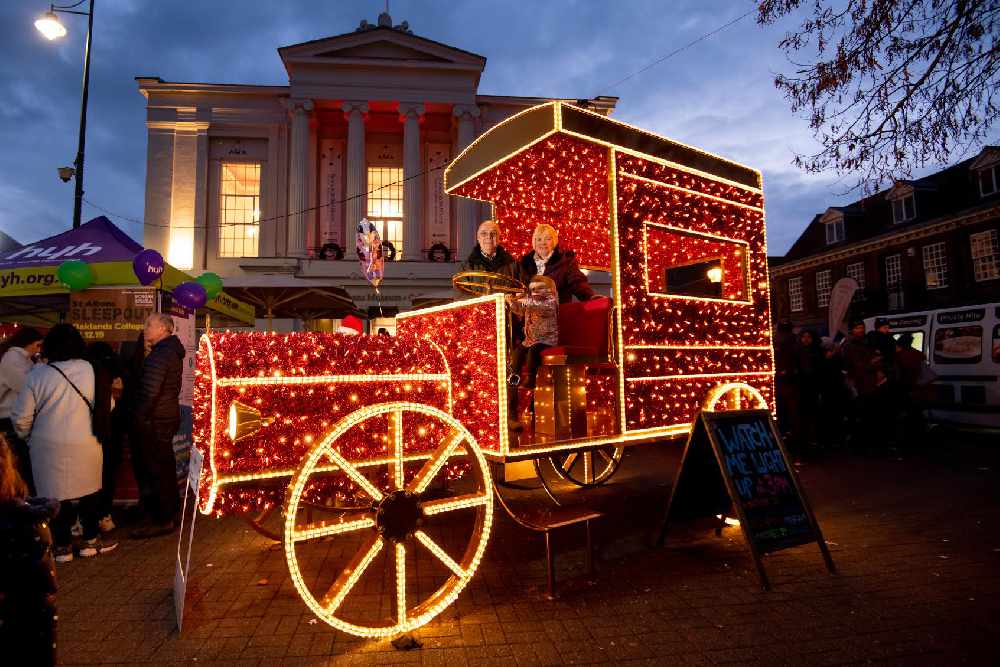 St Albans at Christmas time. Picture: St Albans City and District Council.
St Albans City and District Council (SADC) have continued to assist local businesses throughout the duration of the Covid-19 pandemic. It has worked in partnership with St Albans Business Improvement District (BID), to ensure residents have a wealth of different shopping experiences to choose from this festive season. The not for profit company has organised pop-up markets featuring local goods and food traders, which are set to run until 11th December. A few streets in the city centre will remain temporarily pedestrianised, to maintain social distancing. The Council are also continuing with their Christmas Charter Market this year. They hope it will attract visitors and create an exciting shopping atmosphere in St Peter's Street. The Charter Market begins on Saturday 12th December, running all the way through to Christmas Eve.
Councillor Mandy McNeil, Portfolio Holder for Business, Tourism and Culture, at St Albans City and District Council, said:
"We know that this Christmas is different, but we are determined to make it as special as possible. The BID and SADC Christmas team are doing an amazing job, working in partnership to ensure our local businesses have as many channels as possible through which to safely connect with consumers, and that we retain the magic of the season for our local families, as well as looking after our most vulnerable residents."
Additionally, St Albans BID have launched the Search Local, Shop Local initiative. They are asking shoppers to use the online Small Business Saturday UK finder tool, and search for local retailers operating online or via click-and-collect. This is to coincide with the wider grassroots campaign, taking place on Saturday 5th December. Small Business Saturday UK 'encourages consumers' to shop locally and 'support small businesses' within their communities. On the day itself, customers can 'go out' and show their 'support' for all types of small traders. This can be done either online or in store. The overall aim of the campaign is to create 'a lasting impact' upon small businesses.
For more information on where to shop locally in Watford and St Albans visit: visitwatford.com/shop-local-this-christmas and https://www.enjoystalbans.com.