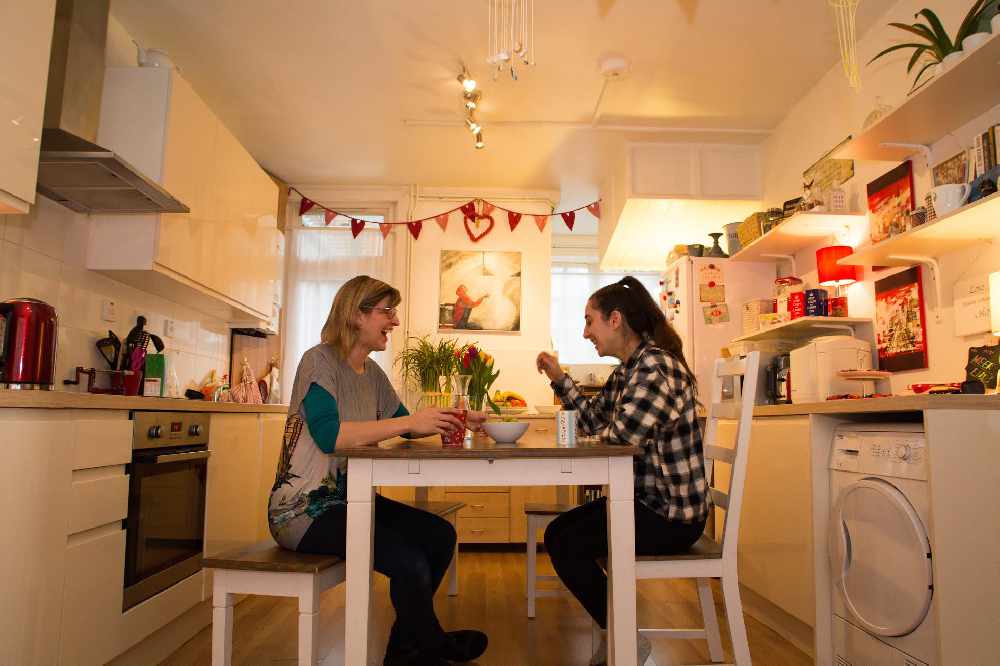 A host with a guest. Picture: Nightstop Hertfordshire.
An emergency accommodation service for young people experiencing homelessness, has launched an 'urgent appeal' for community hosts in Watford.
Nightstop Hertfordshire are seeking local volunteers who may be willing to open up their homes, and offer a spare room for use when required. As temperatures drop during the winter months and with many facing difficulties due to coronavirus, the need to find young people somewhere safe to stay has never been greater.
Depaul UK, a youth homelessness charity, runs the countywide service. It provides individuals with 'a welcoming place' during times of 'crisis,' by placing them within the homes of 'well-trained and vetted' hosts. In order to minimise the risk of COVID-19, young people accessing the service together with its hosts, will be screened for symptoms. PPE is also provided in addition to 'guidance on keeping safe.' Volunteers can sign up to a rota and select which evenings they would like to host a young person, all on a flexible basis. Young people will then receive access to:
A private spare room.

Hot meal and a shower.

Laundry facilities.

A listening ear.
Last year, the non-profit organisation researched the implications of the pandemic on its clients. Depaul UK's Everything Stopped: The Impact of Covid-19 on young people experiencing housing instability report, revealed those surveyed were 'disproportionately' affected. Moreover, 58% said they had suffered from 'increased anxiety' as a result of their financial situation. Nearly three-quarters (74%) had become 'isolated from family and friends,' whilst approximately 59% (six out of ten) stated their mental health 'suffered.'
In terms of housing and homelessness, the study suggested the pandemic was 'having a notable' affect 'on many young people's ability to move onto more suitable accommodation.' A third (34%) of respondents indicated 'the circumstances' had 'made it more difficult to make positive housing changes.' About 24% (a quarter) believed 'their housing situation was less stable' owing to COVID-19. This could possibly 'be related to financial struggles,' with over two in ten (22 percent) feeling 'it had become more difficult to meet their housing costs.' Almost 22% (a quarter) of the young people questioned had 'as a direct consequence of the pandemic experience,' faced 'changes to their housing situations.' In turn, this has resulted in 'a shift away from informal temporary environments' including with family or friends, and increased the 'demand on service-provided temporary accommodation.' Finally, 12% (one in eight) disclosed 'they had experienced rough sleeping on one or more occasion.'
Ben Whitcombe, a Senior Prevention Coordinator for Nightstop, highlighted how the 'tough' lockdown could increase 'pressures' within some households. Many are 'finding' it 'hard' with their 'mental health and relationships' in domestic settings because 'everything's changed'. Mr Whitcombe added 'if you' then 'throw being at risk of homelessness or experiencing homelessness into that mix, it can be a real challenge.' He stated people often seek Nightstop's services due to 'relationship breakdown.' Alternatively, they may have 'been asked or choose to leave the family home.' The added difficulties lockdown has placed on our home life could therefore potentially make homelessness 'even more of a risk than it usually is.'
The Senior Prevention Coordinator then went on to explain who used the Nightstop service, and the type of support offered:
"We work with loads of different individuals, with loads of different backgrounds. We try and support everyone that comes to us. On Nightstop we do make sure it's a really safe service. In terms of working with our guests, we have one or two references…. We do a police check and… a thorough risk assessment. Now if someone can't be placed on Nightstop then we'll work with all our other partners such as Herts Young Homeless (HYH), local authorities and try and support them in a variety of other means. It's not just if someone needs a bed for the night, we place them with a volunteer. It's trying to support everyone really that comes to us."
Mr Whitcombe continued by saying it was 'absolutely wonderful that hosts open their doors,' alongside giving up 'their evenings and spare rooms' for young people. Additionally, the feedback from volunteers is positive with many relaying how they had 'really enjoyed the experience, and gained so much from it.'
He also advised on how people could become involved if they wanted to help:
"Basically just get in touch with us, and we can go from there. What we ask is that a host gives an evening meal. A chance for a young person to have a shower or a bath. The chance to wash their clothes. Their own bedroom and a dinner that night, and a listening ear with the young person which they really value. Although, we have change at the moment because we're trying to address the risks with Covid. Usually, all we ask is one night. We do it on a night by night basis, and hosts can give as many nights as they feel they want to."
Nightstop first opened within Leeds in 1987, with the intention of finding 'a community response to the growing challenges of homelessness.' They work 'with a range of partner organisations' to find 'long term solutions' for their guests. The Nightstop model is now run by communities and charities in over 30 locations across the UK. In 2019, 678 volunteer households provided 944 young people with 'a safe place to spend the night.' The local branch of the Nightstop service, supports young people aged between 16 to 25 right across Hertfordshire.
For further details visit: https://uk.depaulcharity.org/nightstop/nightstop-hertfordshire/