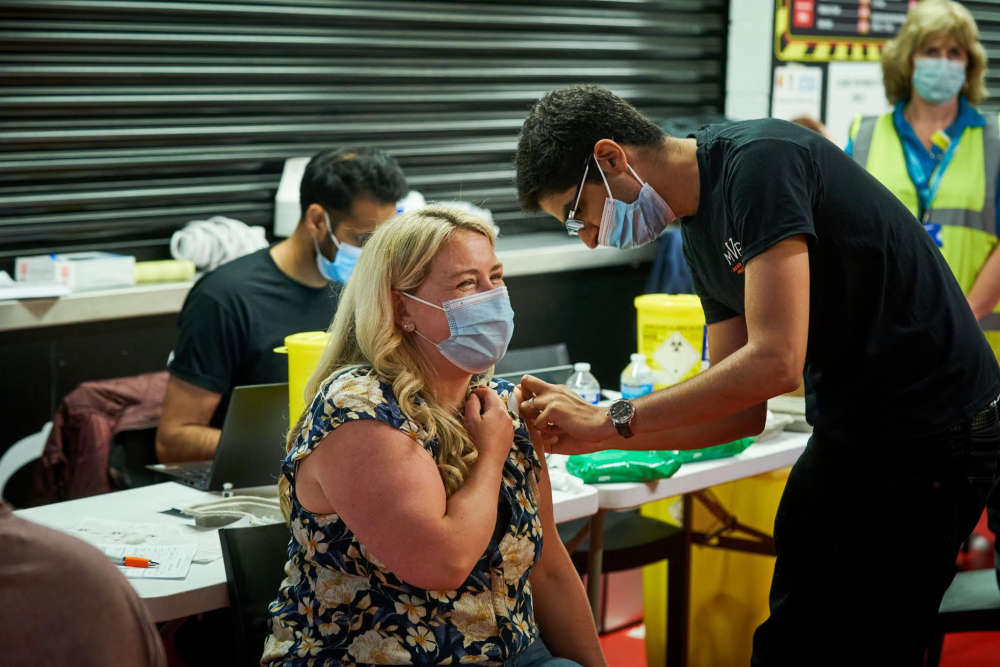 Credit: Watford Borough Council.
Watford FC's ground will transform once again into a Covid-19 vaccination centre on Sunday 22 August.
For one day only, residents aged 16 and over can get their first or second dose of the Pfizer vaccine at Vicarage Road stadium.
The 'Super Sunday' clinic will open from 10am until 6pm for booked appointments as well as walk-ins – however you may have to queue to enter the venue.
Second doses of the Pfizer vaccine are available on the day to individuals who have received their first injection, at least 8 weeks prior.
You do not need to bring ID or be registered with a GP to get vaccinated at the clinic.
The 'Super Sunday' event has been organised by local authorities as part of efforts to reduce infection rates, and protect residents against coronavirus.
In June, nearly 2000 people were jabbed at the first mass vaccination clinic held in the Watford FC stadium.
Recent data from Public Health England (PHE) found the Covid-19 vaccination programme has so far prevented around 23.4 million infections, and 84,600 deaths across the country.
Dr Asif Faizy, Board GP Watford and Three Rivers and Locality Chair, said: "We saw the very best of Watford at the last clinic, with everyone in the community pulling together to help achieve so much and it was also really good to see so many people there from groups who have been underrepresented so far.
"Getting the vaccine is the best way to protect yourself and your loved ones, so please come down to the stadium for your first dose or your top-up second dose of Pfizer."
Elected Mayor of Watford, Peter Taylor, added: "These two 'Super Sunday' clinics are part of the tremendous work being done by the council, NHS and partners to encourage people to come forward for one of the safe, effective COVID-19 vaccines.
"Increasing vaccination uptake within all communities in the town will ensure that no one is left behind.
"We hope this event will be just as successful as our first Super Sunday Clinic back in June, especially with 16 and overs now eligible.
"The best thing that any of us can do to stop Covid spreading is to get both doses of the vaccine."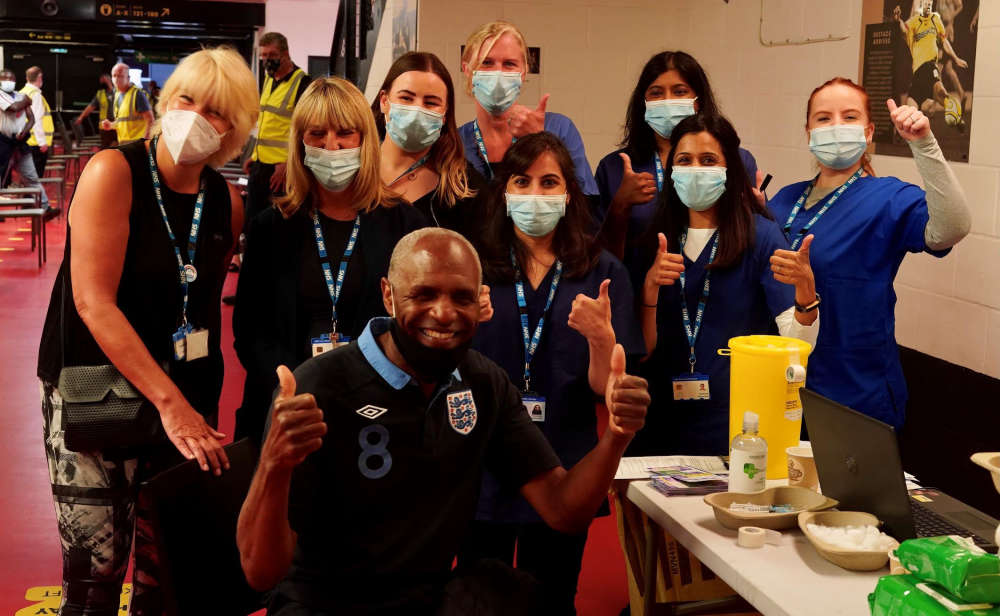 Luther Blissett and GP's volunteering at the first 'Super Sunday' clinic in June. Credit: Watford Borough Council.
Access to the stadium can be obtained on the day from outside The Hornets shop and Occupation Road.
The venue is fully wheelchair accessible, with disabled parking also available.
A controlled queueing system will be implemented to maintain social distancing.
Individuals are required to wear face masks at all times when inside the building (unless exempt).
Parking will not be available at the club or on surrounding streets.
Visitors are being encouraged to use public transport or walk when travelling to the vaccination centre, in order to avoid congestion.
The flexible minibus service by ArrivaClick is offering free trips for anyone who uses the service to get their vaccine.
Simply add the promo code Vaccine1 or Vaccine2 to book your free journey.
In addition, Beryl bikes are also providing people with 20 minute free and free unlock, if you finish your Beryl journey at bays around the stadium.
To book an appointment for the Super Sunday clinic at Watford FC's Vicarage Road stadium on 22 August go to www.watford.gov.uk/supersunday.
Alternatively, call 01923 278616 (open Monday to Friday from 9am to 7pm. The line closes at 3pm on Friday 20 August).
A member of staff will make a booking on your behalf.
If you are unable to make the event at Vicarage Road or would like to get vaccinated earlier, anyone can walk-in at the Watford Town Hall clinic - including 16-17 year olds.
For more information including times, visit: covid.healthierfuture.org.uk