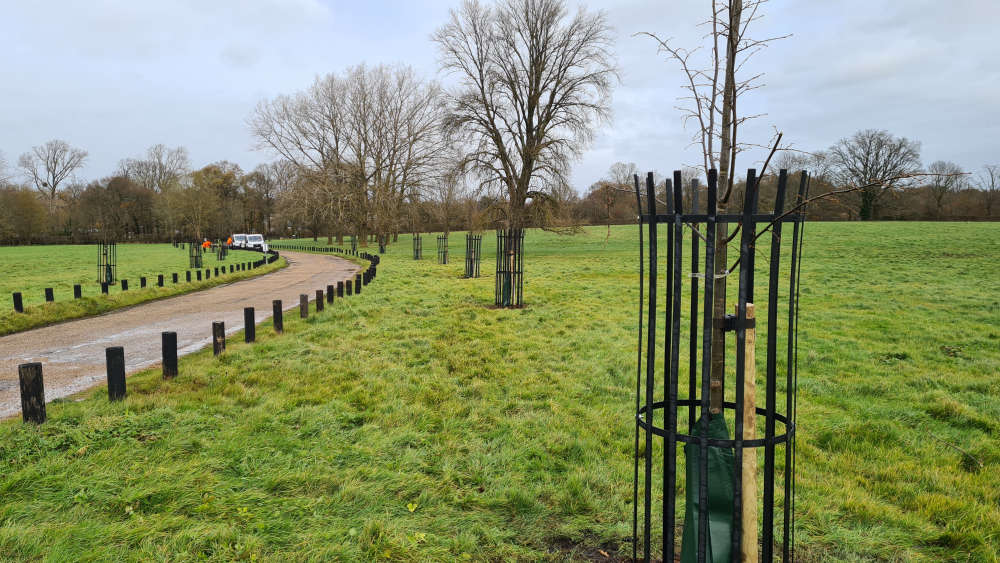 Credit: Hertfordshire County Council.
The first of more than 36,000 trees have been planted by Hertfordshire County Council, as part of a sustainable project to mark the Queen's Platinum Jubilee next year.
The Queen's Green Canopy (QGC) is inviting people from across the UK to "Plant a Tree for the Jubilee".
Around 850 trees have been planted within the county so far – including 100 trees at 43 Hertfordshire schools as well as on highway verges.
The remaining 36,000 trees will be planted in numerous locations throughout Hertfordshire, over the next 18 months.
This year's planting includes a statement site at Aldenham Country Park featuring an avenue of 30 lime trees, with 350 more trees planned for 2022 as part of the park's 100 Aker Wood.
Eric Buckmaster, Executive Member for The Environment, said: "The Queen's Green Canopy is a brilliant opportunity for us to honour Her Majesty's 70 years of service while also working towards several of our key Sustainable Hertfordshire ambitions.
"Tree planting helps us to reduce carbon in the atmosphere, improve our air quality and biodiversity, as well as having positive impacts on physical and mental health and wellbeing.
"We want to encourage as many people as possible in Hertfordshire to get involved in the Queen's Green Canopy."
The Queen's Green Canopy encourages people to enhance their environment by planting trees.
The project aims to create a legacy that not only honours Her Majesty's leadership of the nation, but benefits future generations too.
A network of 70 Ancient Woodlands across the UK will also be dedicated to the Queen's 70 years of service.