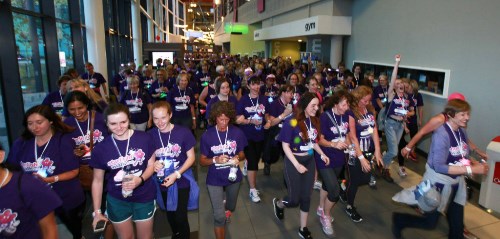 This year will be the 10th Starlight Walk why not help Peace Hospice Care celebrate their 25th anniversary and join them for their final Starlight Walk.
After 10 years and over £1.4 million raised 2016 will be Peace Hospice Care's last Starlight Walk and they need your help to make sure that it's another truly fantastic event! They are calling on every lady in Watford and South Herts to come out on Saturday 9th July and pound the pavements to show their support for Peace Hospice Care.
2016 also marks the 25th anniversary of the Hospice and they need your help more than ever to raise as much money as you can so that they can continue to support people and their families living with a serious life limiting illness for the next 25 years and beyond.
Peace Hospice Care want to make their final Starlight Walk the biggest and best ever so please make sure you sign up today. On the evening there will also be fantastic live music, the ever popular warm up and a real party atmosphere before the walk sets off at 9.00pm from Watford Colosseum. As in previous years there will be a choice of 6 mile or 13 mile routes around Watford and surrounding areas and as well as plenty of refreshments to keep you going. There will also be the Peace Hospice Care moving candle display in Cassiobury Park.
So don't delay! Sign up now online for just £25 adults and £16 under 18's. Alternatively, call Peace Hospice Care on 01923 335373. (The minimum age for taking part in the Starlight Walk is 11).
(Source: Peace Hospice Care)