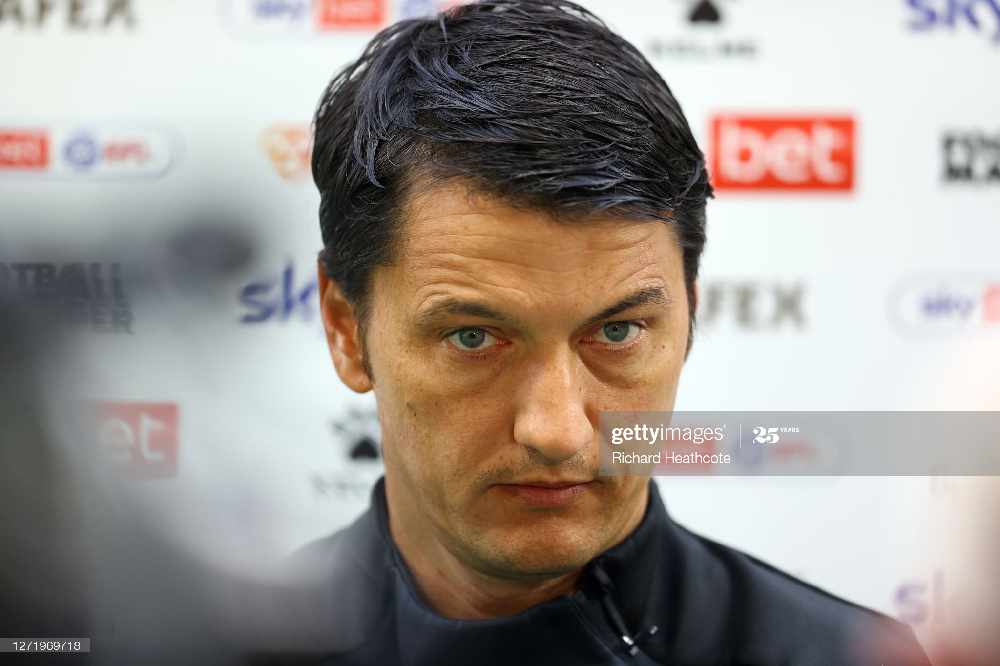 Vladimir Ivić addresses the media ahead of his side's trip to Ashton Gate | Richard Heathcote /Getty Images
With Bristol City to play in the Championship tomorrow evening, Watford boss Vladimir Ivić addressed the press this morning.
Watford manager Vladimir Ivić has confirmed that following an arm injury, striker Stipe Perica will be back in the squad when the Hornets travel to Ashton Gate tomorrow night. The Croat will join defender Christian Kabasele on the trip to the South West of England.
"From the previous game we some small injury problems," Ivić said.
"Most of the players will be ready for the game against Bristol City.
"Perica is ready and will be with us for tomorrow. Kabasele will also be with us. We don't know yet about Tom Cleverly."
Watford Captain Troy Deeney came off the bench in Watford's 1-1 draw with Queens Park Rangers in the Championship on the weekend. Speaking about his skipper, Ivić said:
"Troy has played more than in the previous games. He played 45 minutes against QPR.
"It depends on the system about how many strikers we will use tomorrow and whether Troy starts or is on the bench.
"We have a lot of games in front of us. Every two or three days.
"I know that everyone wants to start in the first 11, but everyone must fight for their position."
Prime Minister Boris Johnson announced yesterday that football fans will soon be allowed to return to stadiums.
The Hornets boss was pleased with the announcement but urged fans to remain cautious:
"Football is played for the fans. Fans from all clubs want to be part of the game. It's fantastic news," Ivić said.
"It is great for all of us who work in football, for the players, for the coaches and for everyone.
"We are all waiting for the moment where our fans can come back and be with us. In the future, things will be much better.
"We have to discuss what is best and safest for all of us. The main thing for all of us, is the health of the people. We need to take care.
"It's a new period for us and we know that a lot of people have lost their lives. We must be smart."
Only a point in the Championship standings split Bristol City from Watford. The Hornets sit fifth, two places behind City and two points off the top.
Ahead of the tie against Dean Holden's high-flying Robbins, Ivić stated that every game is of equal importance:
"Every game for us is important. In our club and philosophy, we play game by game," he said.
"We know that we'll be playing against a good team who have good players.
"They are a team who want to be promoted. It will be a tough game, a strong game.
"Our target will be victory like in all other games.
"We need to prepare ourselves to show that we can fight for this victory and to give our best."
Managerial royalty, Premier League winning manager Arsène Wenger told the BBC this week:
"I wish Watford would come back because they are a team that can be in the Premier League."
In response to Wenger's 'wish', Ivić simply said:
"It's fantastic to have Wenger's support!"
After Watford's 1-1 draw against QPR on Saturday, Ivić made very clear his views on his team's performance.
The Serb shared his thoughts on style, philosophy and responsibility as a football manager:
"We want to control games," he said.
"I was not satisfied with a point against QPR.
"Against QPR, we created a lot of chances in the first half, but we didn't control the game. This is something that we want to do.
"We want to be the team who keep the ball and who know how to both attack and defend.
"We had problems during the end of the first half and at the beginning of the second half.
"If we had beaten QPR then my comments would have been the same. We need to work, to solve problems and be better in the next games."
Ivić continued:
"It is not our target to play defensively and wait for the counterattack. That is not the plan. Everyone is trying to improve this part of the game.
"I am never looking for excuses, but we need to be realistic. We have a lot of players who are out because of injuries. These can influence our game.
"We cannot expect players who have been out to come back at the top level. Its impossible.
"My philosophy is to win everything. In the championship everybody can beat everybody.
"I believe in my squad and I believe in this team. I know the quality of this team.
"The style in previous years is completely opposite to how I want to play. No one from my team should be happy with one point. We want to learn how to keep results.
"Our target is the same in every game. We know our goals and what we want to do. It's a tough competition with a lot of good and quality teams."
On the two half time substitutions he made at half time against QPR, Ivić explained:
"I made two substitutions at half time in the last games.
"The reason was because I expected to change something in our shape and how we were going to play in the second half.
"Unfortunately, we didn't achieve what we wanted. If you saw the result and second half, QPR had the possession and were dangerous both outside and inside of our box.
"Something was wrong. After the game you can realise and understand mistakes.
"We now have five substitutes available to us. We can use three plus at half time and I believe it's good for all of us. It can give us more choices during the game, and it can protect players from injuries."
On his responsibility as a coach, the Watford boss said:
"It is a coach's responsibility if a team don't achieve a result.
"I will never deny responsibility. That is not me.
"Maybe I did something wrong at half time against QPR.
"We have had three games where we have led and haven't taken the three points.
"We need to solve this problem and play until the end of the game. The target is not to stay back and protect a result.
"I think about shape and formation 24/7. It's my job."