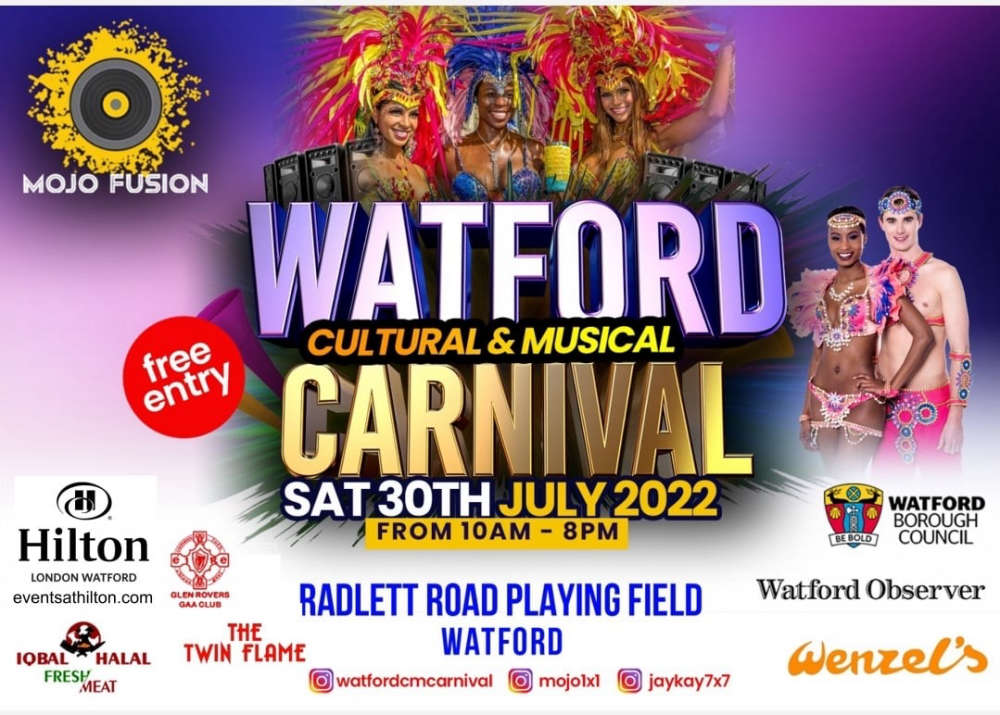 A new event is set to bring the carnival spirit to Watford at the end of this month.
Watford Cultural and Musical Carnival will see the community come together to celebrate the town's diverse cultural heritage and "make history".
Organised by Mojo Fusion Limited, the free event will take place on Saturday 30 July at Radlett Road Playing Fields from 10am to 8pm.
The event management company has set up the carnival to help promote cultural interaction, boost unity in diversity and create a day out the whole family can enjoy.
Jomo Oparah, Chief Executive Officer of Mojo Fusion Limited CIC, said: "There's a need to create social cultural interaction in Watford and this [carnival] offers us that opportunity. It's definitely trying to make history."
"It's a fun family day out for us to enjoy good music, good food, fashion, dance and be happy really."
Visitors at the carnival will be able to hear sets by DJs currently on the UK and international music scene – playing everything from Calypso and Afrobeat, through to House and Disco.
DJs due to appear include twin sisters D.T.T.P, David Reeves, T-Sia from France, MK-M2K and DJ Collo.
Mas Band Carnival Slayers will also dance in the parade.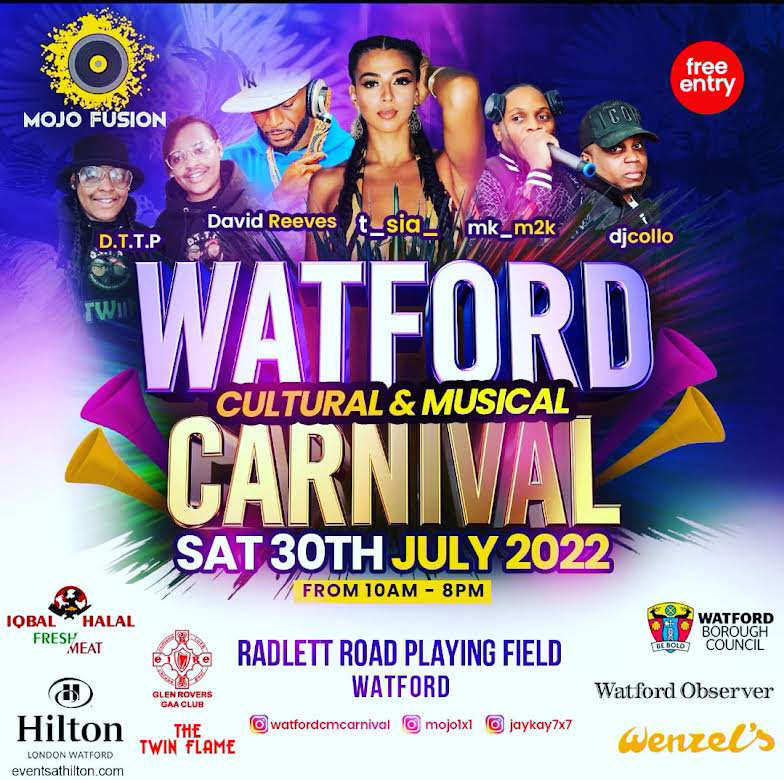 The DJs appearing at the first Watford Cultural and Musical Carnival. (Credit: Mojo Fusion)
Confirmed vendors at the carnival include Monas Collection who will be selling African jewellery, with Yam Yam Bistro offering American and Polish style food.
Bar Brothers will sell alcoholic drinks from their mobile bar, whilst COTI Queen of the Island and Kelly's Caribbean Cuisine serve up the best in Caribbean dishes.
Mojo Fusion are hoping to turn the carnival into a yearly event, which will put Watford on the cultural map in the UK and internationally.
The company's blueprint for an annual carnival stems from events such as Notting Hill Carnival and Glastonbury Festival.
Both have become popular cultural events attracting international visitors each year, something which Mr Oparah feels could also be achieved in Watford.
He explained how the events had "afforded" their local areas "the opportunity to become tourist attractions – where every year tourists from all over the world come […] to enjoy the vibe, the culture, and the food."
Mr Oparah added: "If we had something like that in Watford it goes a very long way in putting Watford on the cultural map."
The Chief Executive Officer also hopes the carnival will "create an avenue" for small businesses in Watford like Mojo Fusion "to propagate and grow".
The carnival has already received a wealth of support from local businesses and is being sponsored by Wenzel's, Hilton Hotel, Iqbal Halal, The Twin Flame, along with Watford Borough Council, Glen Rovers GAA Club and the Watford Observer.
As well as organising the carnival, Mojo Fusion is also committed to giving back to the community through other initiatives.
Earlier this year, the local business opened a new barbershop in Queens Road which provided free haircuts to primary school children during the pandemic.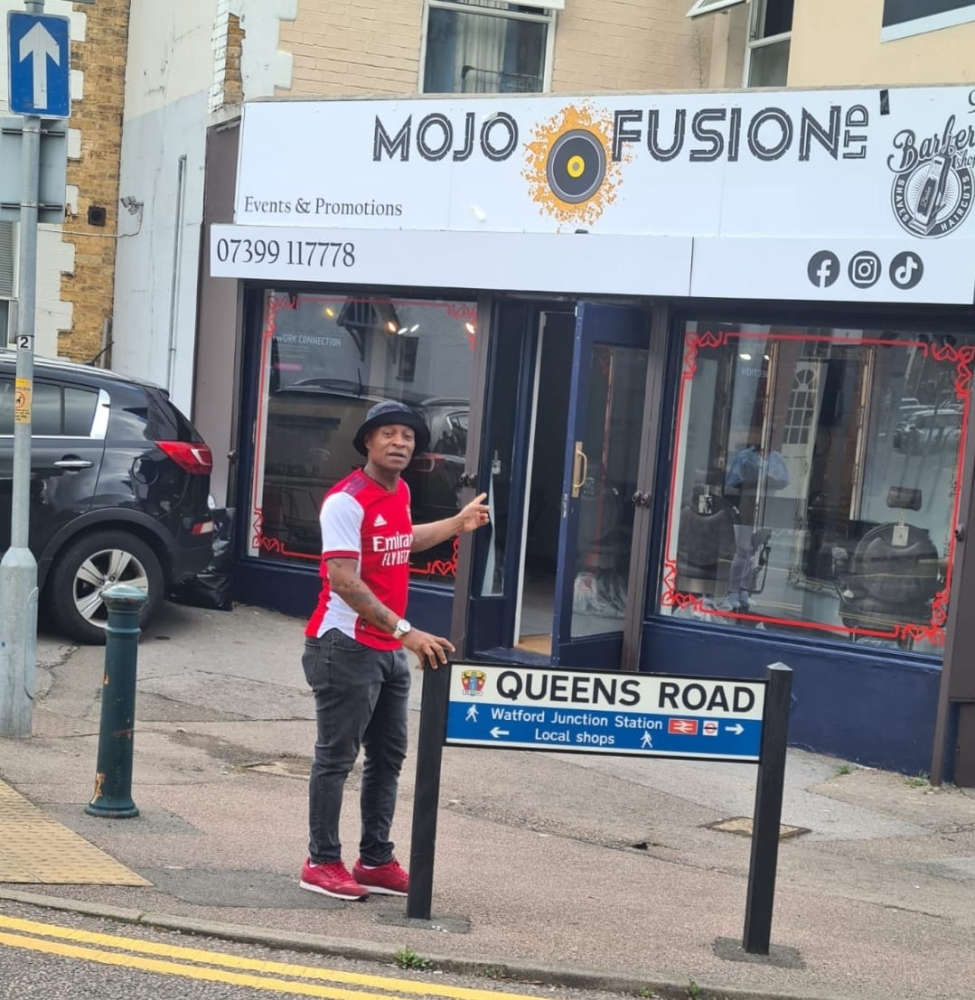 Mojo Fusion's Barbershop on Queen's Road, Watford. (Credit: Jomo Oparah)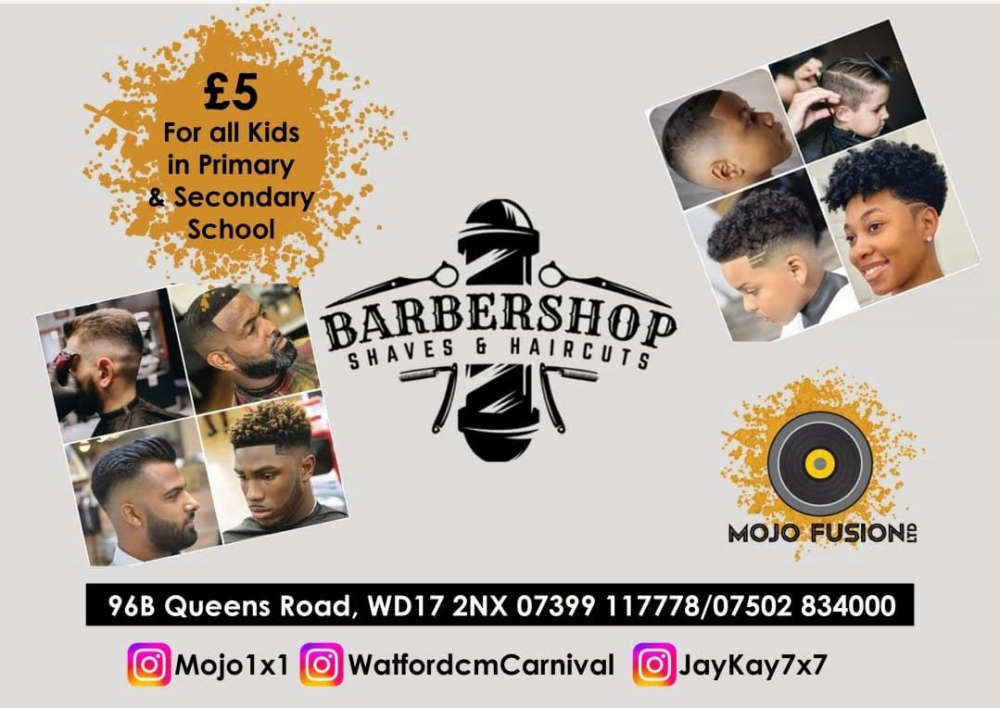 (Credit: Mojo Fusion)
The community interest company has now launched a new initiative to coincide with the first Watford Cultural and Musical Carnival – offering £5.00 haircuts to all children in primary and secondary school.
For further updates about Watford Cultural and Musical Carnival follow @watfordcmcarnival on Instagram.