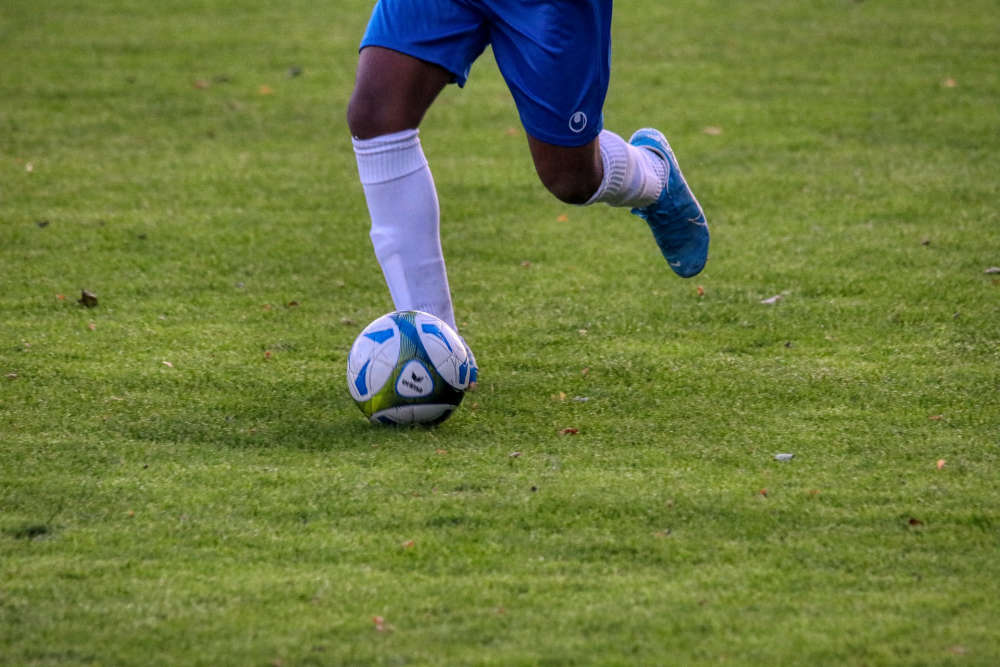 Credit: Alex Fox from Pixabay.
For the past four weeks football has gripped the nation.
27.6 million people tuned in on Wednesday night (7 July) to watch England reach the final of Euro 2020, following a 2-1 victory over Denmark.
All hopes of football "coming home" now lie with Southgate's men, as they take on Italy at Wembley this Sunday (11 July).
This year's European Championship is a reminder of how sport brings people together.
While elite competitions can ignite passion for the game, many people first discover their love of football after joining a grassroots team during childhood.
There are 43,000 grassroots clubs in the UK. Each week 4.49 million children in England play football – making it the most popular team sport amongst 5-18 year olds.
This participation not only benefits young people but also their local communities by contributing £3.28 billion in social and economic value to society per annum, according to the Football Association (FA).
Hertfordshire FA has promoted the development of grassroots football since 1885.
The governing body aims to support the numerous volunteers running grassroots clubs and leagues across the county.
Karl Lingham, CEO of Hertfordshire FA, revealed why non-elite football is important:
"After the challenges of the last 18 months, grassroots football has a vital role to play in bringing people together and helping to improve their health following the pandemic.
"While elite football gets the attention, and England's current run has certainly given us all a welcome boost, it's the grassroots game where this inspiration gets turned into positive outcomes for everyone.
"From better physical and mental wellbeing, to supporting reductions in crime and improvements in life chances, being involved in football has a massive impact on people's lives on and off the pitch."
Research by Sports England has found active children to be happier, more resilient and trusting towards others.
Cassiobury Rangers is a non-selective football club run by volunteers in Watford. It provides coaching to players of all abilities, aged between 6-18 years.
Children can enjoy free-flowing football whilst playing in the Watford Friendly League, and West Herts Youth League.
Carl Robertson is Chairman of Cassiobury Rangers FC. He explained how grassroots football helps children's development:
"Football is the conduit for the socialisation of young children. You get boys and girls from different social, economic and religious backgrounds.
"They all come together in one team and socialise. At grassroots level that's what it is really all about.
"It's not about kids becoming professional footballers, or even semi-professional footballers.
"It's about giving kids the opportunity to play the sport they love in a safe environment, with a mixture of people from different backgrounds."
The Chairman stated being part of a team enabled children to gain confidence, and "overcome feelings of shyness".
As players progress into their teenage years, they learn about "teamwork and co-operation". Many will also experience camaraderie and form lifelong friendships.
Mr Robertson continued:
"A well organised and well run club that facilitates a safe environment for kids to grow, develop and express themselves creates a little social community which supports itself.
"It's team spirit in its purest essence."
Every year, 150,000 grassroots games are lost through cancellation due to poor-quality pitches or matches which cannot be played.
Additionally, there are half the number of artificial pitches within England in comparison to other countries, such as Germany.
Earlier this year, the government allocated £25 million of new funding for grassroots facilities – the first part of a £550 million commitment to transforming the football landscape.
In March, the English FA also unveiled its long-term plan to help revive the grassroots game following the challenges of Covid-19.
The Survive, Revive, Thrive strategy will run until 2024, and consists of seven transformative objectives.
This includes improving the quality of pitches, and ensuring that girls receive the same access to football as boys.
Carl Roberson thinks funding alone cannot be the only solution to sustaining the future of grassroots clubs, like Cassiobury Rangers FC.
He concluded:
"There is never any shortage of kids wanting to play football. What there is perhaps is the shortage of volunteers to facilitate that.
"If you do not have parents to run teams, then you do not have teams. The contribution that those parents can make is so valuable.
"Every year, we will try and create a new under-8s team because any club is only going to be as strong as the youngest age groups.
"Once you stop developing new age groups that's when the clubs will wither."