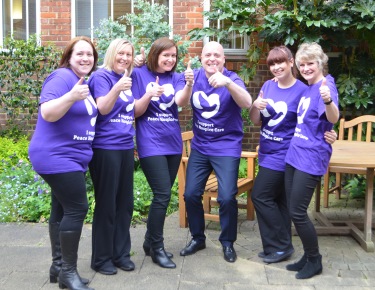 Some of the 'Hospice Highfliers', including CEO Declan Carroll
On the 18th June, 9 employees at Peace Hospice Care and our Breakfast Show presenter, Lee Partridge will be abseiling 170ft down the side of the high rise building in Meriden, Watford, as part of the Hospice's 25th Anniversary Abseil event.
The team, 'Hospice Highflyers', will consist of the Hospice's nursing staff and members of the Finance and Education teams. Leading the 'Highflyers' down the abseil is Peace Hospice Care's Chief Executive Officer, Declan Carroll from Palmers Green, London. Declan said: "The abseil is going to be a great team building challenge for us and we're delighted that Lee Partridge from Vibe 107.6 FM is going to join us! If you're in Watford on the day definitely come along to support us or even take on a personal challenge of your own for Peace Hospice Care."
Lisa Goodman, Community Services Team Lead, who is also in the Hospice's abseil team said: "Every year I try to take part in an event that pushes me to the limit. Last year I completed Push It for the Peace and this year I took part in the Watford Colour Run, but for me the abseil is going to be the most challenging; I'll be pushing my boundaries.
Lisa added: "Doing the abseil with other Hospice staff will really help me through! Everyone has come together and there has been great camaraderie. We're all very passionate the Hospice and the services we provide. Peace Hospice Care really is at the heart of the community and our events are a great way to celebrate the work we do with the local community!"
To support the Hospice Highflyers please go online or visit or join them by signing up to the 25th Anniversary Abseil or call 01923 330 330. If you're in Watford on the day go down and watch the Hospice Highflyers take the plunge for Peace Hospice Care!