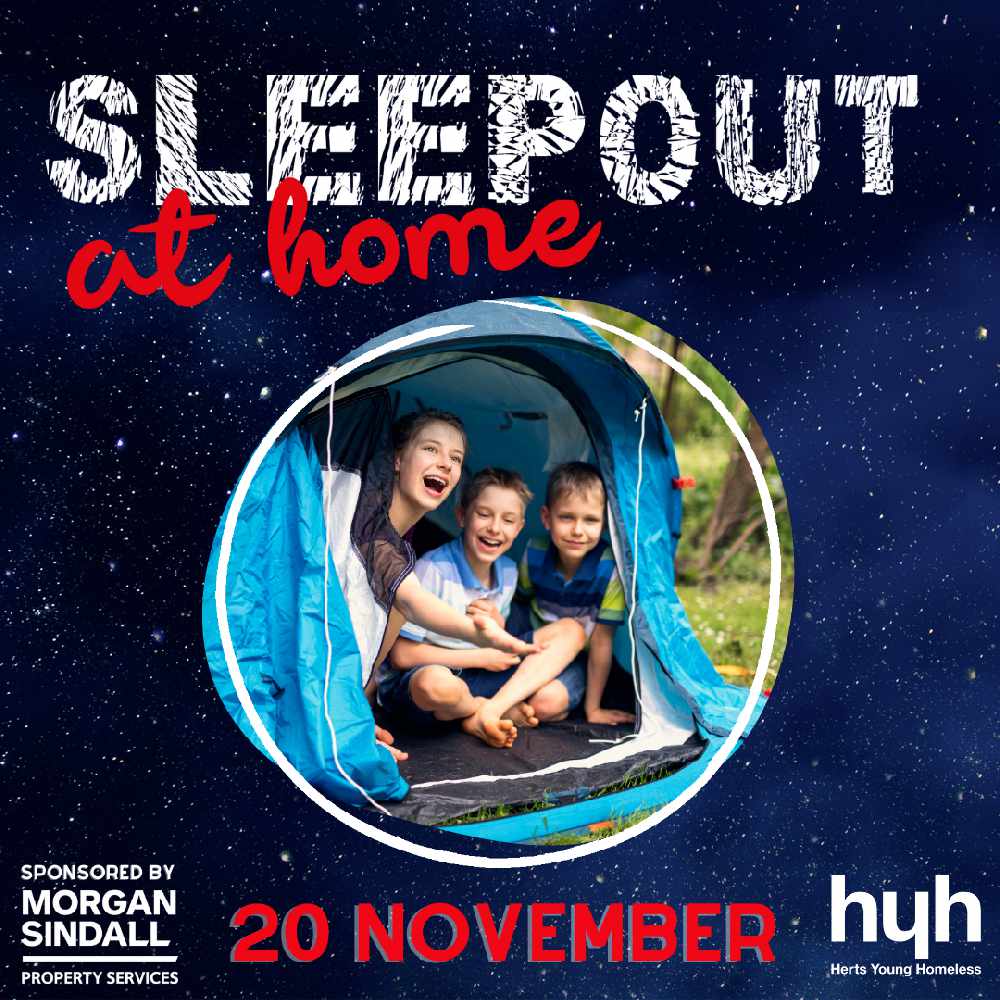 Picture: Herts Young Homeless.
Herts Young Homeless (Hyh), are 'calling on' household groups from across the county on Friday (20th November) to join in their Sleepout at Home fundraiser. The local charity will host this year's annual fundraising event virtually, in light of current restrictions.
To take part participants may either pitch tents in their gardens, make beds on the floor or use sofas for the night. Family and friends can then sponsor your endeavours. For example, £30 sponsorship would enable the organisation to purchase essential food supplies for a young person for a month.
Individuals who sign up will obtain a Sleepout Survival Kit ahead of the event and gain access to Hyh's live Zoom stream, where they can enjoy music and entertainment. Everyone receives a personalised Sleepout certificate upon completion, and those who raise over £250 in sponsorship will be given a Sleepout hoodie.
Hyh is an independent organisation, that has supported vulnerable people across Hertfordshire since 1998. It aims to prevent homelessness via education within schools and family mediation. The charity supports 16-24 year olds in their first homes, whilst also caring for adults of all ages with mental health issues or housing needs. They work closely with Hertfordshire County Council, local districts and other agencies to improve provisions and stop youth homelessness. Two of their busiest areas include Watford and Dacorum.
In 2019, the organisation helped more than 2,495 people to 'get their lives back on track.' Demand for the charity's services has risen hugely this year, with many individuals and families facing greater difficulties because of coronavirus. The money raised through Sleepout At Home will allow Hyh to continue 'their vital work.'
Helen Elliott, Chief Executive of Herts Young Homeless, said:
"Due to the pandemic, the demands on our services are greater than ever. Our service users are suffering isolation, financial hardship due to job losses or benefit delays, vulnerable families are feeling extra pressure and we are seeing more complex cases, instances of domestic violence, self-harm and mental health issues. Much of our community and events fundraising has been cancelled, so we are delighted that we have been able to adapt to offer our iconic Sleepout event virtually this year. Huge thanks to the support of our sponsor, Morgan Sindall Property services and all of our amazing supporters in the community for rallying together to increase awareness of youth homeless and for raising funds to allow our vital support to continue."
Homelessness may be defined 'as being without permanent, stable or suitable accommodation.' Along with rough sleepers, this also includes individuals 'sofa surfing' with extended family or friends, and living in hostels. According to Centrepoint, the number of homeless 16-24 year olds or those facing this in the UK between 2018-2019, was 110,000. Furthermore, only 65% had received support from English authorities. New research released on Wednesday by Shelter and YouGov revealed in the last three years, over half of teachers (56%) have worked with children who became or were homeless. Moreover, the reported effects of this included hunger, tiredness and absenteeism due to difficult commutes.
Sleepout at Home will start from 7pm on Friday 20th November, and finish at 7am. For more details visit: https://www.hyh.org.uk/sponsoredsleepout