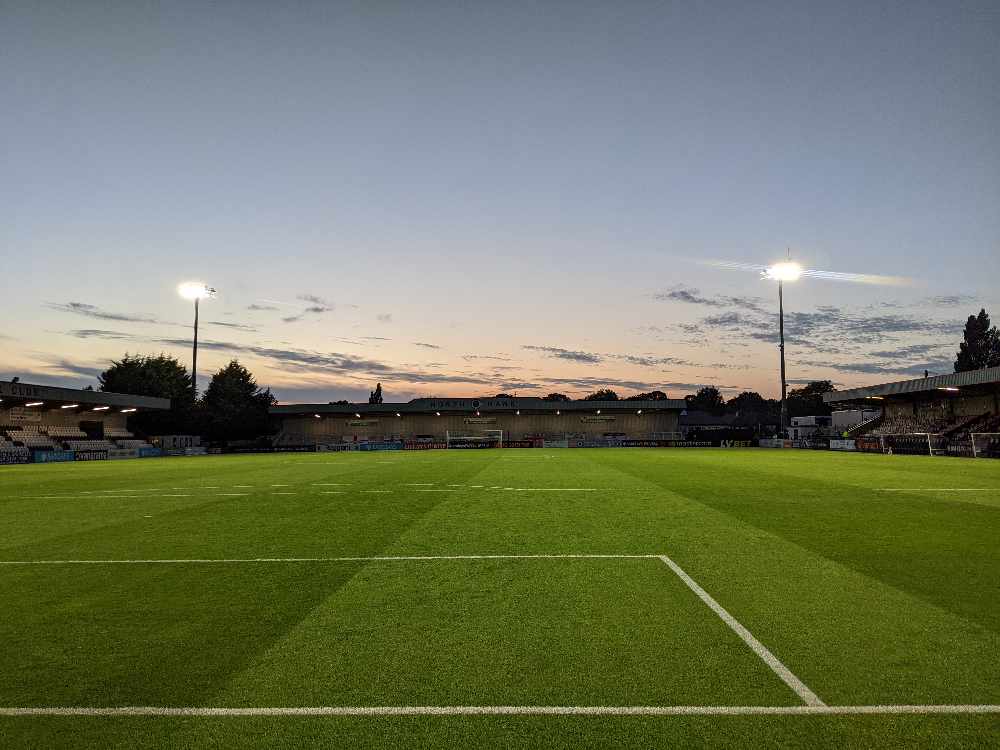 Meadow Park
A match report from the National League play-off Eliminator between Boreham Wood and Halifax Town at Meadow Lane. Boreham Wood 2 Halifax Town 1
On an historic day for football fans across Yorkshire, Premier League action finally awaits Leeds United after a gruelling 16-years in the second tier. Whilst most Yorkshiremen will raise a toast to Marcelo Bielsa this evening, the small percentage of Halifax Town supporters in amongst the ale houses now face another National League campaign.
In a battle for a place in the Football League, everything was at stake and it showed. A 2-1 victory for Boreham Wood (who reached the National League Play-Off Final two seasons ago), there was drama from the get-go.
An exciting opening to a heated fixture saw the visitors appeal for a penalty within the first 10 minutes of an action-packed half. In a crowded Wood penalty box, Michael Ducksworth concluded a valiant effort as he blazed over from the edge of the area, referee Paul Howard certain that there was no decision to give.
The hosts initially responded well to early pressure from the Town. Keiran Murtagh struck wide of the post from 20 yards and a well-worked Sorba Thomas corner resulted in Captain Mark Ricketts forcing Sam Johnson into a save.
An instinctive strike from Halifax striker Tobi Sho Silva meant that the Hertfordshire outfit had an uphill struggle on their hands, the goal scorer quick to react after Wood defender Jamal Fyfield mis-judged a Sam Thomas ball, goalkeeper Grant Smith a spectator. The hosts were thus on the back foot after 19 minutes.
One might have expected an element of hunger from Boreham Wood. A couple of chances from Kabongo Tshimanga, however, were all that the home dug-out had to cheer about in the first half.
Wood were second best to a dominant side lead by Pete Wild, with opportunities missed by the old League outfit, including a spilled Duckworth freekick and a Sho Silva effort only prevented by an acrobatic Smith save that meant that somehow there was just a goal in it at the break.
Stern words would have undoubtedly been exchanged during the interval as a blindingly obvious four-month break showed in the Wood's first half display. Whatever Garrard instructed his team in the brand-new home dressing room, it worked.
Perhaps it hit home for Boreham Wood that next season would be spent playing non-league football, had the first 45-minutes been echoed. Whatever the realisation, there was an instant and impactful response at the beginning of the second half as Kane Smith's deflected 54th minute effort proved the equaliser that the home side deserved after a dominant resumption to the tie.
In contrast to the first drinks break, the second couldn't have arrived quickly enough for the side from West Yorkshire. It briefly looked as though a change of tactics and personnel had paid off for the visitors as Wild switched up the gameplay and attempted to gain a foothold in the match.
A double substitution, however, ultimately resulted in no more than the addition of two fresh players in a Shaymen team that would quickly go behind. Having prevented Matt Rhead from scoring his first Boreham Wood goal shortly before the stoppage, Halifax were punished for their lack of concentration soon after it.
Carelessly throwing away a strong start to the match, Wild's side switched off at the back and never fully recovered. With 10 minutes left on the clock, Rhead read the penalty box well and at the near post slipped his marker and deservedly headed home.
Wild may have previously triumphed against Claudio Ranieri's Fulham, but despite late pressure, Town were unable to pull level and take it to penalties.
So whilst Halifax contemplate a disappointing loss as they travel back up the M1, Garrard's side look forward to a trip to Harrogate Town next Saturday in the National League play-off semi-final.