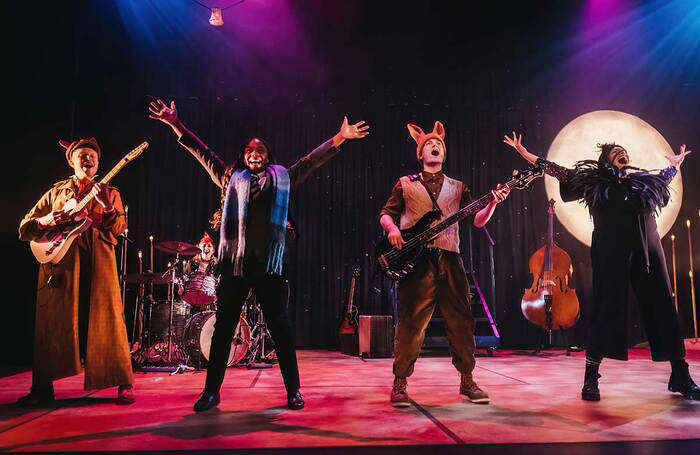 A whimsical, joy-filled musical about self-worth and confidence recently came to Watford Palace Theatre for a few wonderful performances
Based on the children's book by Robert Macfarlane, The Lost Spells takes the audience on an adventure of talking, singing animals and a girl, Jay who after moving to a new town has lost her sense of identity, and more importantly, cannot remember her name.
Jay forgetting her name is a symbolic metaphor for her lack of identity, she herself is lost, like the spells.
The other characters, Hare, Jackdaw, Fox and Woodpecker all help Jay on her journey of self-discovery by showing her how to be herself without worrying and overthinking. Through the use of music, each character expresses their own identity, showing the audience the importance of being unique. The music itself was upbeat and truly fun creating a Jazz, 70s vibe.
The overall messages throughout the play were too overt and obvious, making dialogue in areas cringe-worthy. Nonetheless, I appreciate that their play is made for children who may not see it in the same way and need a clearer message.
Poetic language from the book is mirrored in the live-action production. Filled with joyful alliteration adding to the mystical mood that is created by the staging and set. The use of colourful lighting, and a large, incandescent full moon illuminating the stage (done by Sherry Coenen), perfectly captured that nighttime sense of mystery.
The special effects of props brought further excitement to the audience, with the book of spells at one point having moths flying off the pages. The use of special details such as these truly brought this play to life.
The actors were all perfectly chosen for their roles however, Miriam Nyarko who plays Jay stood out in particular as a young, emerging talent. She embodies a great role model for all the young girls present in the audience who want to be on stage.