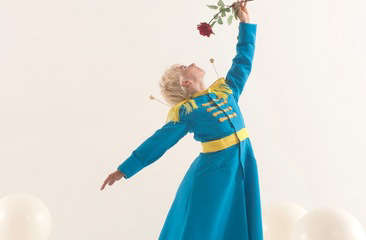 Embarking on their tour across the UK The Little Prince came to Watford for three shows.
Based on the Antoine de Saint-Exupéry novella, and adapted by Luca Silvestrini for the stage. The play is captivatingly whimsical, telling a story of friendship, love and loneliness.
The story is told in an interesting way. Through use of analepsis and prolepsis of the prince with a crashed pilot, telling him of his adventures out in the universe. As the Prince leaves his isolated home planet in search for more, he meets other unique characters including a timid french fox, a Lamplighter and a geographer. However, in the end realises all he needs is at home with his love, a rose. Classically symbolising love, beauty and courage. Enforcing the messages of love and friendship present throughout the entire play.
The auditorium, filled with children aged five to twelve were utterly captivated by the four actors on the stage, their dancing, comedic timing and interactions with the audience were truly entertaining.
Although only seventy minutes long without an intermission, the story felt elongated. It could have been told faster and felt repetitive. The Prince would meet different characters, do a short dance, come back to the pilot and then repeat.
Nonetheless, what I found most impressive was the staging and lighting. Using different sized white spheres on the stage at all times reflected different mood lightings of blues and yellows creating sets, including the galaxy, the Sahara desert and the Prince's planet. Furthermore, they moved with the actors in synchronised movements. The use of a projector to create moving images and help illustrate the story was a brilliant idea, it was not only visually captivating but also helped the audience make sense of the story.
Commenting on this new tour for 2023, Luca Silvestrini said: "We are so pleased that our popular adaptation of this timeless story is back on tour, continuing to captivate and enchant audiences as it has since 2018. This tour returns with both our beloved original production and our specially adapted version for smaller and rural venues."