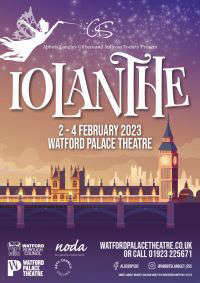 Iolanthe came to Watford with four performances by the Abbots Langley Gilbert & Sullivan Society
Iolanthe an enchanting play, about love, fairies, and…politicians?
We see two worlds colliding, one of ethereal, mystical magic, the other of law and order.
At first watch, it seems these two have no correlation, the chemistry between characters seems forced and unnatural as they trudge through the first act. The most entertaining character was an unnamed bubbly blue fairy with as little as three lines, but the most comedic timing.
The plot itself is questionable. Iolanthe's son Strephon is a half-fairy half-human farmer intent on marrying his love, who, unaware of his genealogy, mistakes him for cheating as she sees him with his mother who doesn't age. The play continues with every other fairy falling in love with a politician, something which is seen as punishable by death. But this is suddenly fixed within two minutes in the end, making the plot feel rushed and pointless.
Despite this odd plot line, the Second act is much more fun and lighthearted. The main theme of true love prevailing and conquering all shines through as the fairies bring forth joy in the seemingly dull, prehistoric lives of the politicians. Emphasising the idea that love truly has no bounds.
I further noticed that comedic relief is successfully used through language and movement by the actors, causing laughs throughout the audience whose ages ranged from seven to seventy-seven.
To a modern audience, the character of Strephon being 'mixed', trying to balance life as a fairy and as a human can convey a much deeper meaning, the struggles mixed race people face in finding their identity. Something not necessarily intended when it was written but important nonetheless.
I found that the supposed protagonist, Iolanthe, was in it for all of twenty minutes out of a total of one hundred and fifty. It seemed as if this was a sequel. Her being banished for marrying a human is a storyline that we never get to see and would most likely be more entertaining. Her backseat role as a mother seemed unimportant considering the play is named after the character.
On a production level, it was most mesmerising. The set consisted of tall trees and a small bridge used by the actors coming off and on stage. This created an authentic fairy-tale-like atmosphere which was highly effective. The costumes only added to the spectacle. Politicians adorned in floor-length velvet robes, highlighted their authority. Combined with the delicate ballet flats, tutu, and coloured corset combination worn by the fairies was perfectly done.
Most importantly, the dazzling orchestra performing live accompaniment was truly the shining star. They brought life to the play, immersing the audience into a world of fun and fairies.
The ALGSS has two other shows coming up in the next year, Comedy Tonight in June 2023 and Carmen Feb 2024. For more information on their work, visit: Abbots Langley Gilbert & Sullivan Society