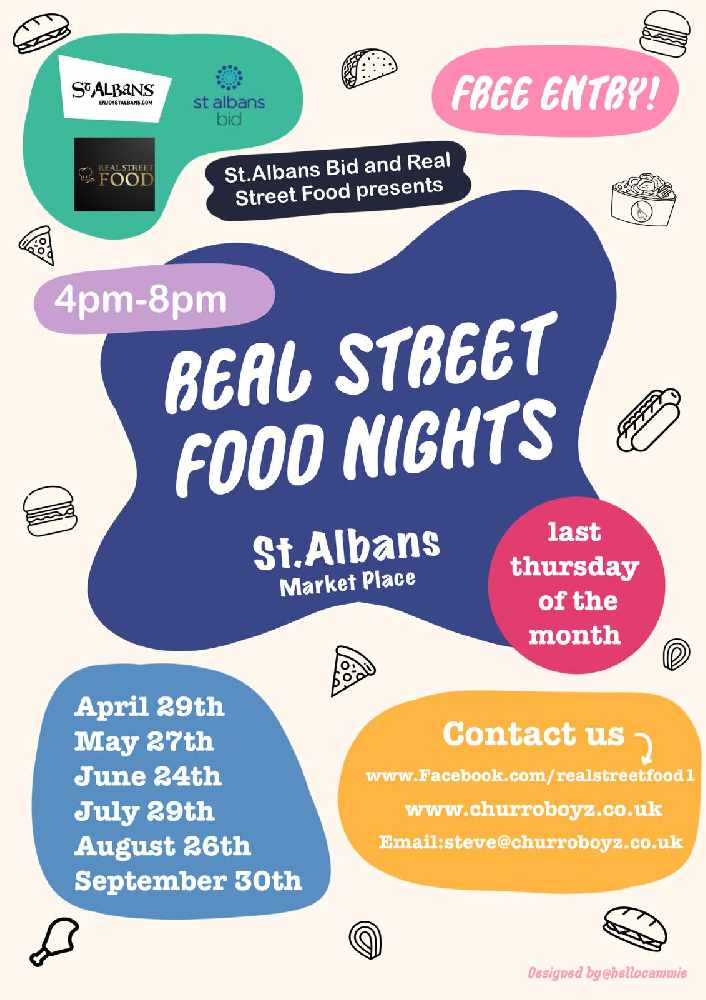 Credit: St Albans Bid
Food lovers will have the chance to sample international cuisine, when an exciting new outdoor culinary event launches in St Albans this Thursday (April 29th).
Real Street Food Nights is bringing together a range of traders on Market Place offering delicacies from around the world, that are guaranteed to tantalise the taste buds.
This free to enter community event has been arranged by St Albans Bid and Real Street Food.
It will run on selected evenings from 4-8 pm throughout the summer.
Seven local street food vendors are initially taking part, but organisers hope to add more over the coming months.
During the first evening customers can eat Mexican dishes from Baja Cantina, or tuck into award winning churros from Churro Boyz.
Sour dough toasties will be available from Toastielicious, with Funky Elephant set to offer Caribbean Fusion.
Su Casa are providing tapas and paella, whilst Jacks Smoke Shack serves up barbecue favourites including Pulled Pork.
Finally, if you want a sweet treat Crumb De La Creme is on hand with their baked goodies.
Stephen Carnevale is the Director of Churro Boyz. He revealed why the event was organised:
"The idea behind Real Street Food was to create a street food vibe in the evenings for the community in St Albans whilst also supporting local businesses and getting them involved where possible. Working alongside St Albans Bid has enabled us to ensure that we are creating a great vibe and a safe environment for people to return to the high street."
Denise Parsons, Manager of St Albans Bid added:
"St Albans has a thriving independent food and drink scene and we are delighted to welcome 'Real Street Food Nights', bringing the finest foods from around the world to St Albans this summer. We are continually looking for innovative events that offer fun, great food and drink and the sociable experience that we have all waited so long for, and Real Street Food Nights will not disappoint! Bring the kids or catch up with family and friends, and prepare yourself for a stunning street food experience in Market Place... Please enjoy safely."
Real Street Food Nights takes place on the last Thursday of each month, and is running until September.
For further details visit http://www.enjoystalbans.com