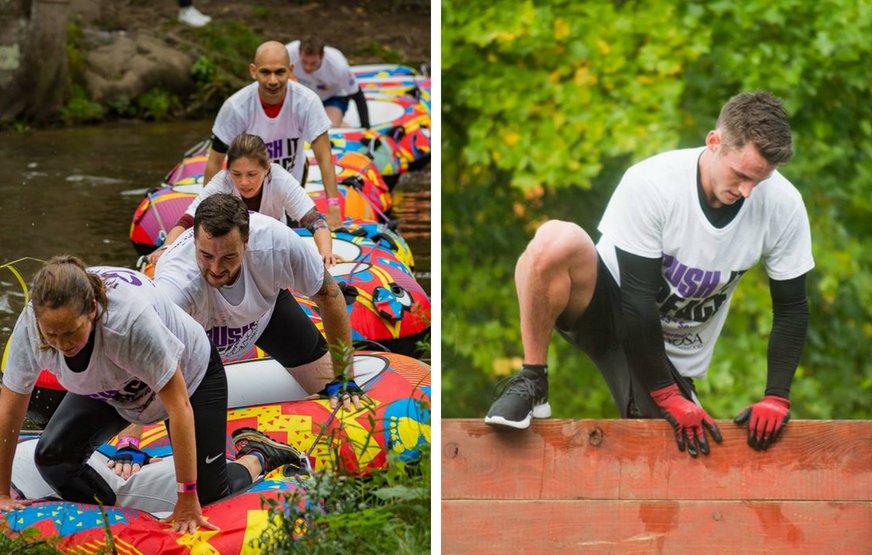 Last year's fun at Push it for the Peace 2017
Peace Hospice Care's annual obstacle event will take place on Sunday 22nd September, with 5k and 10k routes available.
Participants will take on a range of challenges, from navigating a waterslide and tunnels, to tackling barriers, walls and a foam zone. Over 900 people took part last year in what was a successful event, fun for all ages.
Lucy Petagine from Kings Langley will be taking part in the event for the third year running in memory of her Mum, Yvonne, who died at the Hospice in 2015.
"Even though Mum passed away at the Hospice I have fond memories," says Lucy, "The family was all together and we were made to feel so welcome, it was a special time, the whole family really felt looked after."
"The nurses were some of the kindest people I have ever met and I will always cherish their kindness, love and support. I want to do everything I can to raise funds for the Hospice and the great work their staff and volunteers do."
Lucy also organises her own events for the Hospice. Just a week after Push it for Peace, she is hosting a 'Casino Royale' Charity Ball and hopes to raise over £2,000 for Peace Hospice Care.
Peace Hospice Care needs £5 million to run its free specialist services, and relies on donations from the public through fundraisers or their local charity shops. Recent NHS funding cuts have meant that for every £1 the charity receives, less than 20p of that comes from the NHS.
Anyone interested in participating in this exciting fundraising event can do so on Peace Hospice Care's website.