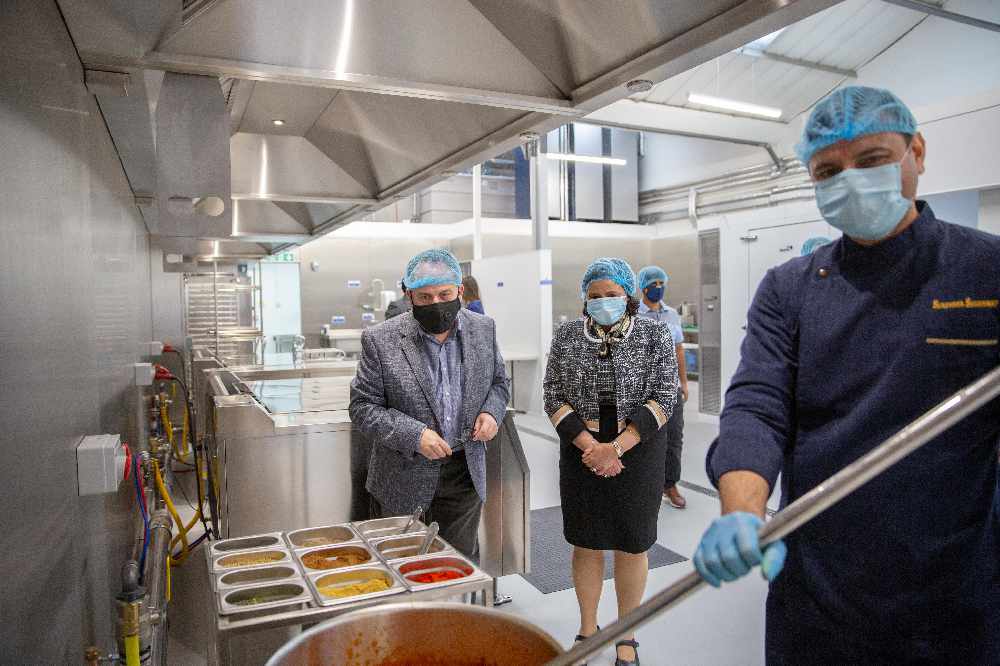 Picture: Hertsmere Borough Council.
Almost 140 school children in Hertsmere will receive a 'hot, nutritious meal' each day over the Christmas holidays. The new initiative is part of council plans 'to ensure that every child' within 'the borough who needs a hot meal' can 'get one for free.' Hertsmere Borough Council is working in conjunction with various charitable organisations to deliver the project.
Fresh food from the varied menu is cooked daily at GMSP Akshaya Patra Kitchen in Watford, whilst the Borough Council arranges 'logistics and transportation.' Furthermore, Communities 1st has co-ordinated 'voluntary support' to distribute meals 'directly to the home addresses' of children 'registered onto the scheme.'
Leader of Hertsmere Borough Council, Councillor Morris Bright MBE, said:
"Hertsmere acted quickly to ensure that families who are struggling financially don't have to worry about getting a hot meal for their children during the Christmas holidays. With so much financial uncertainty at present, it's crucial local councils continue to act and provide support. I'm very grateful to the GMSP Foundation and Akshaya Patra for their very generous and proactive offers of support in looking after the borough's children. My thanks too to the staff at our council who have worked so hard on organising this project and to Communities 1st and their volunteers for their invaluable help. A final word to the Arsenal in the Community project and Herts Sports Partnership for providing activity packs to include with the packages that the children will be receiving."
Ramesh Sachdev, Co-founder of GMSP Foundation, added:
"The health of our children today will predict the health of our society in the years to come; we simply cannot expect to have a healthy, prosperous future for the UK if we leave children hungry and underfed. The holidays can be a difficult time for many families, especially after the challenging year we have all faced. We are pleased that GMSP Foundation is able to lend a helping hand to our neighbouring families at this important time by providing them with hot and nutritious meals."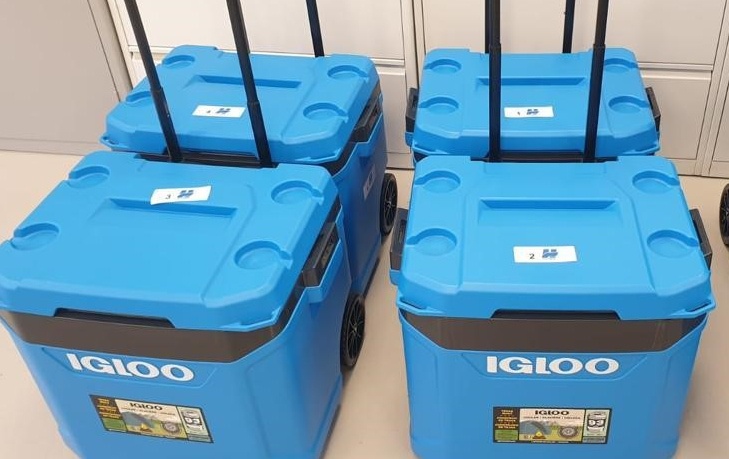 Food containers leaving the kitchens. Picture: Hertsmere Borough Council.
Founded in 2006, the GMSP Foundation 'supports marginalised communities' throughout the UK and India. They back 'grassroots organisations' which 'work tirelessly for a more humane society that upholds justice and safeguards dignity.' The Akshaya Patra Foundation UK runs 'two feeding programmes' that 'tackles food poverty among children and adults.' Moreover, the organisation works with several local authorities on similar projects.
In October, the 'state-of-the-art' GMSP Akshaya Patra Kitchen launched within Watford 'to serve children at risk' from 'holiday hunger' during the half term. Originally created in India, the 'zero waste and self-sustaining kitchen model' provided lunches for over 1.8 million children in the country's state-run schools every day. It has now been reconstructed in Watford to offer a solution to 'recommendations' on dealing with 'childhood hunger,' as 'set out in the National Food Strategy.'
This year, approximately 1.4 million children within England claimed for free school meals in January. Additionally, 17.3% were state-educated pupils. Research conducted by the Food Foundation found there was 'an extremely high demand' for free school meals during the Autumn. The survey revealed that 900,000 children (42%) had 'newly registered to the scheme.'
A recent report by the non-partisan think tank, Social Market Foundation (SMF), suggested over 1.9 million children had 'gone short of food amid this year's economic turmoil' caused by the COVID-19 pandemic. Additionally, one in four (3 million in total) 'faced some form of food deprivation,' in the following six months after the first national lockdown in March. SMF say that official data from the UK government detailing levels of food insecurity within children during the pandemic, is not set to be published until 2022.
In recent months Manchester United footballer, Marcus Rashford, has continuously campaigned to extend the provision of free meals across England during the school holidays. In turn, he also wants to 'combat' the overall issue of 'child food poverty in the UK' based upon his own experiences. Rashford has been successful in lobbying the government into u-turning its decisions on the free school meals policy. Firstly in the summer, and again last month where ministers revealed plans for a £170 million winter grant scheme to help low-income families, who are struggling due to COVID-19.
For further information on the GMSP Akshaya Patra Kitchen visit www.gmspfoundation.org