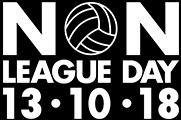 Watford fans were offered half price tickets to watch Non-league football.
Non-League Day was another triumphant success this weekend and no more so than at Meadow Park.
Borehamwood, who added to the day's celebrations by ending their 5-game unbeaten run, attracted a crowd of 684 fans, 134 of them making the trip to support National League visitors Maidenhead United.
With no Premier League football taking centre stage on a Saturday afternoon, both Watford and Arsenal season ticket holders received half price entry to watch Borehamwood, with everyone else enjoying the cheap prices that come with non-league football. There was even a 'Dads vs Lads' penalty competition prior to kick off, with the weather complimenting a wonderful day for football seeking fans.
The game itself finished with an exciting 3-1 score line, the Wood taking all of the points and deservedly so.
Keiran Murtagh opened the scoring in the dying minutes of the first half, netting in additional time and giving last year's Play Off finalists an advantage at the break. The second goal of the game was one that the home fans certainly had to wait for but they were rewarded for their patience in the 73rd minute, Josh Umerah being hauled down in the box before converting from the spot expertly.
Maidenhead made sure that the 72-mile all round long trip didn't go completely to waste for their fans as they scored the penultimate goal, keeping their foot in the door and finding the net via a 76th minute Ryan Bird tap in.
It was the hosts who in the end had the satisfaction of scoring three goals as Justin Shaibu rapped up a brilliant non-league clash in the 85th minute of a fantastic game of football.
Other local non-league results yesterday included Bath City's 2-0 victory over St Albans City at Clarence Park, Northwood's 2-0 loss to Dunstable Town at Creasey Park and Edgware Town's 2-2 draw against Biggleswade at Silver Jubilee Park.
Vibe 107.6 is proud to support Non-League football all year round and you can keep up to date with how your side is doing by tuning into the local sports bulletins every Breakfast and Drivetime show.