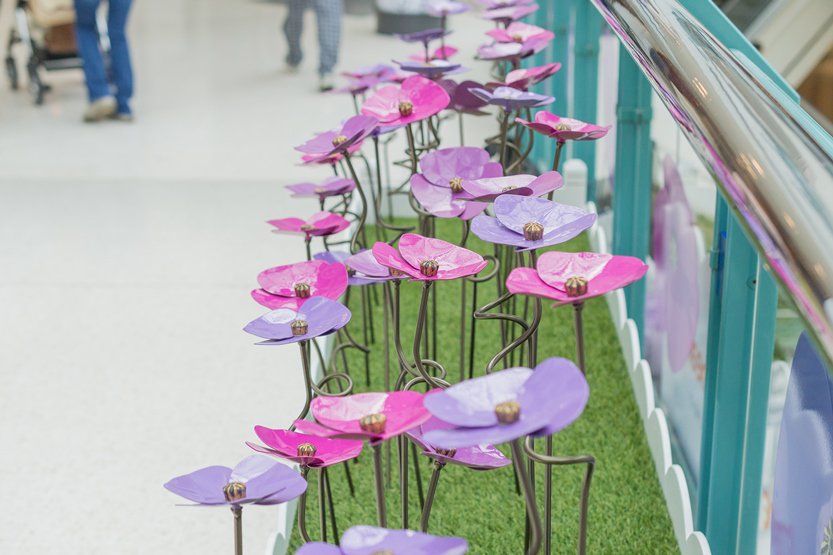 Due to the success of the Peace Hospice Poppy display at intu Watford, Peace Hospice Care is pleased to announce its extension until this Sunday.
The shopping centre has been displaying a selection of the handcrafted metal poppies, in support of the Hospice's Peace Hospice Poppy appeal, since July. The display will now be in place until 17th September.
Peace Hospice Care's Poppy Appeal has given people the opportunity to dedicate a poppy to commemorate the memory of a loved one, for a donation towards the charity's work. Since the display at intu Watford has been in place, approximately 1.2 million people have passed through the shopping centre and had the opportunity to see the poppies.
Deana Cadden, Direct Marketing Manager at Peace Hospice Care, said: "We have been overwhelmed by the huge support we have received from intu Watford. Their display has helped raise awareness about our charity and the services we provide to help people with life-limiting illnesses, and their loved ones. As a result of intu's support, the poppy appeal has reached many more people, who have been able to commemorate their loved one's memory in a very personal and moving way."
Every year the Peace Hospice Care needs £5 million to run its free services for patients, families and carers facing life-limiting illnesses.
(Source: Peace Hospice Care).