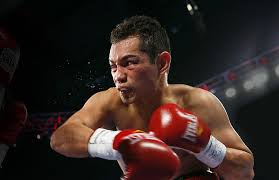 Nonito Donaire
Nonito Donaire caught up with Member of Parliament for Watford, Dean Russell
A nine time world boxing champion, former unified WBC and WBO bantamweight title holder Nonito Donaire caught up with Member of Parliament for Watford, Dean Russell.
An old friend of Mr Russell's, Donaire who was born in the Philippines, learnt of the impact that his fellow countrymen and women were having on Watford General Hospital during the COVID-19 pandemic.
Touched by the efforts of those working on the front line, the 'Filipino Flash' shared a video thanking both Filipino and all NHS staff at the hospital.
"My friend Dean told me about the incredible work the Filipino community and all the brave staff are doing at Watford General Hospital and across the NHS in the UK," he said.
"I just wanted to say thank you from both of us and God bless. You guys are our superheroes so be safe and take care."
The Member of Parliament said: "It is so poignant that on International Nurses' Day, Nonito would send me this video. All our NHS staff from abroad deserve to be celebrated and this is ever more the case as they serve on our front line."
To watch the full video, visit: