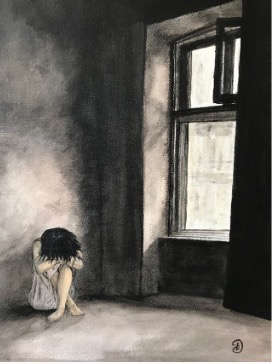 A new exhibition at St Albans Museum + Gallery is aiming to open up the discussion around the taboo subjects of bereavement, loss and grief.
The Art of Grieving explores how art can help people process grief.
Running across the summer the free exhibition features work from over 50 artists, influenced by personal experiences and feelings of loss.
Each piece is accompanied by a description explaining the artist's inspiration, as well as the circumstances in which the work was created.
A number of special events are also taking place in St Albans alongside the main exhibition including book films, shows and wellbeing sessions.
By addressing bereavement through art, the exhibition aims to empower both artist and audience to express their grief.
Founder of The Art of Grieving, Kate Ray, said: "Loss, bereavement and death are all a part of life that is too often ignored or hidden away.
"The Art of Grieving exhibition enables artists working in any medium to share work related to these issues.
"This coming together of artist and audience generates new and important human connections around a shared desire to explore these often-taboo subjects."
One of the artists contributing to the exhibition is Rebecca Gibbs. Two years ago Rebecca's "amazing" mum Julie took her own life.
She described how "the first year of grief was totally debilitating," and that she had "felt overwhelmed by what had happened".
It was also during this time that Rebecca "struggled to "pick up a pen" to write her name, "let alone draw again".
However, in lockdown the artist "slowly started to pick up" her paints once more. Since then both drawing and painting have become "a lifeline" for Rebecca.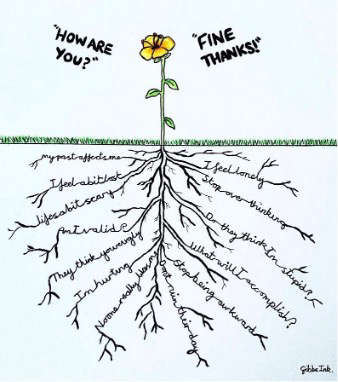 Work by Rebecca Gibbs on display at The Art of Grieving exhibition. Credit: Rebecca Gibbs.
She explained how the creative mediums "not only" helped her to "process and claim a power over" her experiences, "but also act as a way to express all the love" she has for her mum.
Rebecca added that sharing her personal work and connecting with other people in a similar position, "has been so crucial" to her "grief journey".
Commenting on the exhibition Rebecca said: "The space that The Art of Grieving exhibition is carving out for not only those grieving but also for others wanting to understand and support is so important.
"To be part of such a space is extremely enriching for me. Art both in practice as the artist but also as the viewer has been a really important processing tool for understanding myself and my loss.
"I'm so pleased my art will be surrounded by other powerful and beautiful pieces and will help to create a space where people can visit and know they are not alone in their grief."
The Art of Grieving runs until 4 September. St Albans Museum + Gallery is open daily 11am – 5pm.
For more information and to see a full list of events head to: www.stalbansmuseums.org.uk